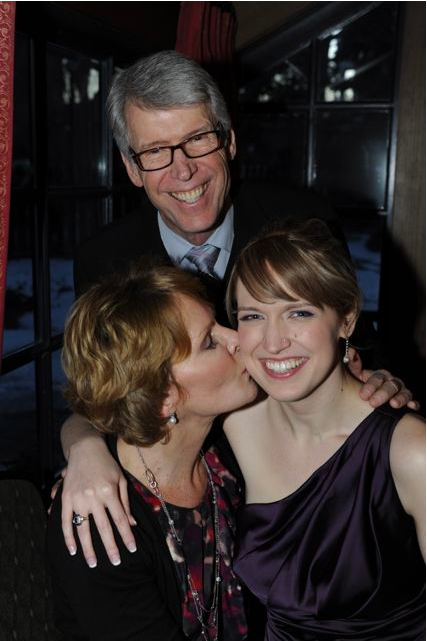 There's a good chance that, as you're reading this, Erin is sleeping. After getting up "at the crack of stupid" for most of her adult life, she now lives with husband Rob on Vancouver Island, after leaving the CHFI morning show in December 2016.
Erin's retirement from morning radio came approximately 18 months after their only child, beloved 24-year-old daughter Lauren, died in her sleep of unknown causes in May 2015, one day after celebrating her first Mother's Day. Erin returned to work one month later, and continued to host the CHFI morning show until December of 2016.
After being approached by HarperCollins to write a book telling of her experience with grief, Erin spent much of the next two years at her laptop.
Her memoir, Mourning Has Broken: Love, Loss & Reclaiming Joy, was released in February of 2019 to critical acclaim and became a bestseller, finishing the year in the Top 10 for non-fiction.
In 2020, Erin was named to the Canadian Music & Broadcast Industry Hall of Fame.
Erin appears regularly at various public events across the country, both as M.C. and delivering her Keynote address "Reclaiming Joy." Erin and Rob's routine also includes regular trips back to Ontario so they can continue to spend time with their son-in-law Phil, new wife Brooke, their beautiful boy Colin and daughter Jane.
Erin called CHFI home nearly continuously for over 28 years, beginning in 1988, when she began doing news on the popular Daynard Drive-in. She soon became Don's co-host and the show enjoyed enormous ratings right through his retirement in 1999. She then hosted with Bob Magee until June of 2003, when the station decided to take the morning show in another direction.
However, that marked the beginning of a magical time for her.
In the summer of 2003, Erin saw a lifelong dream come true when the W Network called and offered her the opportunity to host her own TV show. W Live with Erin Davis, a daily live hour-long national talk show, which featured guests and viewers discussing women's lifestyle, health and wellness issues, hit the air that fall and lasted one year.
Also in the summer of '03, Erin was contacted by theatrical producer Ross Petty, who invited her to audition for a part in his annual Christmas family pantomime. She accepted his invitation and made her live theatre debut as the Fairy Godmother in Cinderella at Toronto's historic Elgin Theatre in December for a month-long run, concurrent with her daily television show.
In the fall of 2004, the magic continued. Erin had the opportunity to meet and work with Mike Cooper, one of Canada's best-known radio personalities, while she was temporarily filling in on another Toronto radio station. Erin and Mike hit it off immediately and enjoyed great success together so, when CHFI asked Erin to come back in the fall of '05, her new friend Mike was not far behind, and the two continued to make radio magic for more than a decade, until Mike's retirement in January 2016.
Prior to coming to CHFI in 1988, Erin co-hosted mornings on CKO Toronto, the flagship station of Canada's all-news radio network. She had come from CKLW Windsor (aka The Big Eight) where she had been the first female co-host in the powerful Detroit market. Previously, she worked as a newscaster at CFRA Ottawa.
Erin was born in Edmonton, Alberta and, as a result of her father's Air Force career, was raised everywhere, including Ottawa, Trenton and England. The Davis household was always filled with music and Erin's introduction to show business came at an early age when she sang regularly with her grandfather's orchestra.
Her love of performing led her to study Radio Broadcasting at Loyalist College in Belleville. By her second year, a typical day for Erin included attending classes in the morning, hosting a radio show on CIGL-FM in the afternoon and playing piano at a local restaurant in the evening. This routine helped prepare her for a lifetime of sleep deprivation.
Erin had considerable television experience prior to her W Network show. Following a number of guest host positions at CFTO (now CTV Toronto) and Global, Erin wrote and performed a nightly commentary on CFTO News in 1998 and 1999 called "Just So You Know." Then, for two seasons, she hosted a nightly talk show (more than 200 episodes) on Rogers Television. The lifestyle and wellness program, which could be seen in over two million homes in Southern Ontario, received an award in its second season as Canada's best cable talk show.
Erin's charitable works are numerous. She was a regular participant in the Easter Seals Telethon on CBC television and is also a staunch supporter of Markham Stouffville Hospital, for which she has hosted fundraising events for some 30 years. Erin has been saluted by the Empire Club, Variety Club and Toastmasters International for her public service work and received a Paul Harris Fellowship from the Rotary Club in recognition of her public service.
In 2008, the first Erin Davis – Women in Media bursary was awarded to a student at Erin's alma mater, Loyalist College. This annual award was established by Erin and her family, in part to recognize and assist promising media students.
Erin writes an internet journal twice weekly, available at erindavis.com. Her journal receives some 5,000 visits each week and, as in every aspect of her life, Erin is very, very grateful. You can write to her by clicking here.
About Erin Davis