Just a thought… Advice from a Dog: Unleash your talents. Chase your dreams. Have a happy attitude. Wag more and bark less. Love with all your heart. Learn new tricks no matter what your age. Show lots of affection. Shake it off. [Author unknown]
You can watch a video version of this journal (it includes a little clip of video and more pictures!) on my Facebook page, or here on YouTube.
Welcome to our first time together this new month. It was back in March that a furry little sweetheart joined our lives. In case you missed it, Dottie, whose registered name is Lily Elise Dot Calm, came to us through a breeder about an hour up the road called Misty Trails. A one-year-old Havanese, she has turned out to be the absolute perfect dog: she sleeps all through the night, uses pee pads when she needs to go and we can't get her outside for a walk (we don't have a yard we can access from the main floor of the house), she lets us know when she needs to go, she doesn't bark, she is attached to me and is just a little bit shy.
She was in her final show on Mother's Day weekend and flunked four days in a row: instead of allowing judges to examine her on a table after she had strutted her stuff, she would just lie down on her back becoming all submissive. It seems that being around new people (us) changed her disposition. She's become a more timid dog, and while we don't love that she shakes more, we're hoping she'll come out of that. I promise you it's nothing that she did, but she was chased when she and her leash got loose on a busy street one time, and that may behind a fear of men, as it was a man who ran after her? Who knows.
Anyway, I promised you before and after pictures of her grooming. This is Dottie when we first got her…all show dog pretty.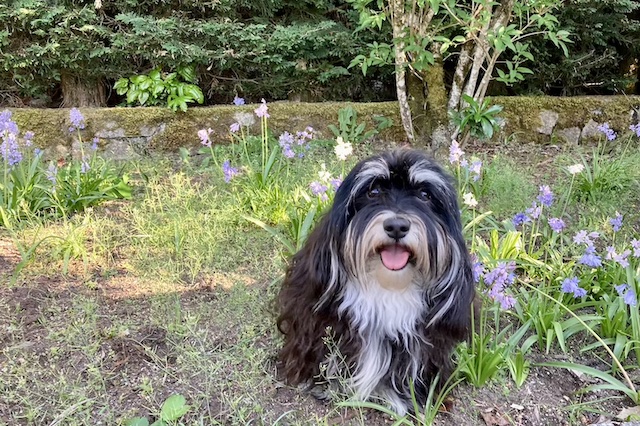 Between then, two months ago, and this past Wednesday, Dottie was lucky to get a trim from Auntie Brooke, our daughter-in-law who has a natural talent with scissors and clippers. She did a great job, and here's how Dottie looked: all eyeballs and sweetness. Oh and eyebrows, too!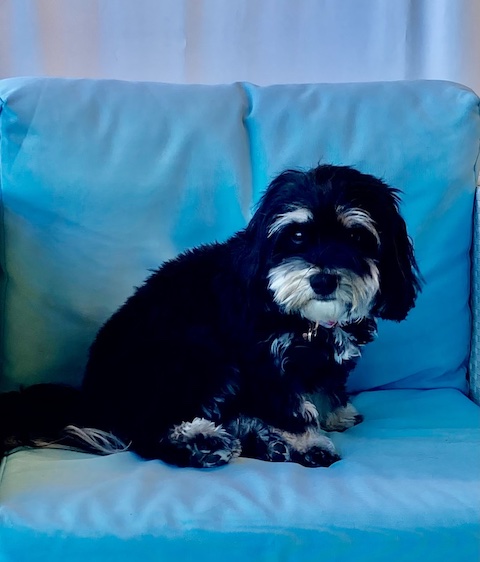 But Dottie's do-over isn't the only big news around here. When Rob and I went away for 8 days last month, Dottie made such an impression on Brooke, Phil and our grandkids Colin and Jane that they really missed having her around when she came home to us. That's where we all got lucky: it turned out that right after the Mother's Day weekend shows, Dottie's breeder had a one-year-old, who was born just a few months before Dottie in 2022, who was going to need a home.
Her name is Sammy – short for Samara – and she, too, comes from a long line of show dogs and champions. Honestly, we don't care about the pedigree, although both will still be in a breeding program and may well be mamas together. But the most important thing is how well the two get along.
It's a little bit crazy the way they run around together when they see each other in Phil and Brooke's yard and, yes, in our house, too, where Dottie even whines and looks at the front door after Sammy's been here. She truly misses her "sister."
Last week, Dottie and Sammy had a girls' day out and both got their puppy cuts. If you can stand this cuteness overload, here they are.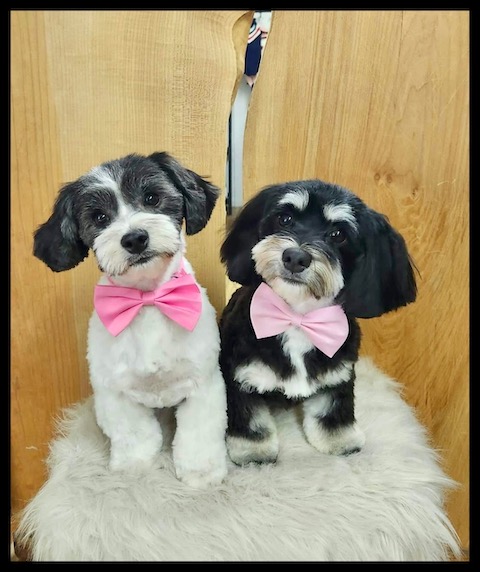 So, life is good. We have a family who loves to keep our Dottie when we travel – which we are always ready to do, last week to Sooke and this week when we head over to the mainland and visit my Dad in Kelowna for a few days. Dottie has a sister she loves. And everybody is getting along just great. Right Uncle Phil?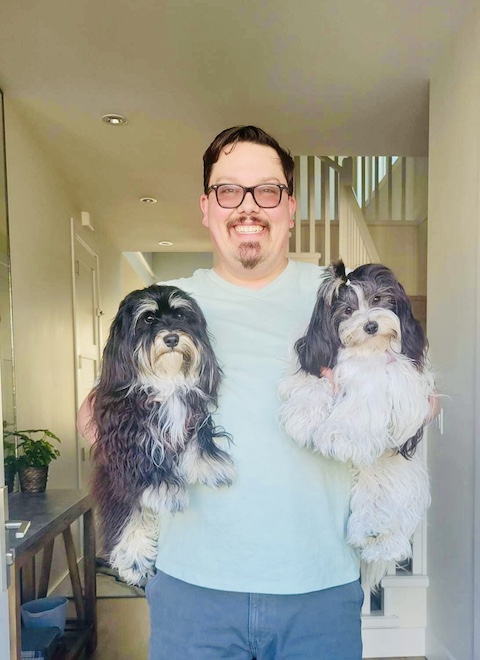 Thanks for coming by – and we'll talk to you again next week from the road. Kelowna's a beautiful place and we're very much looking forward to reconnecting with Dad and two of my sisters again. Enjoy your week.
A reminder that a new Drift sleep story awaits you tomorrow (yes, two weeks in a row – something I'm trying to make a habit again) with a second chapter from Winnie the Pooh. This Thursday, Lisa Brandt and I drop a new Episode 23 of Gracefully & Frankly and I can promise you that we take you in a direction that we've never gone. Do catch up with all of our previous episodes including and especially #21 where we look inside Lisa's summer at a nudist resort. It was an amazing chat and I only hope I asked all of the questions you would have. Take care.