Just a thought… No connection can ever be broken if love holds tight at both ends. [Shannon L. Alder]
Welcome in! You know, after this week's journals, I said to Rob, "I need to lighten things up today." So, let's see…what's funny? Not a lot, frankly, though I hope you've seen the Jerry Seinfeld Netflix special 23 Hours to Kill.
But we find joy in the little things: the Facetime with Colin in Ottawa, who's already planning his outdoor activities with the warmer weather in the forecast. It looks as if Southern Ontario is jumping from winter to summer again this year. Oh, how we used to anticipate our first walk across the Bloor Viaduct to dine outside on the Danforth! How different it's sure to be in the months to come.
Our walks are far less eventful and boisterous these days, with the aims of either satisfying Molly or adding steps to my FitBit. Tuesday we walked along the ocean shores down in Sidney. Above us there were eagles and seagulls and there was a lone sailboat on the water, but not much else. Still, it made for a beautiful view and a change of scenery from our usual neighbourhood walks, as bloom-filled as they are.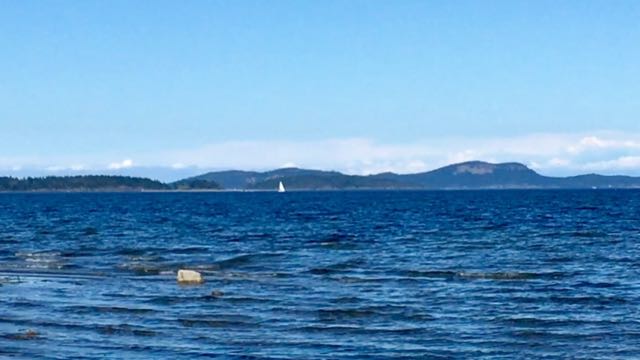 We sent a quick video to Colin and his family and Brooke videoed him watching our message to them. When I said "Do you see that?" he answered "yes!" everytime he watched it and even ended one viewing with "I love you Grama and Grandad." It doesn't get better than this – at least for now.
Our walk culminated in a balcony-to-driveway visit with our friends in town there. It made our hearts sing just to see them face-to-face, to find out that there's nothing new in their lives either (which we knew anyway, since we're in touch daily) but that they're healthy and safe.
As every single event on our calendar is crossed off (the Broadcasting Hall of Fame ceremonies, which were to take place today in Toronto, were rescheduled for September, and then scrapped until next year) we try hard not to think about when next we'll be flying east to hold the people we love in our arms. And in the meantime, we continue to thank heavens that they're all safe and healthy.
So…I've been on deer watch. On the weekend, while I was editing in bed, Rob spotted a fawn – actually it was already spotted – and by the time he told me about it, the little dear deer had already moved on. I almost wish he hadn't told me: every time I'm near that side of the house I'm peering out like ol' Mrs. Kravitz through her curtains on Bewitched. "Abner! Abner! He's back!!!"
I don't leave the house without my iPhone in case I see the little sweetie lying somewhere waiting for its mommy's return. No sighting yet, but when I see him or her, I'll share the baby I call "Fawnzie" with you.
Yesterday I did observe a couple of more mature deer practising social distancing on the grass below our windows. Sure, they may have ticks, but these beauties aren't going to catch COVID-19 from each other!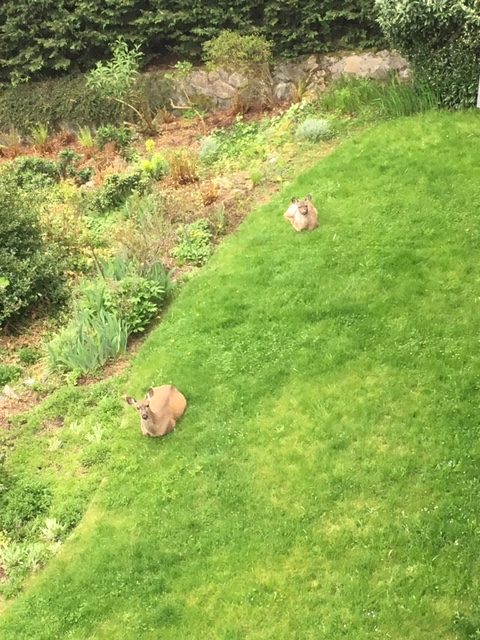 So, on that note, I'll sign off for today. Tomorrow I have for you Vendredi Video (again, maybe I'm stretching a bit with that!). It gave me goosebumps. Beautiful and Canadian, to boot!
Have a gentle Thursday and we'll chat soon.