Just a thought… Invisible threads are the strongest ties. [Friedrich Nietzsche]
They say a picture's worth a thousand words. So here are about 380 more of them, to go along with a special shot taken yesterday.
Today, as we heard of a friend's mom passing away at age 87, not of COVID-19 exactly, but most likely, her son says, due to the loneliness of the disease's accompanying enforced isolation in her seniors' residence, we were reminded of the importance of connection.
Matthew had been to see his mom, who lives in Montreal while he resides in Toronto, just the day before. She wasn't ailing, but was frail; just the same, her passing was not expected and she will be sorely missed by the friends and family she leaves behind. As always, the "at leasts" are for them to say.
It just reinforces that it's not so much the material things that we long for these days, but the hugs and the smiles, the heartfelt relatedness that lets us know we were part of something bigger. Something solid.
When I last saw my dad, it was to celebrate his 86th birthday. He was – as he is now – in good spirits and healthy for his age. And as we read the daily news, we are grateful for those things, but especially for his companionship in the form of the "girl next door" where he lives: his sweetheart Dawna.
My two Kelowna sisters are responsible for this picture: Heather, who sewed masks (one with musical notes for Dad, the other in a tiny floral print for Dawna), and Leslie, who delivered them and took this shot.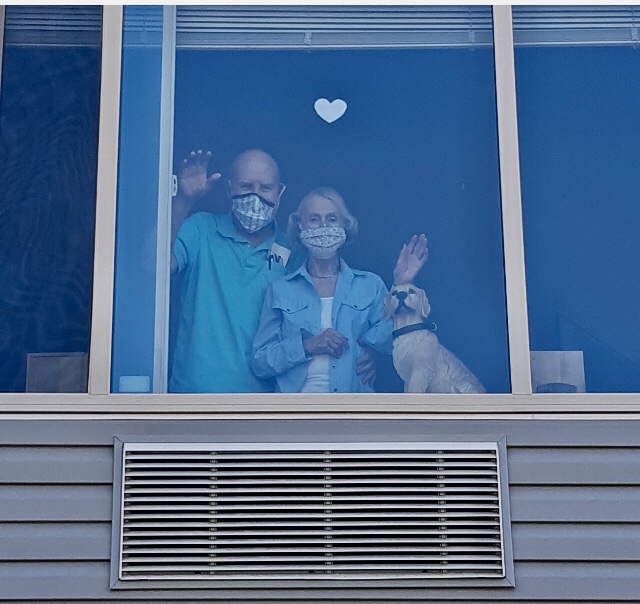 No, the doggie in the window in that shot isn't real, although I had to do a double-take, too! And that heart? I assume it's a paper one stuck in the window, but you just never know, do you?
With the breadth of despair hitting so many families who have loved ones living in senior care, many of whom – like our friend – are having to plan long-distance funerals on Zoom these days, we count our blessings that fate was so kind to my dad in bringing him a late lifemate, especially during these times of such aloneness.
I hear from so many readers who are heartsick at not being able to visit their aged parents, many of whom don't have the mental capacity to grasp what it is that's keeping their families at bay. And we know that Dad is in good hands in so very many ways. How lucky we are!
And if everyone rushes back to "normal," the last seven weeks will have been for naught. Will this be the hindsight that 2020 provides?
I'll be back with you tomorrow.