Just a thought… Do things for people not because of who they are or what they do in return, but because of who you are. [Harold S. Kushner]
You can watch a video version of this journal on my Facebook page, or here on YouTube.
I do hope you had a good weekend. I'm going to predict I did because when I brought a journal to you last Thursday I said, "I'll talk to you Monday after a weekend in Kelowna with my dad and two sisters."
Kelowna is a flight to the mainland; it's about an hour from YYJ to YLW, but December being the month it is, and us expecting really high winds and Kelowna getting rain and snow, I thought: what if I don't get in on Sunday evening in time to shoot and post a new journal?
So I thought I would do a new journal now before we leave. It's nice and quiet where I'm writing; Rob's at hockey, and I wanted to take the time to share with you here. (By the way, I am hopefully getting a new camera for Christmas to reduce the blur factor).
But I wanted to show you something special. I gave it to my sister this weekend so I'm not spoiling anything by telling you about it now. It's something that Brooke made for us (I'm not regifting!) and I loved it so much that I asked her to make one for my younger sister Leslie. You see, she lost her son four years ago in a murder in Kelowna which has yet to be solved, adding just another layer of pain for her.
Brooke made this for Rob and for me. It's a lantern that she has decorated and when you open it, there's a picture of Lauren in a tiny chair. It has battery-operated lights in the top decoration and it's simply lovely, as you can see: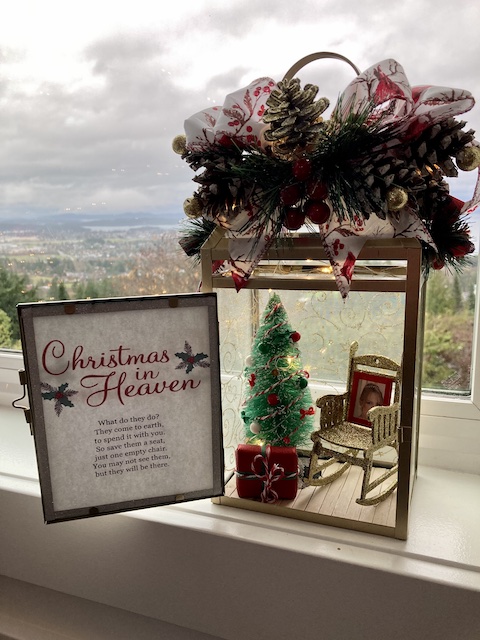 The theme of it is Christmas in Heaven and there's a poem printed on the outside.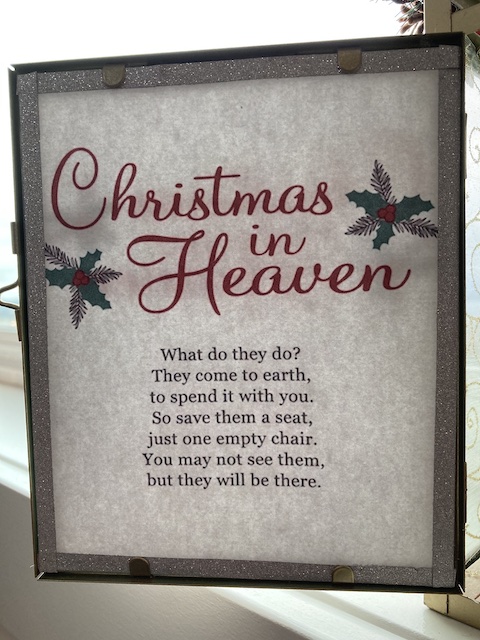 Yes they will. No matter how our traditions change – whether it's the location, or a new tree or some ornaments on it that don't come out every year anymore, they are still there. In our hearts, there's that empty chair, but always always always a place in the Christmas traditions for the ones who are not here.
And so with that I will tell you – again a prediction – that we had a wonderful Christmas celebration. Have a beautiful day, a lovely week and thank you so much for spending time here. It means a lot.