Just a thought… I can't decide if people who wear pajamas in public have given up or are living life to its fullest. [Author Unknown]
As always, you can watch a video version of this journal on my Facebook page, or here on YouTube.
First of all, thanks if you answered my call to please rate my podcast Drift with Erin Davis. You don't have to be an Apple device user, and you can do it. The better the ratings for the podcast series, the easier it is for people to find these sleep stories; the more people who listen, the easier it is for the folks at Frequency Podcasts to sell it and then it'll all be free, eventually. I hope.
This week's story is Louisa May Alcott's beautiful A Christmas Dream. I loved doing this one. And if you're wondering how to listen to a podcast, it's so easy even I figured it out. Here's a link to a quick video to help you out.
And have I shown you this?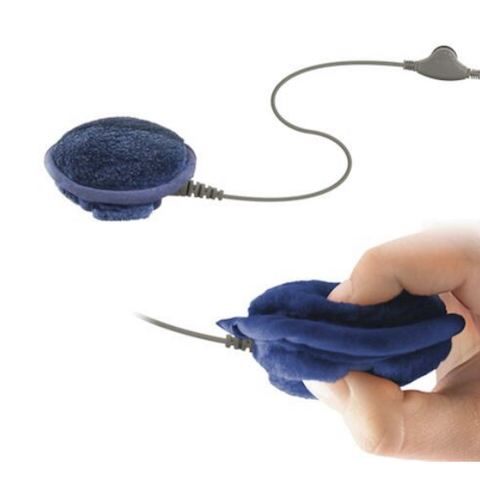 It's a pillow speaker. Plug it into your device and listen 'til you fall asleep. It's flat, fits into your pillowcase and is comfortable enough to sleep on. Great idea if you get an Amazon gift card or something for Christmas and then we can Drift off together! Just Google them and look for the reviews; that's how we made our choice.
Speaking of Christmas, we had a terrific time in Kelowna, just as I predicted in my rocking chair journal here on Monday. The flights were smooth, short and on time, and more than that I cannot ask. Leslie just loved her Christmas in Heaven lamp and we had a great big teary hug. But here's the truly amazing part.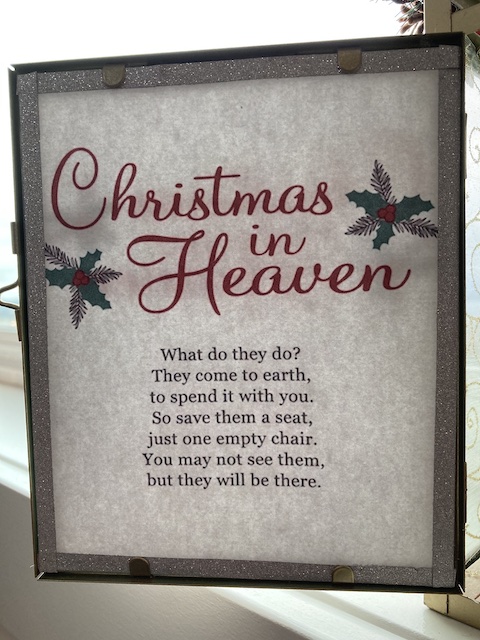 When Brooke made this, she found a little red arm chair at Michael's (named appropriately enough).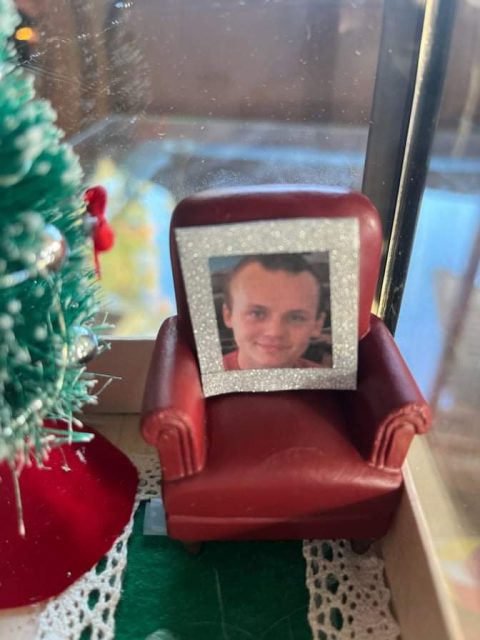 And look at this. Here is Leslie's son Michael in almost an identical chair as a toddler. I mean, how on earth could Brooke have guessed?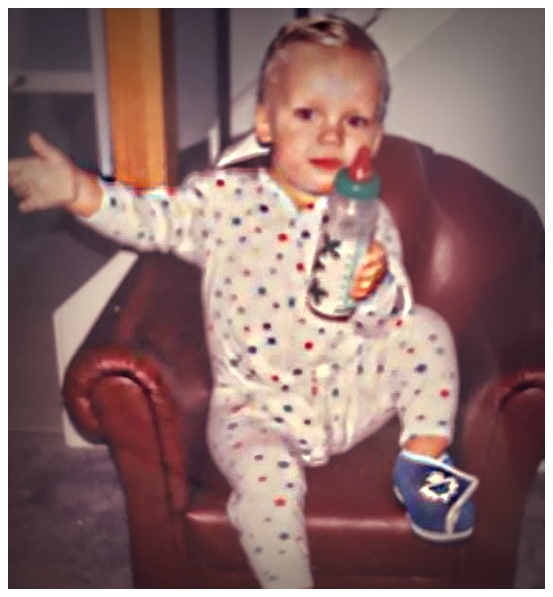 How wild is that? By the way, at your request, Brooke is considering making these through the year for you to have next Christmas. If you want to enquire, email me.
So I have to tell you something that is so Erin and Rob that I may well laugh about this every time the door bell rings.
It's about 3 pm on Monday. I'm still in my buffalo check red PJs, having edited and written and puttered for most of the day. Have I mentioned I love my jammies?
The doorbell rings. I skitter to the bathroom and even though Rob has a toothbrush in his mouth, I ask him to answer the door, since I can't let anyone see my in my pajamas at that hour.
He goes, and there stand our 90-something-year-old neighbours, Lou and Alan, holding a beautiful orchid as a gift to us, and a jar of homemade blackberry jelly for Colin, who loves it. (We had dropped off a poinsettia to Alan last week for Christmas.)
By the way, do you pronounce the second "i" in poinsettia? I always feel like I'm on Downton Abbey. "Oh look, Robert, Mary brought us a poinsettia!"
Where was I? Ah yes. I'm in the bathroom wondering how to make myself presentable, so I put a hair towel on and my bathrobe, put water on my face and run out to the door, so they'd think I was in the shower. We had a quick chat as they kept their safe distance, and then said our Happy Christmases (Allan is British, like so many in the Victoria area) and closed the door.
As I congratulated myself on my clever little ruse, Rob says, "That would have been brilliant…if I hadn't told them you weren't coming to the door because you were in your PJs."
I said, "NO YOU DIDN'T!" and he said sheepishly, "Maybe…?"
And then we shared a great big laugh.
People who know us understand that we work on different kinds of hours doing goodness-knows-what in front of a microphone or a camera in this house, but still, I know that there's a fair bit of judgment, especially among our parents' generation, that comes with someone who wears her sleep clothes (or, as I call them, my work attire) for an entire day.
I was well and truly busted. And that, my friend, is the story of my life in a nut shell. Five years since that magical last broadcast at Casa Loma, I'm embracing the sleep, the night-owl hours, reading, writing, working in PJs and all of the wonderful, busy, messiness of our lives. It's as good as it gets.
Have a great weekend and I'll be back with you on Monday.