Just a thought… There are times when fear is good. It must keep its watchful place at the heart's controls. [Aeschylus]
Oh my. Three years ago today we boarded our Air Canada flight for BC – just Rob, Molly and me. A new life began…and here we are. I miss you. I miss radio. But I'm grateful for this connection here and for all of the interesting opportunities that have come our way in the past three years. Time crawls, time flies, time moves no matter how we spend it. I vow to spend it more mindfully in 2020.
I have a couple of very interesting pieces sent to me by journal readers and former listeners. One has to do with a beautiful gesture of thanks, the other in response to last Thursday's phone scam blog. I got a lot of emails and Facebook posts on that one, so this seems like a topic on which we could all use a little more enlightenment. Please take a few minutes to read and share this. Gilda writes:
Hi Erin. As you wrote in your most recent post, crank calls trying to convince you that they're coming from a legitimate source are a growing nuisance, and increasingly sinister.
Earlier this week, my husband and I listened to a call-in show on CBC (Ontario Today) which discussed this very topic. The host, Rita Celli, had a security expert as her guest, and invited people to call in with their experiences. As you can imagine, there were some horror stories from people who were duped out of money and/or precious identifying information. These were not just confused seniors who didn't know any better – some were very computer-literate and knowledgeable people who are being targeted with increasingly sophisticated and convincing scams.
Some callers said that they enjoy "playing" with the scammer, joking around, trying to get them to admit they're frauds. (One caller said that she asked him how he would feel if his mother knew that he's doing something so evil, only to be met with a torrent of expletives and threats.) The security expert strongly advised against engaging the scammer in conversation. He pointed out that these scammers and their equipment are very sophisticated, and the longer you are on the phone with them, the greater likelihood that they are picking up clues that they can use against you, even though you may think you're not giving them any useful information at all. His recommendation is to never pick up ANY call that looks the slightest bit suspicious. If you do pick up by mistake, hang up immediately. And never call back on a number that they provide – that's a sure sign that the number is set up to sound legit, but it's not.
In your original post, you said, "After a lengthy pause, there was a garbled message from "Service Canada …" The security expert mentioned this specific detail as a telltale sign that you're about to be scammed. This is how it works. First, they use automated robocall technology to call virtually every phone number in existence. Then, when the technology detects a pickup, it transfers you to a real person who starts the scam process. That pause before you hear a voice is your first clue that you will be talking to a scammer. You've already confirmed that you exist – don't make it worse by actually talking to him.
Unless you are actually expecting CRA, or the bank, or some other official agency to call you on a matter that you know about, DO NOT PICK UP. These scammers have ways to make it look like they are legitimate, but the odds are highly likely that the phone number has been "spoofed" to make it look real. Even just the act of picking up the phone, or calling back on a number that they provide … even before you say your first word, you are giving them clues that they will use against you.
I now refuse to pick up any call, unless it shows up on my phone display with the name of a person or company on my Contact list. The odds are that any other call is from a scammer with very sophisticated software that masks his true identity, trying to separate me from my money, digital identity, or both. In the odd circumstance in which a non-identified caller is actually legitimately contacting me (for example, a new friend who has not yet been added to my Contact list, or a new medical office that is calling to set up an appointment at the request of my GP), I trust that they will leave a voice-mail message. At that point, I will add that name and number to my Contact list for future reference, so that an actual name will show up on my phone display the next time they call.
So when you said in your Journal that you plan to respond with your "most desperate 'little old lady' voice," I was very worried about you. You are not likely to accomplish anything, and, without even knowing it, you will have just given them more ammunition to use against you. Please think twice, my dear friend, and be safe.
Thank you, Gilda – points well-made, well-taken and extremely well-explained. I hope everyone takes a moment to read this information.
And finally, to restore your faith in humanity today – the brightness to the darkness in the universe's yin and yang – a note from Claire. This is so beautiful it almost brought me to tears.
I wanted to let you know that I received your label for the book. Thank you with all my heart for taking the time to sign it, along with the lovely message.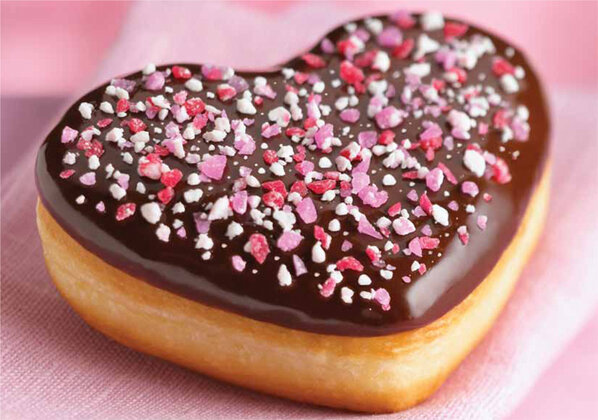 As promised, I went to Tim Hortons and paid your kindness forward to a woman and her son who were in line ahead of me. I briefly explained why I did what I did, and lo and behold, she knew all about you from years of listening in to CHFI. It made my day (especially when the little boy said thank you to me for paying for his donut, lol)!
Sincere thanks, Erin.
Claire
Oh, you are SO welcome! You see, Claire and I met years ago outside a Tim Hortons, as Rob and I were making our way to Ottawa for a visit. We posed together for a picture and her loveliness made an indelible impression. So that's why Claire chose to thank me for the label (as she did Lisa, too) with a Tim Hortons gesture. It was perfect – and just a beautiful way to honour the spirit of this season: giving, expecting nothing in return and feeling good right to the bottom of your cup – or heart.
Have a lovely day and I'll be back with you here on Thursday.