Just a thought… It doesn't matter where you go, it's who you have beside you. [Author Unknown]
You can watch a video version of this journal on my Facebook page, or here on YouTube.
Well, we're home, along with our luggage (more on that Thursday). And I hope you enjoy some pictures I couldn't wait to share, taken from our home-away-from-home for one week, the stately AMASerena, part of the fleet of Ama Waterways' gorgeous river boats.

Some of our group arrived in Europe earlier to explore the Netherlands, but Rob and I began our journey in Victoria, flying the smooth 10 hours from Vancouver to Frankfurt. From there we were hustled by bus and eventually ran to our gate; with long lines at customs we made it with just minutes to spare on to our one-hour flight to Amsterdam (a hair-raising experience we'd repeat in Frankfurt on our way home; more on that to come another day).
After a nap, we connected with our dear pal Mike Cooper over dinner at a brasserie. (Imagine how disappointed Mike was when he learned "brasserie" and "brassiere" were two different things. Oh, Mike.)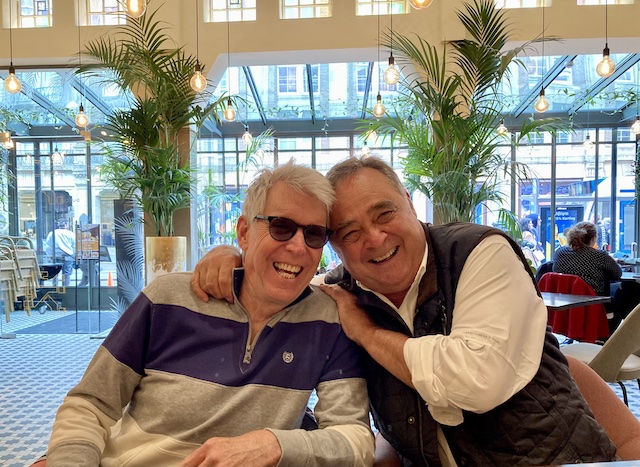 We had much catching up to do – and, of course, laughing, hugging and telling stories (some of them actually true)!
We had breakfast in our hotel, that Anantara Grand's lovely winter garden atrium.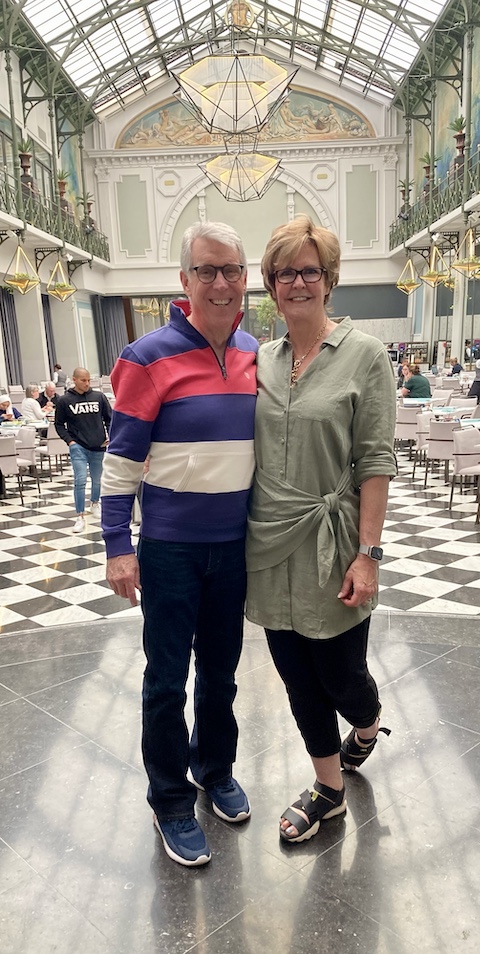 Then we packed up and headed to the AMASerena. Our group was comprised of mostly couples who'd booked the 'Erin & Mike on the Rhine' trip; but I guarantee you everyone else had fun with us, too.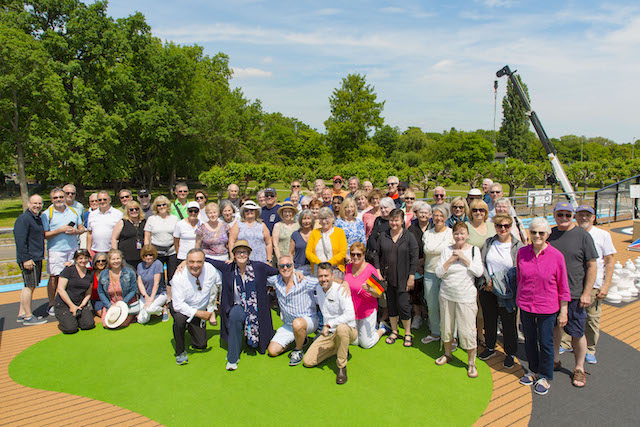 We gathered for dinners; Mike and I each hosted a table of ten every night with wonderful folks who hung on for nearly three years (through two postponements) until this river cruise finally took place.
During our stops, we did a bit of shopping and had some outings that may or may not have included more food (this was waffles, cherries and dairy two ways in Rudesheim).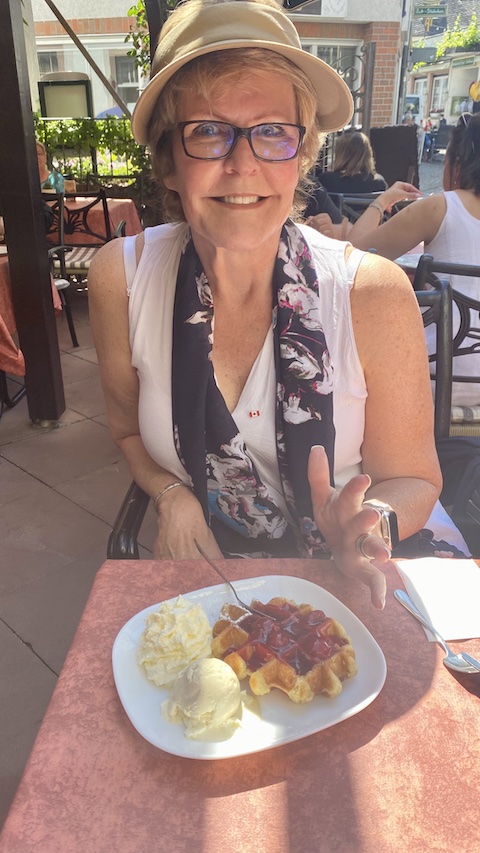 Cycling, bus and walking tours were offered, but what really drew us all in was the scenery: the chance to cruise along the Rhine River. Visually dramatic with its geological and historical treasures, this UNESCO World Heritage Site is one of the largest and oldest cultural landscapes in Europe.
If one kept count, there were some 20+ castles and the views were spectacular. What a way to spend just part of a day!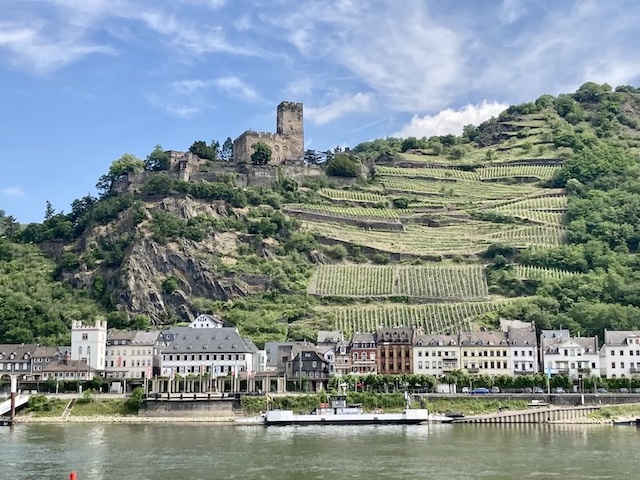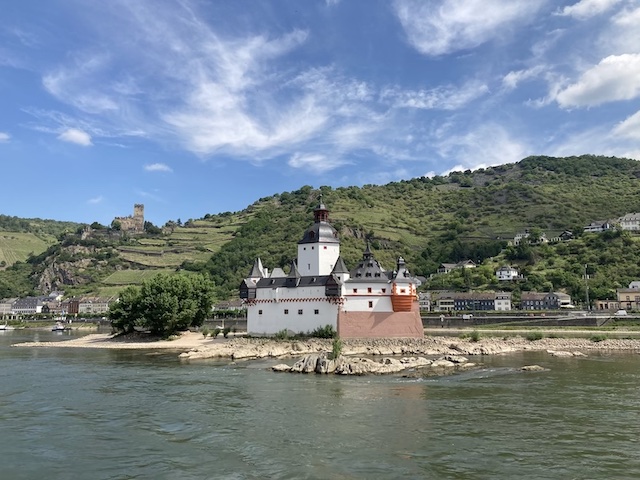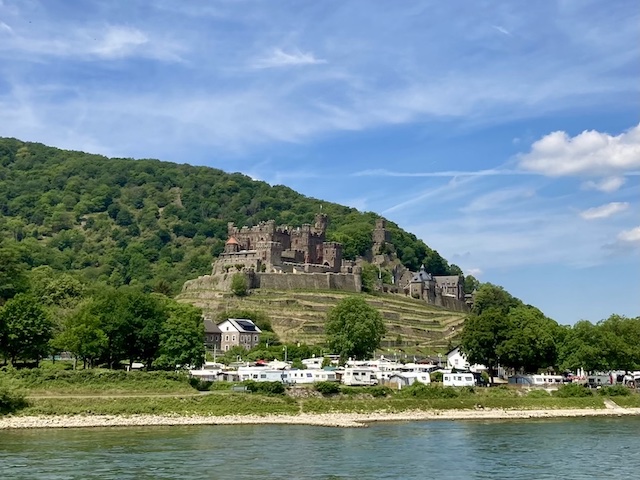 The social highlight once again this second and final cruise with us was the dance held on Friday night. Even after a long day of sight-seeing and cycling, our group was still ready for a great time dancing and laughing. Yes, there were masks worn on the dance floor, and at one point, a bra being held aloft over the dance floor (not mine) but it was a fantastic time, thanks to the DJ, my Rob, of course, and the incomparable (and, yes, very sweaty) Mike Cooper.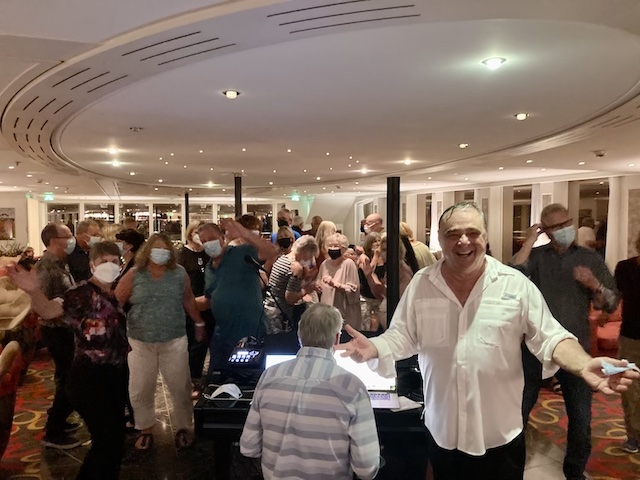 Thanks for coming by. When I come back here on Thursday, what this trip taught me, after years of travelling with listeners who became friends. But for now, I'll wish you a wonderful week. By the way, there'll be a new Drift story tomorrow: my kinder, gentler retelling of Little Red Riding Hood. Do join me, won't you?