Just a thought… Feeling gratitude and not expressing it, is like wrapping a present and not giving it. [William Arthur Ward]
Ah, Palm Sunday. Lauren was born on a Palm Sunday in 1991; one week later, after we were sprung from hospital following a bout of jaundice caused by her arriving three weeks early, I put her in a bright yellow dress for Easter Sunday mass. Since her skin tone was a combination of red and yellow, the dress looked AWFUL. But I thought that since I'd had it on a doll for years, it would be nice to have her in it. Thankfully, I don't have a picture to share!
How far we've come in baby fashions! Seeing the outfits that Brooke puts on darling Jane just lifts our hearts. Brooke's generous with pictures and was hoping to dress up her little doll to take out but, of course, that's not happening. So we get to share in the sweetness!
Colin's call with Grandad was super cute yesterday and he'd made a sign that said Happy Birthday Grandad on it. A hand-drawn card arrived in yesterday's mail, just in time, and it was just wonderful.
As for Rob's birthday, because we've basically ordered everything we need online, I couldn't come up with one thing for him this time. But he got lots of phone calls and emails and greetings from folks on my social media, so it was a nice day, topped off by a beautiful turkey dinner we prepared together and from which we'll have a week's worth of meals. It was far cooler in our neck of the woods (about 8C) than it was for many folks who read this journal and we are waiting for island weather to improve!
I've been visiting with my dad by phone a lot; he calls about every three days and although many of the stories are ones he's told me in previous calls, I sure don't mind. They're exercising extreme caution in the place he calls home in Kelowna and we're relieved about that.
There don't seem to be any cases there and they're even lowering the rent by 15% because the residents can't take part in the usual activities and use the facilities the way they normally would. Also, given that many of the staff have been laid off, their overhead is much lower. Nice move, though, to reduce the costs of living there for the folks who are pretty much isolated from their loved ones.
I'm so glad Dad has his companion Dawna and that they're able to enjoy their dinners together each evening, as well as quiet time spent with Dad reading to her from the various books about The Bible that she enjoys.
They did have a "block party" of sorts this past week though: residents set up chairs outside their doors and listened to a musician who played and sang for them from down the hall. Quite inventive, I'd say, and good for keeping up people's spirits!
Dad made his usual Easter joke about hiding his own eggs next Sunday, so all is well with his sense of humour. We talk about the Blue Jays World Series reruns, climate change (his favourite topic to get me going), the weather and what my sisters are up to.
Here's one of my favourite photos with my Dad, taken five years ago.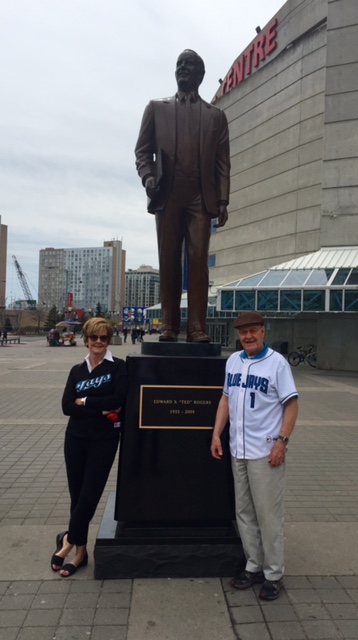 I'm fearful every day of losing this soon-to-be 87-year-0ld man, but we know that, given his prostate cancer diagnosis near 20 years ago, every day with him – on the phone or in person – is a gift.
Come to think of it, if these times have reminded us of anything, for ALL of us, every day is a gift.
And I'm grateful that you come here each day just to share in a moment of the unwrapping.
Stay safe, stay healthy – and I'll be back with you here tomorrow.