Just a thought… Baking is love made edible. [Author Unknown]
As always, you can watch a video version of this journal on my Facebook page, or here on YouTube.
Imagine – under one month from now we'll be in spring. Here on Vancouver Island, the crocuses and snow drops, as well as hummingbirds, have been shivering from a cold snap that came our way. But hey – it's all perspective: it's not Winnipeg cold…so on we go.
Despite the insanity around us, and maybe because of it, we consider ourselves lucky. Again, all perspective. (And by the way, if you're having trouble sleeping, as so many of us are, the newest story free on Drift this week is The Velveteen Rabbit. I know you'll love it as much as I did in bringing it to you!)
Back when lockdowns began, you couldn't open a news or social media site without reading that someone was making bread or had a sourdough starter. To me, that might as well have been people talking about building a car from scratch, or even doing Wordle. Not my lane. If you love doing it, then great, but I'll just move on, thanks.
So I'll understand if you say, "Oh, that's old news…." when I tell you what's been going on in our little insular lives.
I started this year with a purpose: I was going to get acquainted with my kitchen. I bought a set of pots and pans so nice that they have their own tea towel for drying. I got a heavy-duty artist's apron in turquoise that matches my kitchen. I started looking at recipes and then made a file where I keep the ones that seem possible. I stepped through my fear and aimed at becoming a better cook.
Part of this came from embarrassment: Rob and I were invited to no fewer than three dinners in people's houses in the last few months of 2021 and I was paralyzed with fear over reciprocating. I mean, it's one thing to have forgiving family over and meet them with too-chewy scalloped potatoes or a cheesecake whose base refused to form properly, but when you have a few excellent chefs in your slowly increasing circle of friends, and you realize how downright rude it is not to invite them over, you have to decide what to do.
We can pay for restaurant dinners (and have) or step up and learn a few things at long last. Becoming better at cooking was something I'd always said I would do in retirement, and while heating up a bag of frozen pasta and shrimp does fine for a dinner for Rob and me, it just won't cut it for company outside of family.
A few weeks ago, I decided I'd try making bread. Our favourite kind is focaccia: a cake-like, light bread that you dot with rosemary and sea salt (or many other toppings, as you'll see in the recipe).
I found one that called for the dough to be refrigerated for at least 24 hours (and can be for up to 48) and I thought, Well, let's give that one a try. No kneading, very simple.
I'm happy to tell you that the first time I did it, it was a success. Which scared me, because I thought it was a fluke. But I made it again for Family Day. It went from the fridge (after 24 hours of rising) to this…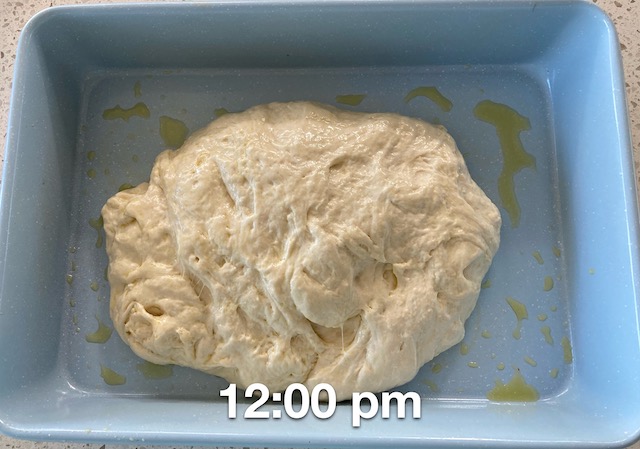 …and then this…
…and finally, this.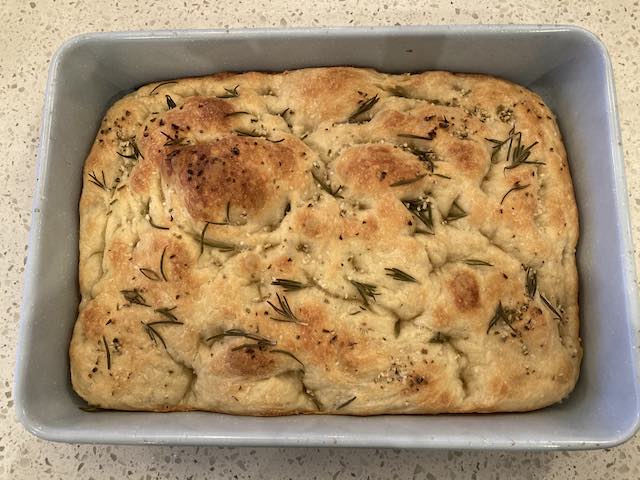 And, yes, it was every bit as good as it looks.
But here was my one last quandary: the first time I made it, the place on which it rose for the afternoon was on a counter over a running dishwasher. That counter gets nice and warm. So I wondered: Was the warm countertop the secret to it rising so perfectly?
Just to be safe, I timed my dishwasher running with the rising bread for the second focaccia I made and, as you saw, it was perfect.
Is this "dishwasher bread?" Or will it be fine without it?
Stay tuned for "As the Bread Rises" or "Erin Gets a Life…Eventually" coming soon to the Food Network.
The recipe is here if you want to try it (there's even a video guide to it) and, trust me, it has the thumbs-up from everybody who's enjoyed it at our table. And no, they're not just being polite! We're open about what could be improved at every sitting, so I'll get it right when friends come over…which we all hope will be sooner than later.
Have a good weekend and I'll be back here with you Monday.