Just a thought… God bless that potential that we all have for making anything possible if we think we deserve it. I deserve this. [Shirley MacLaine, Best Actress, Terms of Endearment]
If you'd like to watch a video version of this journal, you can see it on my Facebook page, or here on YouTube.
I didn't dress up for the Oscars last night and host a party with a few good friends (as Rob and I did two years ago) so I'm dressing up for you today. Because why the heck not, right?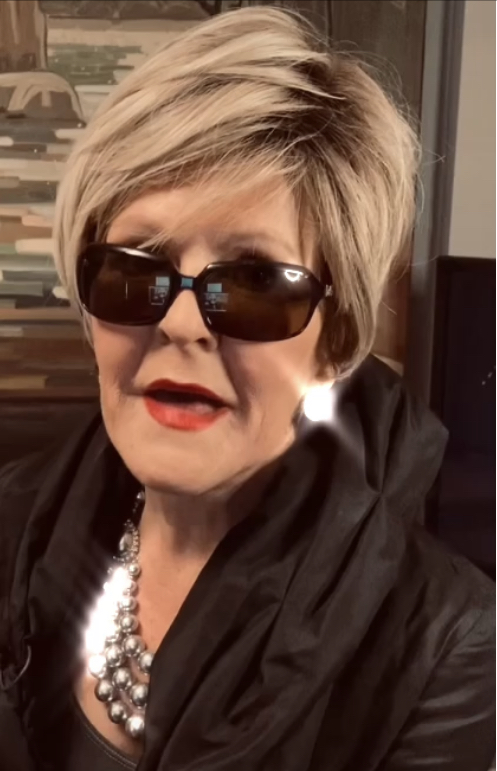 Didn't even watch the Oscars, for the first time in my adult life. Even when we were on trips, I'd set the VCR or PVR and catch up later. The year I had Lauren, I made sure I caught some of the Oscars the next night from our hospital room. Not this year.
I don't think I saw one single movie that was nominated. Usually in the weeks between the nominations and the actual awards night, we'd binge like crazy so that we could have favourites and see how they fared. Not this year.
Yes, there are ways to pay to see the nominees in the comfort of our own home (where the snacks are way cheaper but the popcorn just ain't the same) but we're so weighted down – no, there's got to be another way to say that so it doesn't sound like a burden – with podcast and speech projects plus, of course, family time, that if we're lucky, we stop working (editing mostly, each on our computers with headphones on) at about 9 pm and watch an hour of something we've recorded and then go to bed. That's unless there's a hockey game, in which case Rob watches and I edit, jumping when he yelps over something the Leafs have done.
Don't get me wrong; this is all a labour of love, as I truly find fulfillment in what I'm doing. Speaking of which, don't forget to join me, if you're interested, for Tuesday's Facebook live (www.facebook.com/erindavispage) with Yvonne from Home Equity Bank talking about CHIP mortgages – the ones you see Kurt Browning doing the ads for. Mmmmm…chips.
Now, where was I? Yes. Not watching movies. I know there's some great stuff out there and one day I'll catch it – or not. I am not feeling in the mood for anyone's angst; I have enough of it going on behind the scenes here. There's a reason I got sucked into a wonderful rabbit hole of Karen Carpenter drumming videos yesterday – do look them up – and Gene Kelly dancing on roller skates. Momma needs her happy place.
To a very unhappy place, thanks for asking: Dad is getting a walker and seems to be recovering well after the fall and the unconscious spell that led up to and followed it last week. But the worst news is that after dodging a bullet for well over a year, his residence in Kelowna now has its first Covid-19 death, and there are some 11 cases, including one staff member. So there's a lot of worry. He's had his first shot, but not everyone did.
But please, keep marching and telling me about your civil rights. Of course, these same people expect to march into the ICU when they get Covid and take a bed that should have been held for someone who actually adulted their way through a pandemic. Nothing is fair about this.
Oops, I got sidetracked again. Well, my friend, I shall go for now and we'll see you perhaps tomorrow night. Think positive, test negative and we'll talk to you then.