Just a thought.. Never confuse thoughtlessness with malice. [Rob Whitehead]
You can watch a video version of this journal on my Facebook page, or here on YouTube.
So, my Rob (yes, that one in the quote, whose wisdom steers me through all kinds of weather) and I are away from home for a few days right now at a place that I always seem to go to when my mind wanders. It's called Sooke, on the south coast of Vancouver Island west of Victoria.
This is the place of striking scenery, wildlife and wilderness, an area not so far from the provincial capital, and where people can hike, whale watch and take in nature at her best without the drama and power of her fury like people up in Tofino and Ucluelet see on the regular.
From waterfalls and forests to what they call the "pot holes" (which are, as a pleasant change from life in Toronto, actually in the water instead of on the roads), it's a place that feels like heaven to me. In fact, we very nearly bought a house in East Sooke when we were leaving Ontario and, while I'm glad we didn't, given how far it is from Victoria (about a 40 minute drive in good traffic), it's a wonderful place to visit; it gives me peace and space, two things we all need these days.
This Thursday I hope to treat you to a journal shot outdoors in Sooke; the weather forecast as I write this is iffy and we'll be quite content to sit inside and read, to be together, to reconnect and to spend time with a couple of friends who are going to stay the night with us.
But today there will be cake as Rob marks another birthday. My boy is still playing hockey two or three times a week, cycling and staying fit, and I could never ask for a better partner, husband, dad for our daughter or Grandude for Colin and Jane. He's stepped up for every single role he's been called upon to fill, so today's my day just to celebrate Rob. (Of course, I'll still let him make my coffees these mornings; I mean, I wouldn't want him to get out of practice….)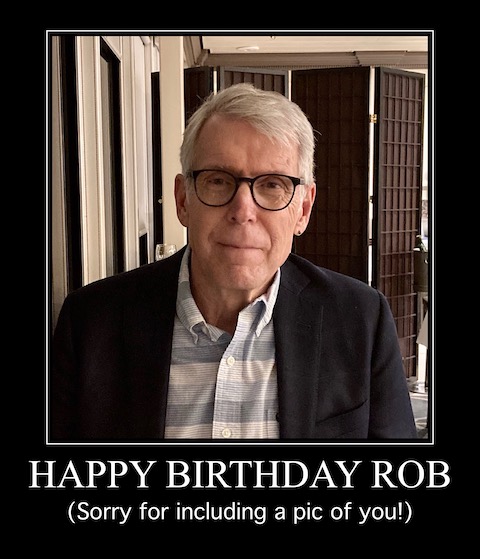 But as I say my thanks every night, my last words spoken aloud are always, "I love you." I'm a lucky girl and am so glad he chose to spend this lifetime with me.
Talk to you here again on Thursday.