Just a thought… Grief can be the garden of compassion. If you keep your heart open through everything, your pain can become your greatest ally in your life's search for love and wisdom. [Rumi]
You can watch a video version of this journal on my Facebook page, or here on YouTube.
Now, today I'm not talking about grief – stay with me – it's about what can happen afterwards and the joy that can await you.
I have a couple of special people in my heart and on my mind today. One: my dad. Yes, you've met him and I'm so glad we had that trip to see him in June, when we took that boat trip on the Okanagan before the whole area surrounding Kelowna became one big smoky smudge, with temperatures daily in the 30s.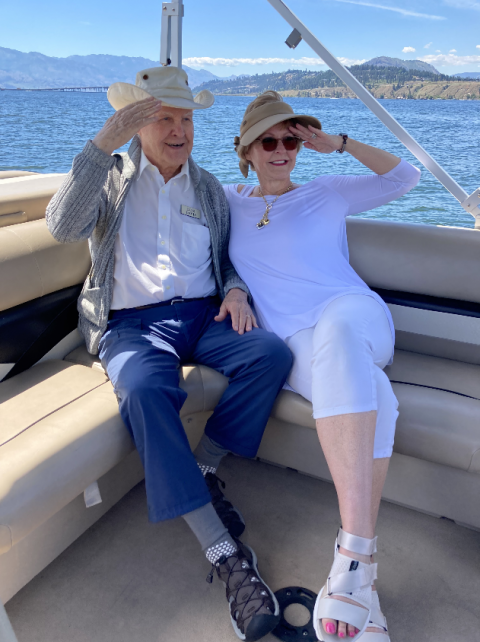 Mind you, here on Vancouver Island, we've come through another hot stretch with temperatures in that same range, although today's high is a much more normal 22. Mind you, Rob and I are lucky because, although we don't have central air, there's a heat pump system with three units that cool the house. Most folks and almost all resorts up island have no AC at all. It's time to start looking at the future and this new normal, I fear.
At long last, more governments (including ours in BC) are mandating that all people who work in long-term care facilities now have to be vaccinated. It seems a no-brainer, but as we've discussed here before, there's a shortage of intelligence and common sense abounding.
The second person about whom I'm thinking a lot these days is a new/old friend. Her name is Mira and I met her when Rob and I picked up some new addresses on our weekly meal deliveries for a community centre. Next week she's turning 96.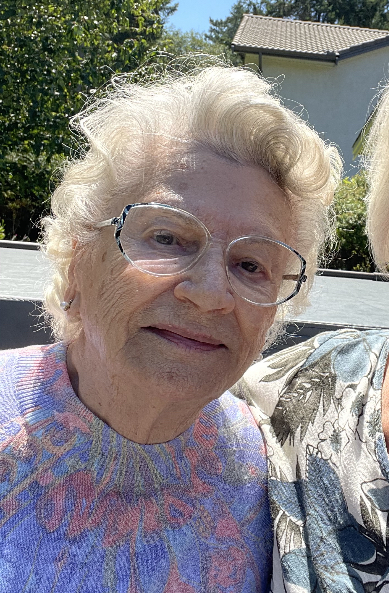 Mira is a gift to us: one of the most lively, active, sharp and funny women of her age – and almost any other – that we've met in years. She greets Rob and me with an offer of ice cream bars from her freezer; she has started stocking new choices every week and no matter what we have after our deliveries, we are now making sure we have time to be with her, to sit, to make a small repair here or there, or to share our stories, listen to hers, or just talk about the weather.
She has no air conditioning, but she's faring well enough with little ice packs on her wrists and that freezer of cold treats. I wish we had a fan we could have lent her during the last wave. They're nowhere to be found these days, as you can imagine. But trust me, she's lived in the middle east; she can handle this, as she's been through so much more.
Mira was in a work camp as a young girl during the Second World War. She and her future husband, who lost his entire family during that awful time, moved to Israel in its aftermath, as her country (the former Yugoslavia) no longer existed.
She came to Canada when that loving husband died suddenly while visiting one of their sons here. That was nearly 50 years ago. And so here she is, a Canadian for the past 15 years. Her life, her memories and her spirit are such a bright light and Rob and I feel fortunate even to share a slice or a scoop of it, every week.
Mira even introduced me to a wonderful former Toronto resident who was invited over in time for our meal delivery a few weeks back; the woman happened to know who I was when Mira spoke of me on the phone, so there was a lovely familiarity. Unfortunately, that woman is moving back east in a few weeks, but she's introduced us to other couples so that we might make some more friends in our new homeland. All about connection, right?
I'm touched almost beyond words by the kindness that has come into our lives just because we stepped through doors and out of our own comfort zones. Even during these times of delivering in a mask and gloves, of taking precautions and keeping our distance, we can still forge bonds of the heart. We never know how long they will last, but as Mira says of us, we are already in each other's hearts. She's one in a million and a literal reminder that you cannot spell m-i-r-a-c-l-e without Mira.
Have a lovely day and I'll be back here with you Thursday.