Just a thought… Don't be ashamed to weep; 'tis right to grieve. Tears are only water, and flowers, trees, and fruit cannot grow without water. But there must be sunlight also. A wounded heart will heal in time, and when it does, the memory and love of our lost ones is sealed inside to comfort us. [Brian Jacques]
We've all heard the saying that it's better to give than to receive. This year I'm feeling it 100%, although I did receive something the other day that brought me to tears. Right gift, right time. No presents under our tree; we're giving Rosie a little more freedom and she might find them a little too enticing!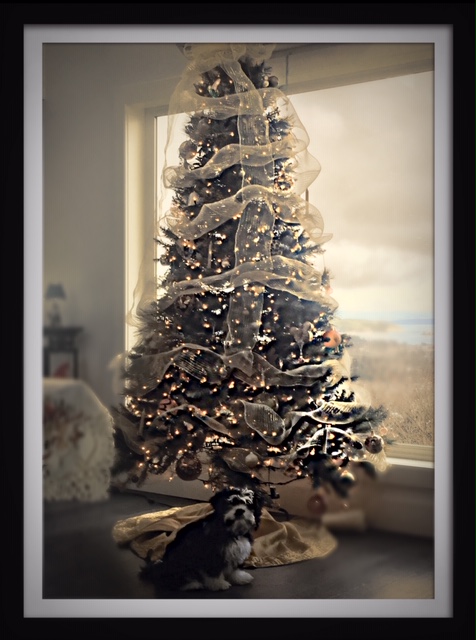 I was so excited on Friday when Rob dropped my sister Leslie's parcel into the mail bound for Kelowna. I can't tell you here what's in it, but it was an idea I came up with, we ordered the elements to make it happen, put the whole thing together and sent it off. I'll share details in the new year!
Anyway, just planning and pulling that off made my Christmas. Of course, there will be gifts for others that excite me at the thought of them being opened, but this one meant everything because it shows her how much I believe in her. She and my other two sisters have been so amazing at keeping my dad as content as he can be, and his affairs in order, as he lives in constant isolation (along with the other residents, mind you) in a seniors' home in Kelowna.
On Thursday of last week I was having one of those days. I think it was the after effects of having done a 90 minute live interview (!) on Instagram the night before with girltalkempowerment.com CEO and founder Katie Zeppieri. The topics were varied but, of course, a big part of it was my book and its contents. I find I'm able to tell the story of our daughter's death and its toll on us quite capably in the moment; it's the hours or days after that end up reverberating through me.
Later Thursday, Rob and I returned from some errands and there was a little cloth bag at our door. Inside: a glittering hummingbird ornament. As I unwrapped it, I started to cry. My friend Nancy and her dear husband Charles had done this for us and, although she apologized later for my tears, she needn't have; I was looking for a reason to let those emotions out. And I did. Hey – it has to happen, right? Water those flowers. Grow new memories.
Another wonderful gift of this season came from my dad. It wasn't to me, but through me, which meant even more, as it was another of those presents that show someone believes in you. Every year at this time, Dad writes cheques to two charities. One is always Salvation Army (which we also heartily support) and this year I asked if he'd consider the community centre in Sidney for which we deliver meals each week.
The program began when COVID isolation kicked in; Rob and I learned of it from a fellow Rotary club member, thought, why not? and volunteered. Dad said yes without reservations. Last week I was given a hand-written thank-you card to send on to him, and it's now in the mail. His generosity, and that of so many, is helping to keep the hot and frozen meals coming to those who aren't able to risk going out to shop. What was meant to be a limited-time program has been extended indefinitely and we're grateful to everyone who is helping to make this possible.
And then we come to a gift for you. In 2005, I partnered with Cori Ashley and her husband Ed Franks, an award-winning team of composers/performers who assembled a wellness program for your ears (but mostly your soul), called Prelude To The Calm. Stress relief in five minutes or less (because who has the time or energy?).
Since Cori and I last connected, she has created – along with numerous experts in different fields – a series of empowerment programs for people of all ages. It's simple and fun and hugely helpful for people homeschooling, working, creating or just trying to figure out how best to navigate learning and succeeding in their own lives at any age. She's called it Supermeprograms.com and, now that she and I have joined forces again, I'm hoping to get involved further in the whole adventure in 2021.
But for now, for you: they've uploaded our five minute fun, inspiring and calming journeys – set to the most gorgeous music – for free, for you to enjoy and to pass on to those you love. Not all gifts come with bows (unless they're of the violin type) – and I promise you'll love it. No strings (again, see the violin reference!), just relaxation and time for reflection and peace. Heavenly peace.
To receive this gift of stress relief, go to supermeprograms.com and look for my face up top.
I'm going to share only uplifting thoughts and journals from here to the end of the year and thank you for being such a good reason to look for the positive, always.
Hugs, E.