Just a thought… The winter solstice is the time of ending and beginning, a powerful time – a time to contemplate your immortality. A time to forgive, to be forgiven, and to make a fresh start. A time to awaken. [Frederick Lenz]
Ah, the arrival of a new season. Winter solstice, when the days actually start getting longer! For this and so many other reasons, we have a glimpse of light in our futures. That unfamiliar sensation you're experiencing may just be hope. Not to put too fine a point on it, but tonight the great conjunction of Jupiter and Saturn may just be a lovely sign of better things ahead. Or not…whatever you choose to believe.
I've been thinking a lot about radio these past few days: last Wednesday marked four years since CHFI and Ian "The General" MacArthur gave me a send-off fit for a fairy tale. Radio has been on my mind in all of 2020, of course, although I'm very happy to have become a podcast host for two separate clients this year, and best of all, to have been able to partner with producer/husband Rob to effect these labours of love. What a joy to share information and inspiration in ways that I hadn't even envisioned at the start of 2020.
Of course, as I mentioned here last week, I'm also partnering once again with Cori Ashley and Ed Franks for their SuperMePrograms (which my auto correct wants to spell Supreme, and that's okay, too). For now, we're focussing on offering you a free download of the Prelude to the Calm meditation and inspiration pieces we did together in 2005 when my life was, oh, so different.
The reason for the timing is that we feel the need for healing and hope now more than ever, and so here it is (for a limited time). I hope you've had a chance to listen to the program and pass it on to friends or family for whom you just haven't known what to get this year. (They don't have to know it's free, but it is a gift from the heart.)
So anyway, why am I thinking of radio? Because it was such a huge part of my life and gave me literally everything I have except my health; that, I was and am responsible for myself. But this past year, I honestly don't think I'd have been a very good morning host: frustration and outright anger over how people weren't taking COVID seriously would have dominated my feelings and I'm so over having filters I would likely have ticked off a lot of people.
I don't know how I'd have handled all of these hot topics this year on the air – I mean, you know how I've done it here in my space. But those airwaves belong to everyone else. My blue Santa hat is off to everyone who navigated those rocky waters this year. From home. No eye contact. Here's to the producers, too: the unsung wizards who made it all possible from afar.
And so it is that I end today's journal with gratitude and memories to share with you of my friend and former partner Mike Cooper. The future is too bright for me to live in the past, but I do enjoy dipping my toes into those warm waters on beaches and in pools with listeners and laughing at the thought of the way we'd be in stitches before 5:30 am a lot of mornings. Those were really wonderful times, and while my life is about building new ones now, I cherish the memories – many of which you helped to make. Here's a pic of the two of us last year.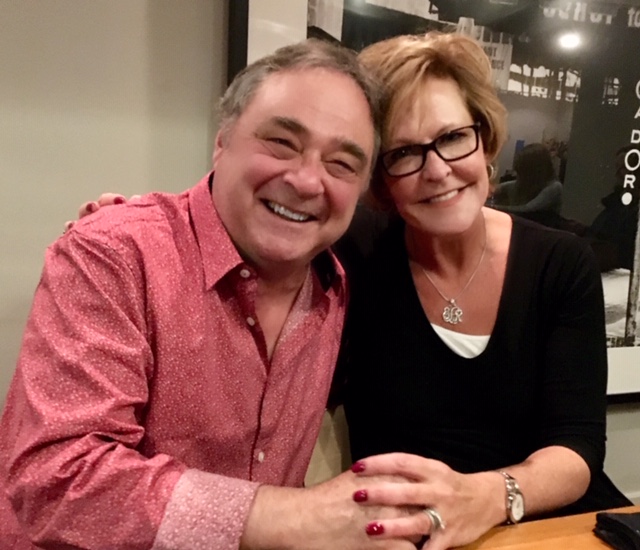 I'm happy to tell you that popular Spirit of the Season programming will run Christmas Eve and Day on CHFI (and several other Adult Contemporary format stations in the Rogers family across Canada), so you'll be able to relive some special moments we put together, from The Polar Express to renditions of other pieces, including The Grinch. I hope you'll tune in.
With those fond moments in mind, I have for you today an audio chat that I recorded with Mike Cooper this past weekend. I hope you'll enjoy our laughter, glimpses of last Christmas together in the U.S. (while HE remembered it – I totally blanked!) and the miracles and memories of the holidays that we hold dear. Take good care and I'll be back with you here on Christmas Eve.