Just a thought… The world is now too small for anything but brotherhood. [A. Powell Davies]
Ah, goodbye to July. Here in BC, in our perfect part of a beautiful island, we welcomed two days of sporadic rain last week – our first significant precipitation since June 8. Yes, this is our dry season, while Ontario's summer is its rainy season (something I didn't know until researching climate before we moved here). If not for the constant threat and already real damage of forest fires, it would be just so glorious.
August will hold for me the promise of another family reunion: heading to Kelowna later in the month to spend a few days at my sister's with her family and my dad. My big sis Heather and I have talked Leslie into seeing the Barbie movie together. We've all seen Oppenheimer and it was astounding; now time for dessert. Bring on August!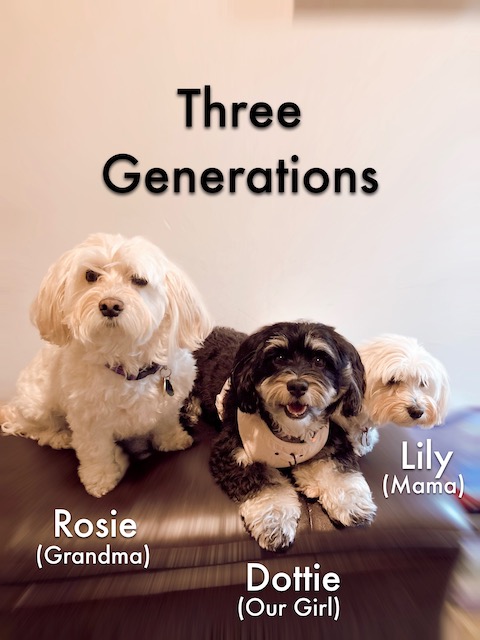 Speaking of family reunions, I have a "small world" story over which I still can't stop shaking my head. Of course, when you consider that the central character in this tale lives only an hour away, you realize that it's not like a Bosnia-to-Bornia kind of stretch, but still….
Back in March, we got our sweet Dottie from a breeder in Cobble Hill, about an hour's drive from home and which, as it happens, is only a stone's throw from where I went to rehab four years ago. Well, a listener/reader named Lynn wrote to me about her daughter and their fears and experiences over the breastfeeding drug that we strongly suspect caused Lauren's heart to stop, Domperidone.
To make the story Twitter length, her daughter told the doctors that under no circumstances would she take the drug (which is banned in the US and prescribed with caution in the UK) and yet she was still handed an Rx for it. She did not accept it. UNREAL how this drug is so freely peddled in Canada and shipped online to mothers in the US. But I digress….
In our email exchanges, Lynn told me that she had a sister in my area who had gotten not one but two dogs from the same Cobble Hill breeder as we did. So she connected us and it turns out that sister Laurel lives about two blocks from our house, and her dogs – wait for it – are Dottie's mother and grandmother!
I couldn't wait to reunite the family and that happened last week. While I expected a wag fest as the three generations of Havanese girls got reacquainted, there was actually the usual amount of shyness from timid Dottie at the beginning and then the three snuffled, sniffed and kind of shrugged. Did they recognize each other? I can't say for sure. Dottie has a little resemblance to her relatives, and even though she tried to get them to play with her, they were kind of blasé about it all.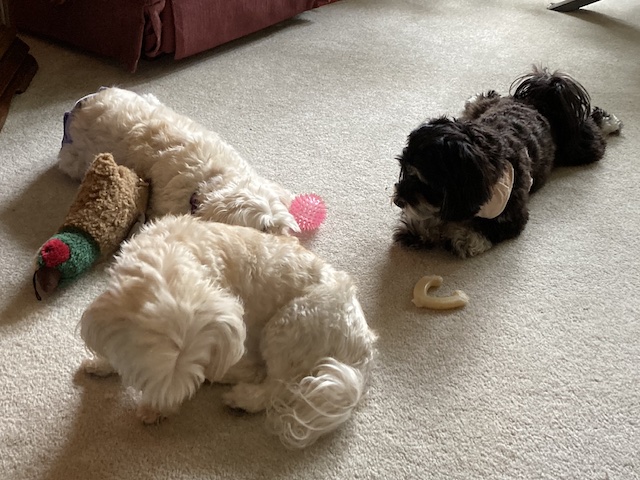 Fortunately, Laurel and I had a very nice visit, eating sandwiches made from crab that she and her husband had caught for themselves, and talking about another shared and even deeper connection: we've both lost a daughter. Laurel's Elise passed away at 17 of cancer in 2015, just a few months after Lauren left us. In fact, in honour of Elise, breeder Bev bestowed Dottie and several other puppies with her name: thus our dog's official registered moniker is Lily Elise Dot Calm.
I'm grateful for the experience of having had someone open her home but more importantly her heart to me and to our fur baby, and for the greater connection that being out here living in a public way on the internet has brought us. For all of its hellish woes (the web, not life) there are certainly miracles to be found just a click away. And it seems clear to me that no matter how much the distractions of people like Musk and Zuck divide us, they can also unite us (as they did Lynn and Laurel in a story that's not mine to tell) in oh so many ways.
My wish for you is that August brings a month as sweet as a sun-ripened ear of corn, her bounty as rich in your life as that gracing a roadside produce stand. And thank you for connecting here in all of the best ways.