Just a thought… Little by little we let go of loss, but not of love. [Author unknown]
You can watch a video version of this journal on my Facebook page, or here on YouTube.
Well, I hope you've had a wonderful first weekend of summer. Rob and I once again headed to a couple of our favourite places: first, for a night at the Villa Eyrie Resort just about 45 minutes from home in Malahat, where the view of the fjord is not to be missed…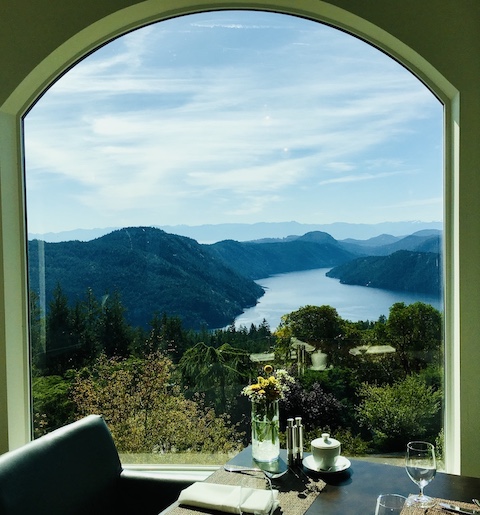 …then for a few nights at my heart home in Shirley, BC, near Sooke, where I shot my oceanside journal a month ago. We are staying in a cozy little rustic cottage with just a fireplace, a queen-sized bed and a sweet little doggy and very little WiFi. Just heaven, as you can see….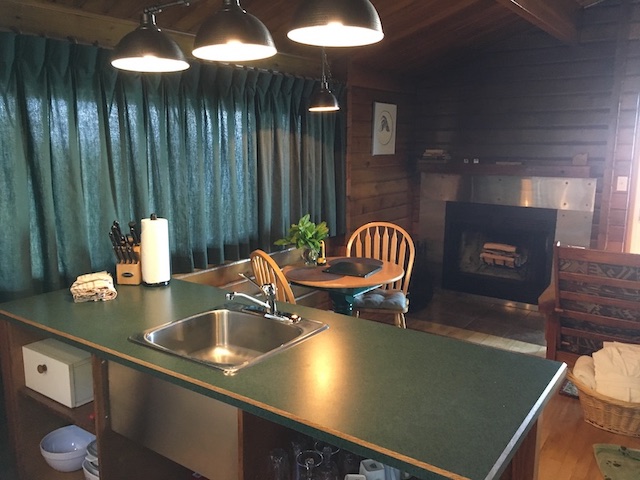 This bit of recharging is timely indeed: the coming week is gearing up to be a busy one. Of course, there will be a new Gracefully & Frankly podcast this Thursday with Lisa Brandt and me, and tomorrow, yet another new Drift with Erin sleep story comes your way: a wonderful tale from Wizard of Oz author L. Frank Baum called The Glass Dog. There are now some 100 episodes to choose from to lull you to sleep.
But this Friday I'm inviting you to join me and several other speakers online for free, as we delve into a journey of healing and empowerment. It's the Growth after Grief Summit, organized by a woman in Atlanta who has brought together featured experts to talk with her throughout the day. It's all about moving through grief with solace, inspiration and practical strategies. I wouldn't call myself an expert – well, on anything, really – but having a #1 bestseller on my relationship to the topic doesn't hurt and I'm frankly excited to get the message of Mourning Has Broken: Love, Loss and Reclaiming Joy into the US at long last.
Although it's been four years since our labour of love hit stores and websites like Amazon, the message remains the same. The dates that loom largest, including last Thursday's 10th anniversary of our late daughter's wedding day – 10 years! – and the Father's Day before, the weight of which prevented me from writing last week's journal, all keep coming around again. So the question is, how do we continue moving forward while holding on to the memories, honouring them, but gradually shedding the heaviness of the sadness? How do we go on to live a life that will make those who have left us proud?
It doesn't matter where in the world we are, or where you join us from. This summit is, as I say, free and Host Bilancia (the Spanish word for "balance") will be bringing us all together – you, me and my fellow speakers – for a day that we hope will bring you insight and peace. Here are some of the speakers who will be bringing insightful presentations with tools and ideas for moving forward as you reclaim your life in a very real, down-to-earth way: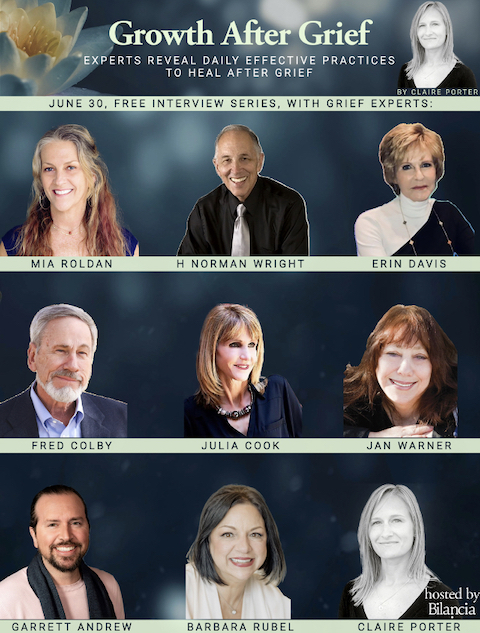 Here's a link for you. Just fill out the required fields so that we know you are coming, and hopefully we'll see you this Friday. I'll be speaking at 3 pm EDT – that's noon where I am here on the coast in British Columbia – and thank you for letting me share this message of hope and transformation with the Growth After Grief Summit. See you there on Friday at 3 – it's free. And have a lovely week.