Just a thought… Life begins at the end of your comfort zone. [Neale Donald Walsch]
As always, you can watch a video version of this journal on my Facebook page, or here on YouTube.
Before I get going, I'll tell you that even though I'm out of the country, there IS a new Drift with Erin Davis sleep story coming tomorrow since it's Tuesday, for free, wherever you download your podcasts. Appropriately, given my coordinates, it's The Good Ship Rover about a little boy who's ailing, but finds hope by the seaside. A lovely tale.
Thanks so much for joining me here – even though I'm not even "here." As I write this, I'm on an AMA Waterways river cruise with my dear friend and recent birthday boy Mike Cooper and several dozen former listeners, many of whom were with us on our last trip three years ago during tulip time in Amsterdam.
We didn't hit our goal of taking over the entire river boat this time; there were people who had to cancel as the trip got postponed and rescheduled again and again. I was to the point where I didn't know if we would actually go, or if I wanted to, for that matter, but bless Gerry Koolhof and New Wave Travel in Toronto, they actually made it happen. We're stepping through Covid; not over, but through, and treading carefully. And the best news is that we're meeting a whole lot of new friends who signed up after seeing what a great time we had the last time around.
I hope to post pictures or upload to my social media sites on Facebook, Twitter and maybe even Instagram, as we slowly sail along, but honestly, I don't know what the internet on board will allow and how successful I will be, so I can't make any promises. I am writing and remembering so I have stories to share with you.
We're seeing the sights along the Rhine and the spots on the map here.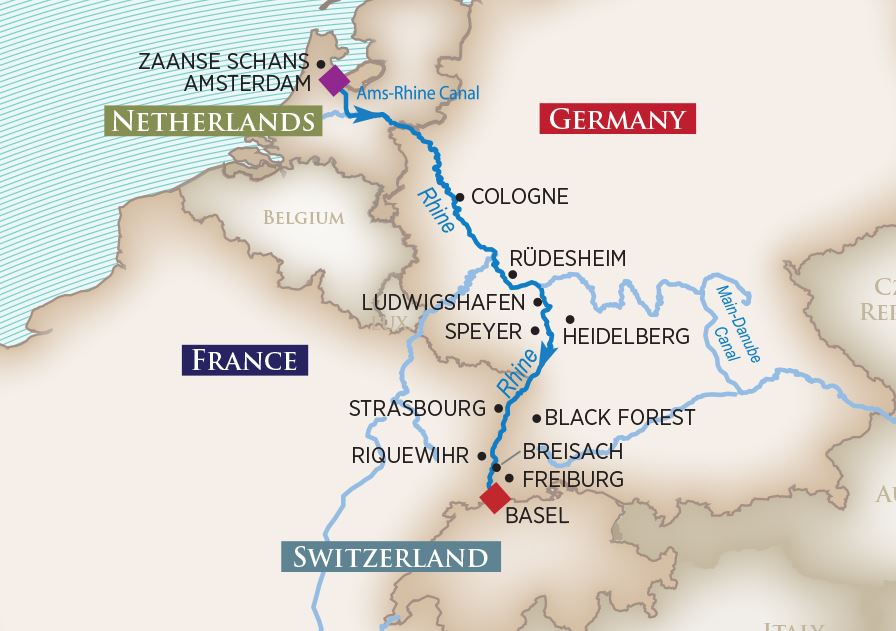 The whole bunch of us will talk and laugh, walk and cycle and gather, hopefully safely, day after day. Rob and I fly home from Switzerland on Monday with an awful four-hour wait at the end in Vancouver for our little flight to our island home. It's such a short flight that we can practically swim home from that airport where we'll be stuck. Anyway, then we'll catch our breath, adjust our body clocks and dive into another busy week.
This Thursday, I really want you to come back because I have a very special little video of a chat I had with Colin. It's so perfectly adorable – so very HIM – and it broke my heart to watch it again and again as I thought of families in Texas in the light of last week's tragedy.
We live in gratitude and in the moment; we try not to let fear lead the way. I promise you I was masked on the flights no matter who looked at me sideways, and Rob and I will be as safe as we can be.
We'll be back here Thursday with that video. May these last two days of May be peaceful and nothing but smooth sailing.