Just a thought… Some of the best memories are made in flip-flops. [Kellie Elmore]
Hey – hope you had a relaxing and rejuvenating weekend. I am a day late for Grandparents' Day, and it's never been on our radar, but trust me, we had three of the best of our lives last week.
As we look back through the smoke and haze at those beautiful days, today the infernos of the US Pacific Northwest are affecting our air quality (yesterday we were at an ungodly 200 level – which is a "stay the heck inside!" stage) but not threatening our homes and lives. While we see and feel the effects on our lungs, join me today as we draw a metaphorical breath of calm and immense gratitude.
Part of the joy of living on this incredible natural wonder called Vancouver Island is in the discovery of it. Although we've so much more to explore, we have visited places as far north and west as the world-renowned rugged surf destination of Tofino, taken gentle hikes along lakes and around majestically massive trees, cycled roads lined with golden verdant corn fields, searched the horizon for whales in Sooke, and actually seen them while staying off the salmon-laden waters of Campbell River.
But the dream Rob and I always harboured was to share these vistas and experiences with family and friends; to see them for the first time through their eyes, and sometimes our own. Last week, the most precious member of our little pod got to share with us the beauty and fun of a place about two hours from our home called Parksville.
Celebrated for its vacation lifestyle and sandy beaches, this small city (pop. 12,000+) is dotted with ocean resorts and playgrounds for visitors of all ages. Finding a room from Labour Day to Wednesday was no small feat; staggered school starts and an island full of staycationing retirees added to the online challenge. But we were lucky and booked a spot with room for three of us. Let the adventure begin!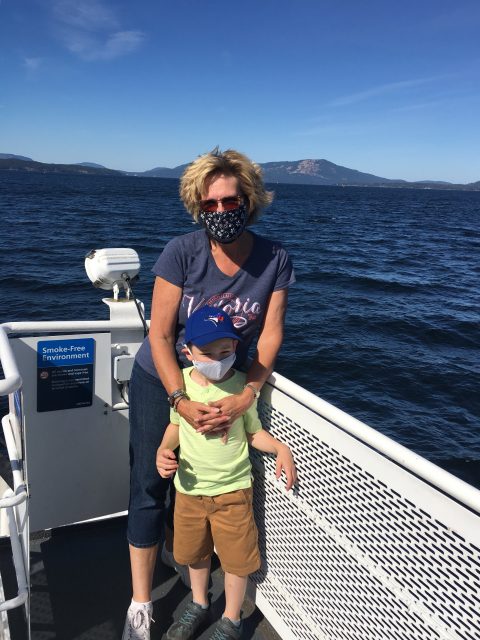 On the spur of the moment, we decided to wait the hour and board a ferry for the short ride from Brentwood Bay across the Saanich Inlet to start our little vacation on the water actually on the water. Colin loved the experience and some fellow travellers kindly took the shot above.
A few hours later we were unpacked and ready to go. We drove from Tigh-Na-Mara, the cabin/hotel resort where we stayed, to the nearby town and noticed a huge green field, tucking away the location until after our dinner (which was not without drama, as you read here last Thursday).
We returned to that field and brought out a dollar store kite that Colin had been dying to unwrap since getting it weeks earlier.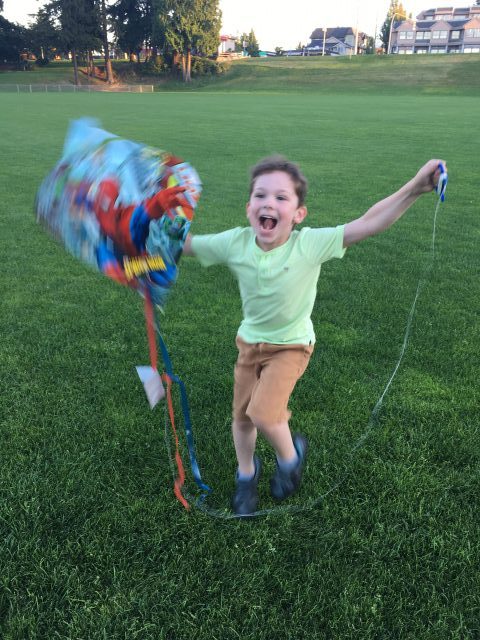 He and his grandude set out to harness the slight breeze and get it airborne, which they did. I don't know who was smiling more widely that warm summer evening, the boy or his grandparents. But it was a memory I'll always cherish.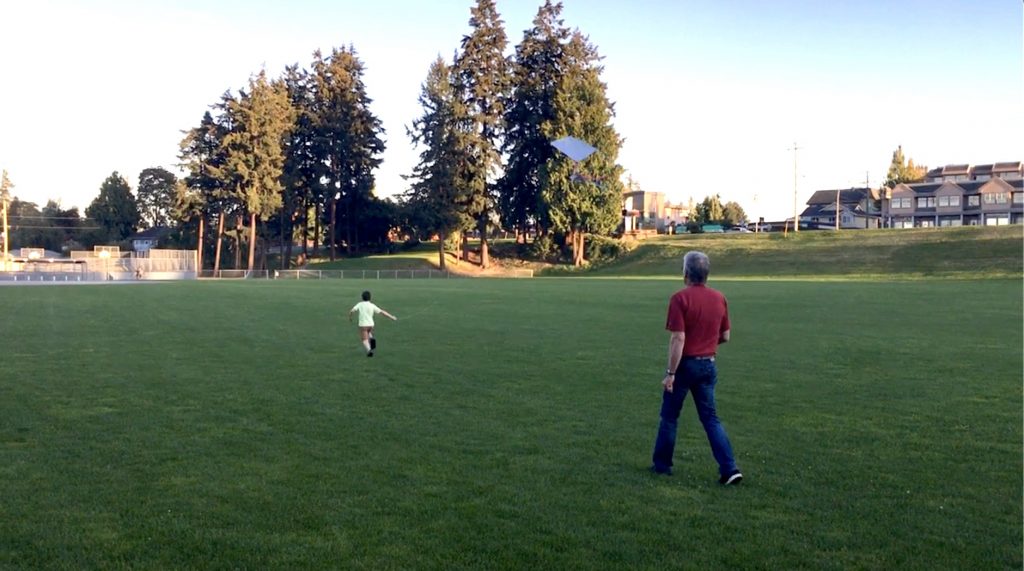 Of course, the next day there was help from the light winds off the Strait of Georgia and he was able to get the plastic Spider-Man kite easily airborne (with Rob's MacGyver-ing of a bit of weight onto its tail) for long stretches of time. It was, in a word, perfection.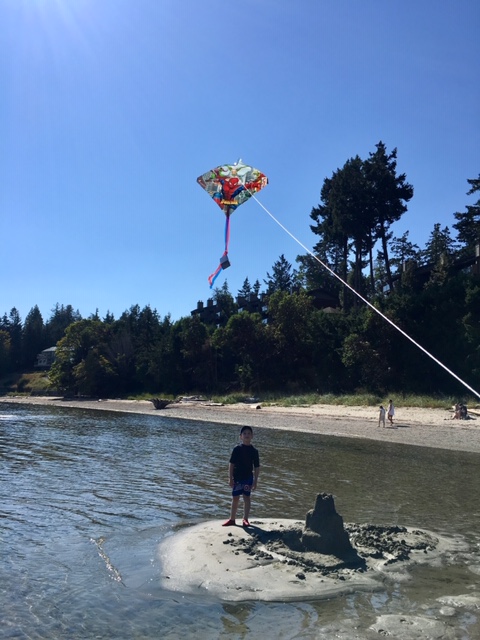 We played in the sand and got wet to our waists in the chilly but mostly clear waters until it was time to take a break for lunch, more fun in a playground and on a basketball/tennis court and, ultimately, a long walk to play mini-golf.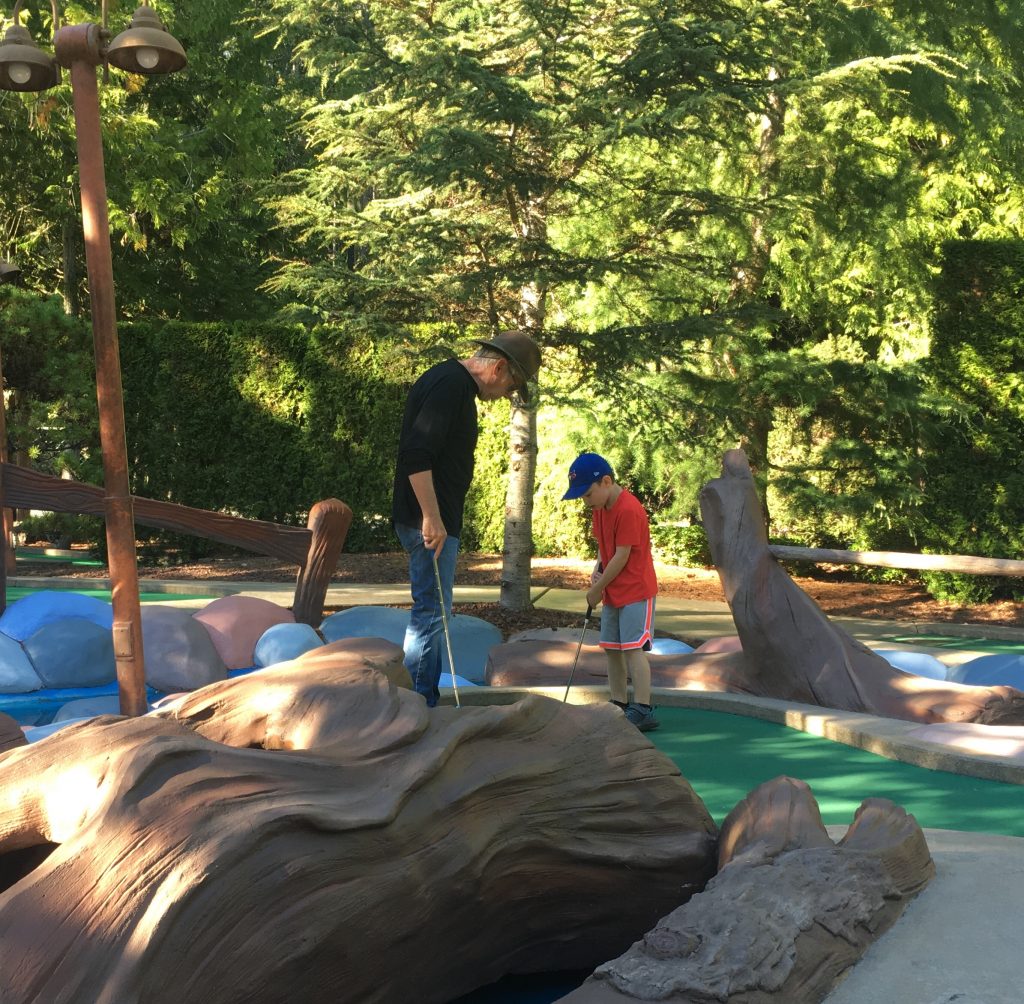 Exhausted but elated, we wound down with a bubble bath, some birthday cake-flavoured ice cream and the low hum of fans keeping us cool after a 27C day. Sweet dreams, indeed.
After we'd dropped off our boy at his parents', with a wonderful dinner and huge smiles to greet us, I found myself starting to slip into a bit of a funk. Our summer vacation – as brief and wonderful as it was – had come to an end.
But as the laundry spun quietly in a room nearby and I scrolled through pictures and video taken in my efforts to capture each idyllic summer memory, hopefully forever, I was reminded that the little trip we enjoyed didn't end with his family getting on a plane to go home. They're here. We're together. All we have is time to make memories.
He's lost a tooth since he got here. His sister has taken her first drunken, determined steps. Life is moving on in the best ways. And no matter how hazy the skies are outside our windows these days, I am seeing and remembering that fact – that immense, utterly wonderful gift – with greater clarity than I've ever experienced.
While we miss with even greater depth these days our daughter who brought this boy into our lives, we will never lose sight of the fact that we've been, almost miraculously, given the opportunity to be a part of his life with its ferries, tooth fairies, kites and other momentous firsts – like today's start of a new school year.
Don't let the smoke and the pains of our past mislead you: the tears in our eyes are from gratitude.