Just a thought… In a world where you can't really choose to be anything you want right now….BE KIND…and Patient, and Loving, and well – just more kind. [Ellen Wasyl – thepossibilityexperience.com]
Welcome to another weekend journal. I picture you in bed, or sitting quietly in a chair as another day dawns…maybe a coffee or a tea in hand. I'm writing this from my bed, with a sleeping dog next to us and the rain falling softly. And for this moment, all is normal. Until, that is, I open my Twitter feed!
Yesterday I tweeted a picture of me with marketing master Terry O'Reilly, first guest on my Real Time podcast for the Canadian Real Estate Association (for whom I've done work in the past, visiting cities across the country and hosting their live events). I love these folks and Rob and I are thrilled to be working with them for a series of ten podcasts this year.
Anyway, I put out the info about our first podcast on Twitter and tagged @terryoinfluence, our guest.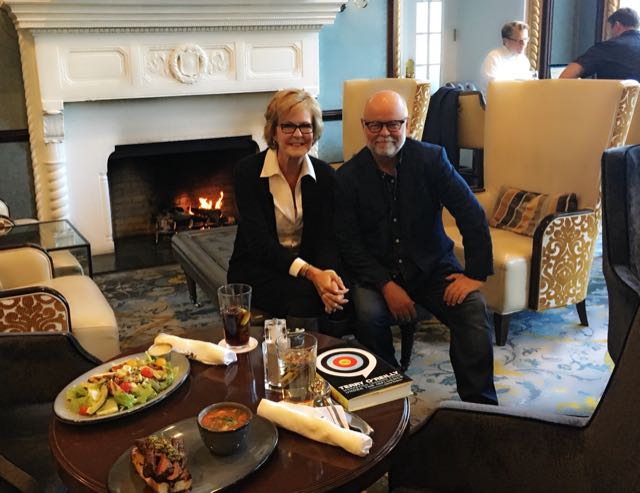 To my utter amazement, when Terry RT'd it, he got this response: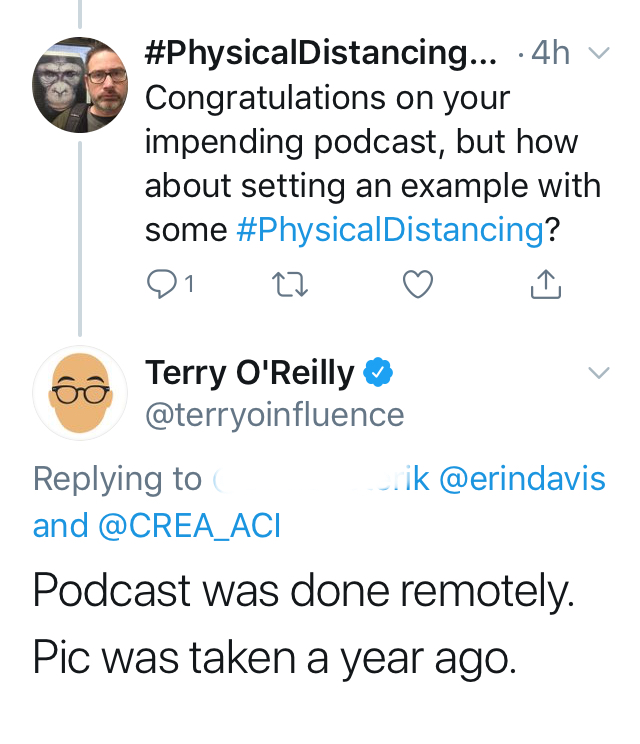 Yes, the picture was taken two years ago. No, it didn't occur to me to include a disclaimer.
Is this where we are now? We actually have to state when pictures were taken or risk being shamed for not keeping our distances? Will TV shows have to, in addition to the slides they put up before episodes warning of content, also have to say, "The people who are hugging, holding hands, shaking hands, passing a basketball, dining in crowded restaurants, standing at the bus shelter, shopping in grocery stores, holding a wedding, flying to their honeymoon, having sex AND SO ON…were portrayed doing so before social distancing and the outbreak of the coronavirus. Viewer Discretion is Advised."
I mean, sometimes a little common sense goes a long way, right?
Still, seeing those scenes in our living rooms (I mean on TV, of course, unless that's where you make out, hold weddings, etc.) is disconcerting when we are so hyper aware of what we can and cannot do in these shaky days. And it's also why my podcast with Terry includes a disclaimer, one which may be edited out in several months' time for the sake of posterity, that the interview was conducted before the outbreak of COVID-19.
What strange days these are. As John Lennon sang, "…most peculiar, momma."
I'll be back with a new journal for you tomorrow.