Just a thought… We can make ourselves miserable, or we can make ourselves happy. The amount of energy is the same. [Pema Chodron]
Well, it's official: as good Canadians, we're going to have to eat more potatoes. Our favourites are the Cavendish restaurant-style shoestring fries in our T-Fal air fryer – do they count? Here's a link to this important news story.
Imagine. In normal times, this final day of April would be a rather stress-filled tax deadline day. But here we are, given extra time to try to dot the i's and cross the t's while we wonder just what kind of income we'll be tallying next year.
It's also our grandbaby Jane's 7-month birthday, a date that is significant in our lives for other, sadder reasons, as it was on that day in Colin's life that Lauren left us. But today, we replace that sombre 7-month milestone with a happy one. And we are grateful.
Isn't she gorgeous? Brooke joked yesterday that they only stop kissing that sweet face to take pictures. And I believe her!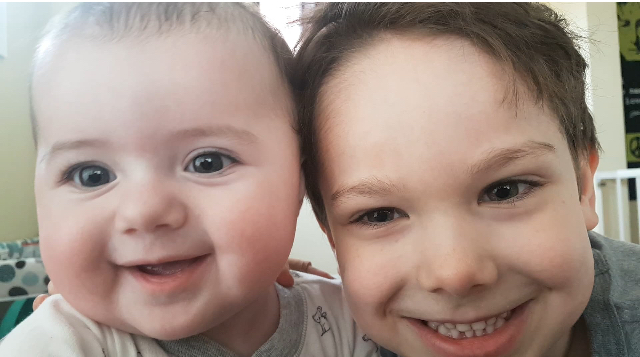 April 30 means I'm also at 10 months' sobriety or 306 one-days-at-a-time. As I mentioned to you yesterday, there have been challenging moments brought about by the stress that has accompanied being in self-isolation. But we're both weathering these unusual times, and again that old feeling, not of deprivation, but of gratitude is the one we try to focus on.
Because there's no point looking at the future; our doctor in Toronto, who went through SARS some 17 years ago, has told us that we can expect a whole lot more COVID-19 cancellations in coming months. Like, for a long time, my friend.
That's just anecdotal, but given his pedigree, Rob and I are taking his word for it. Without being alarmist and armed with knowledge of circumstances past and present, the very good doctor is trying to let as many people know as he can, so that none of us gets our hopes up. Sigh.
Here in BC, our province-wide state of emergency has been extended for another two weeks. While people are complaining online about this latest news and demanding a timeline which doesn't exist, I'm quite content to follow any and all directives put out by Dr. Bonnie Henry and her team. It's not easy for most people and we get that. But I'd rather be safe than sorry – an overused saying to be sure, but one that fits.
Now, back to happier thoughts…. Yesterday we were treated to a show-and-tell via FaceTime with Colin as he sat down and displayed some of his toys and how they work. Isn't it amazing that some old favourites like Mr. Potato Head (brought back to popularity by Toy Story) and the Etch-a-Sketch are still making kids happy all of these years later?
I was remembering (to myself, so Colin didn't get any ideas) that as a family of four kids, we had one screen to go around and, of course, I'm not talking about tablets, I mean the ol' Etch-a-Sketch. For reasons beyond me, the knobs both got lost.
For all I know, it was thanks to the same sister who would tune the TV to the staticky UHF channel and then pull off the dial so that we couldn't watch cartoons in the morning and risk waking her up! But with the Etch-a-Sketch dilemma, brighter minds than ours came up with the idea of putting bread bag clips in the slots and using them instead. Ah, the olden days!
As grateful as we are for the toys that have survived the test of kids and time, these days, we're most thankful for FaceTime, Zoom and the technology that allows us all to share stories, conduct meetings and even do podcasts that make our far-flung guests almost sound as if they're right in the room with us.
I sorely wish my dad was more tech savvy (he eventually just shut down his computer for several solid reasons) but our two and three chats a week (as he rattles my chain about the PM – he can't help it, and loves the rise it gets out of me – and we make each other laugh) is still good enough. We have so very many blessings to count…despite it all.
I'll be back here with you tomorrow.