Just a thought… If you don't like something, change it. If you can't change it, change your attitude. [Maya Angelou]
You can watch a video version of this journal on my Facebook page, or here on YouTube.
There is so much to talk about here today. I mean, there's the new Covid variant and we are just extremely grateful that we seized the seas and took our trip when we did. Just another example of tomorrow being promised to no one. We wait for our booster shots, continue wearing N95 masks and on we go.
Then there's the weather. When conditions in your home province are front page on your ship's Canadian newsletter, that's an eye-opener. Of course, I kept up with everything via the internet and if you were asking if we're okay, we are, thank you. Our little family here on the Saanich Peninsula is safe, and this mountain that Rob and I live on has an Indigenous name that translates to "place of refuge" after people escaped a tsunami here many years ago.
So here's what I want to share with you today, and it's all about how you frame things. Our trip home (except for being moved out of the seats that we paid to be in from Miami to Toronto on American Airlines, which is an infuriating story you don't need to hear) well, most of it was just flawless. Until it wasn't.
First the good: we got to Toronto Friday and had a fantastic visit with these guys in the hotel bar/restaurant.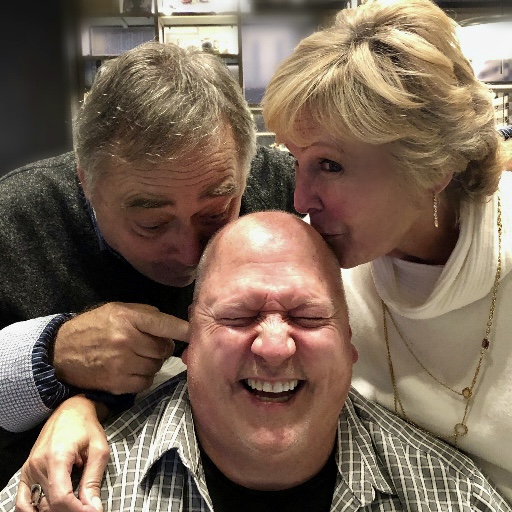 Of course, this is Mike Cooper and Ian MacArthur from my CHFI days – both of whom are doing great (Ian is loving the sleep) and they shared the welcome news that morning producer Gord has a new job on another radio station. Fantastic news, Gord!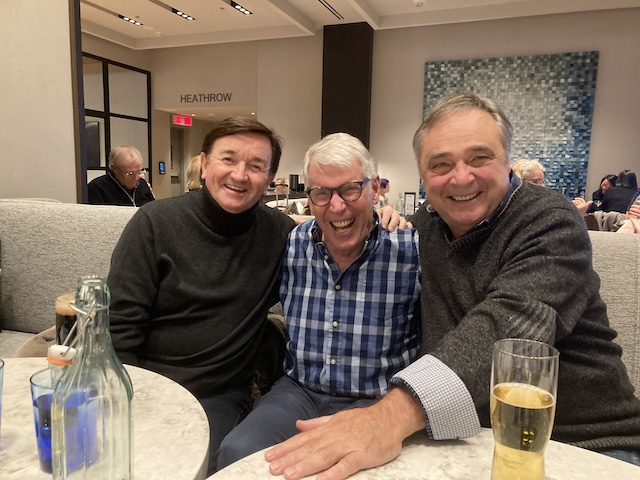 Our lifelong bestie Allan Bell came, too, and between him and Mike (quite literally, actually) Rob laughed more than he has all year. It was the perfect ending to the trip.
Or…it should have been. Now the bad: we flew Toronto to Vancouver and all went well, waited our two hours and got on a small plane from YVR to Victoria International Airport. It was raining hard and getting dark.
Rob and I sat in the two little seats in 1A and 1C, which provided a front row view to what was going on on the flight deck, whose door was open before we left the ground. I heard one of the two flight attendants talking to the duo at the controls and I kept hearing the word "relax…" and then again "relax…." Hmm…I thought. I hope there's nothing to be tense about.
The announcements and safety demo done, we buckled in and left Vancouver for the 12-minute flight home. As the landing gear came down, we began our descent in the fog and rain and cloud and then – uh-oh – up we went again. Okay….
We had been making light conversation with her, so we asked the flight attendant, who was now seated facing us about three metres away, if this was normal. She was very matter-of-fact and said, "Oh, yeah." (Thank goodness for level-headed flight attendants. We take more cues from them than we realize, I think.)
Later, after a quick convo on the handset with the flight deck, we found out from her that the pilot couldn't see the runway, so she went back up and around and approached from another direction.
As a 12-minute flight stretched out to an eventual 40-minute trip, I started thinking about how our wills had almost been finished up recently, our family at home and that conversation on the deck that included the word "relax."
And here's what I chose to believe. I decided to tell myself that he was telling the crew that when the day ended, they were going to relax. Maybe have a bath and relax. Or take some time off in December and relax. That has to have been it, right?
As we touched down on the runway (yes, there was applause) and deplaned, I felt like Lloyd Bridges in Airplane! and was thinking: Maybe I picked the wrong decade to quit drinking….
But we made it home safe and sound with family awaiting, and I was thankful: to have made it, to have had a welcome such as the one we got, and for the power of testing negative and thinking positive. What else are we going to do, right?
Talk to you here on Monday.