Just a thought… Let whatever's going to happen, happen. Don't judge it before you do it. Sure, sometimes it will be terrible, but sometimes it will just be amazing. That's where the gold is. [Cloris Leachman]

As always, you can watch a video version of this journal here on Facebook or here on YouTube.
I want to share with you a memory that I have of some time spent with a very special woman. In a later time, she could have been one of those stars known by just one name, like Gwyneth or Meryl. She'd have simply been Cloris.
The brilliantly funny multi-award-winning actress Cloris Leachman left us at age 94 yesterday; she died in California of natural causes and I'd love to think she had a sweet little dog curled up at her side.
By today you will have heard or read many tributes to the actress whose exceptional talents garnered her an Oscar for her role in The Last Picture Show, and an astounding 22 Emmy nominations, with nine wins. For many of us, she'll always be Frau Blücher in Mel Brooks' Young Frankenstein or Mary Tyler Moore's landlady, Phyllis Lindstrom. Her career continued well into her late years, with regular and, of course, spectacular sitcom work. Cloris Leachman was one of a kind. With the emphasis, I can tell you personally, on "kind."
I'd like to share something with you. In my radio days, there were plenty of stars – rising, current or fading – who came through the studio doors and were promoting their work: a play, a new movie that didn't have a big budget, a fresh single or album. For the most part, those people came to play and were warm and wonderful guests. The general rule was that the bigger they were – Katy Perry, Ted Danson, Lynda Carter – the nicer they were.
There were a few notable exceptions like John Mayer, who was snarky and cynical, Blue Bloods' Donnie Wahlberg, who was heard at the elevator snarling "get me the F outta here" and Gary Sandy (who played program director Andy Travis on WKRP in Cincinnati) – he didn't want to talk about the well-loved TV show that made him famous. I wanted to say, "Yes, but please DO tell me about the door-slamming farce you're doing at a dinner theatre and for which we're giving you free promotion…."
The good guests FAR outweighed the bad; Sandy's WKRP cast-mates who played Mr. Carlson and Herb Tarlek were a delight, Young Frankenstein bombshell Teri Garr was wonderful to shoot ads with, as was Gilligan himself, Bob Denver. I've got so many memories of stars I grew up watching who turned out to be just lovely in person.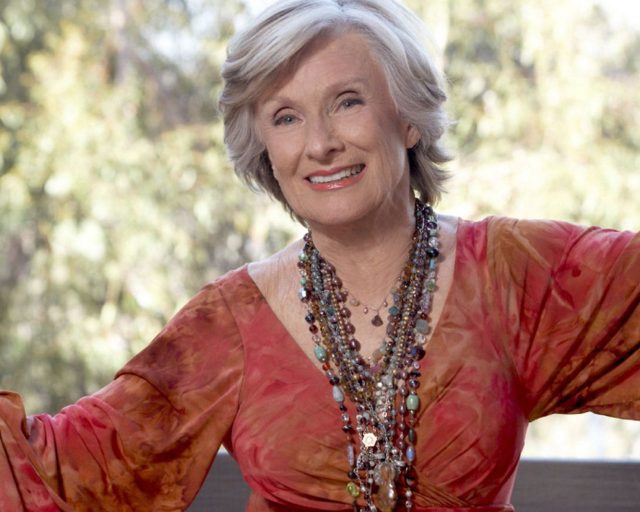 photo courtesy Toronto Star
Cloris Leachman, though, was in a class all her own. Funny, sassy, dirty, sweet and, oh, so talented. This was back in about 1999 and she was in Toronto, probably doing theatre somewhere on Yonge Street, and was booked on my Rogers Cable show. You may not remember it, but, yeah, I had a TV show for two years on channel 10 back before we had a million choices and I'd joke that you had to pass by our channel to get to something better. The ratings were good and, although it was all hands on deck, Rob and I worked as a team and with a great team to make it just the best it could be.
One night we had Ms Leachman booked as a guest. She came into our studios and was as nice as you could hope as she settled into the makeup chair. But as she emerged onto our set, she made a detour to where we had a beautiful baby grand piano set up. Cloris sat down and started to play the most gorgeous rendition of Gershwin's "Rhapsody in Blue" I've ever heard. Our jaws dropped. I called out to our volunteer crew, "Please tell me we had a camera rolling!" but we didn't…and I didn't have the nerve to ask her to wait until we could set up lighting and a camera to try to capture the moment again.
We had no idea that Ms Leachman possessed such talent and thus it was a little gift, a moment she gave to those of us who were lucky enough to be there that was unforgettable. Then she got up and walked over to where I put on her mic as we cooed over the sweet little shih-tzu on her lap, and we were treated to a warm and friendly chat that went on for half an hour.
Somewhere in a basement bookcase among all of the VHS tapes saved of the two years' worth of shows we did (do not ask me why!) the Cloris Leachman episode is hidden. You'll just have to take my word for it – it was wonderful. Or do what I did, and click here to find an episode where Phyllis learns that her Lars is having an affair with Happy Homemaker host Sue Ann Nivens (Betty White). It's worth a watch.
Enjoy your weekend and we'll talk to you in February. Yes, Monday is February. We're getting there.