Just a thought… Be thankful for everything that happens in your life; it's all an experience. [Roy Bennett]
Welcome to a brand new month. Ah, sweet October: a time of thanksgiving, of pumpkins and spice and whatever else nice you can find to lighten your heart. For us it's a list of family celebrations: the latest being this little twinkle who turned a whole year old yesterday.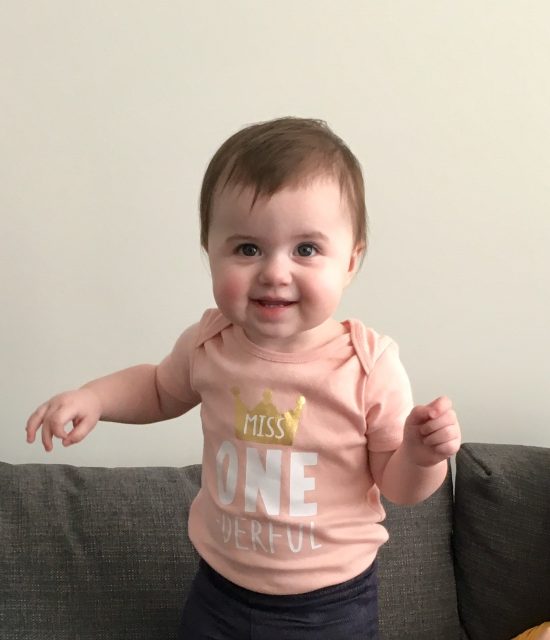 Her brother opened her gifts for and with her, while Rob and I basked in sharing this special milestone. Happy Birthday, Sweet Jane. How lucky we are to be a part of your life. You really are a joy to be around – cheerful, chatty and charming just like your mom.
The living and dining areas in her parents' home were decorated with streamers and ribbons all laid out for the Insta-moments to come. But Jane, still a little groggy from a shortened late-day nap, was more content just to chill and take it all in. After the presents, she was buckled into her high chair, sung to and presented with a small cake topped with whipped cream and sliced blueberries.
But Jane didn't do the "cake smash" that is so big a part of many babies' first birthdays; it was there for the mess-making but she just poked at the topping, tasted a berry or two and that was it.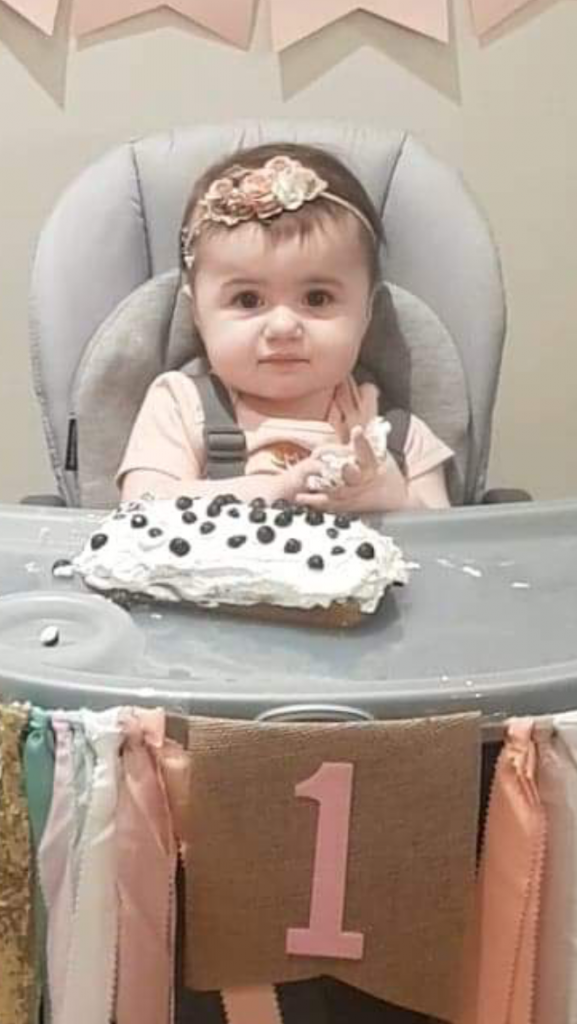 Over at the grown-ups' table, we had a delicious and decadent Oreo cake, but curiosity about the organic sugar-free cake Brooke had gone to such trouble to bake got the better of me. I broke off a small bite and put some in my mouth. My eyes wide, I turned to Brooke, sitting next to me and said, "You know I'll eat anything, but this is garbage!"
We both burst into laughter, as Colin asked what was so funny. See, here it is: I'm usually really careful with my words and I'd never intentionally hurt Brooke's feelings. She knows this well about me. But on the other hand, she ribs me mercilessly about the fact that I never met an expiry date I didn't want to challenge to the death (likely mine, she fears). She's adamant about counting down those numbers on packages like a NASA launch crew, whereas I take them very much as a…suggestion. And while we never argue, it's quite likely we'll never see eye-to-eye on it, so we do have numerous funny exchanges on the topic.
Brooke also marvels (or is it recoils) at how I will try just about any kind of food; she frequently teases me with her gagging sound effect when we're talking about meal choices, menu items or taste preferences. It's part of how we get along and we both laugh about it a lot. So it was last night that when I actually put something in my face that elicited that kind of almost real gagging response, we both burst out laughing.
The cake was more like Irish soda bread and without that topping (which cost Brooke a fingernail and could have caused more damage when she had a run-in with the electric beaters) it might have been wonderful with a stew or soup. It was made with the absolute best of intentions and so much love and care. And I know we'll laugh about it for years to come – and *I* won't be the one who brings it up!
Here's to the memories, the laughter and the moments of outright silliness. Events never come off the way we hope they will (especially if babies are involved), but it's the slip-ups that make them memorable and keep us smiling long after the banners have been taken down and the gift bags packed away. (Oh, that's something else she teases me about: I'm the queen of hoarding and reusing gift bags!)
I love this.
I've also had quite enough birthday cake for a while. At least until Colin's turn a week Sunday. Autumn has come packed in layers of love and celebration. I wish you a slice of the same.
——
And I will tell you that when news came last night of Chrissy Teigen and John Legend losing their son Jack at the halfway point of Chrissy's pregnancy, I wrote about the bravery that they have shown in sharing their grief to help others. My comments didn't fit with or within this journal, written on Jane's birthday, but you are welcome to go to my Facebook page to read more, or to add your voice. E.