Just a thought… The secret of change is to focus all of your energy not on fighting the old, but on building the new. [Socrates]
There are places where you expect to see tears. Churches, for example. Hospitals, hospices and airports are another. But a skating rink? You've met me, right?
Since our grandson and granddaughter and their mom and dad arrived at our home in late July, I've been in a constant state of pinching myself. Yes, the novelty of seeing a sleeping boy in our Toy Story-decorated guest room has toned down a bit, but we're still seeking and grabbing shared experiences that we dreamed of, never really hoping to have. Take skating.
Last year during an Ottawa visit, we tried and failed to take Colin onto the ice for the first time. As an avid hockey player (currently playing in goal with other guys his age three times a week here) Rob had always hoped to teach his grandson to skate.
All last winter, the poor kid (Colin, not Rob LOL) had to hang out in a playground while classmates at his school took to the ice once a week; there were apparently no instructors available, so children who didn't already know how to skate couldn't take part. We knew he was interested, but the opportunity simply wasn't there.
Fortunately, we've been able to change that! Across the road from Colin's school is a local community centre which was beautified after winning a $100,000 reno in the Kraft Hockeyville competition in 2015. There are two ice pads and a few times a week, you can book in for a family skate. Last week, Colin got on that beautiful white ice for the first time with Grandude.
How did it go? What does this tell you?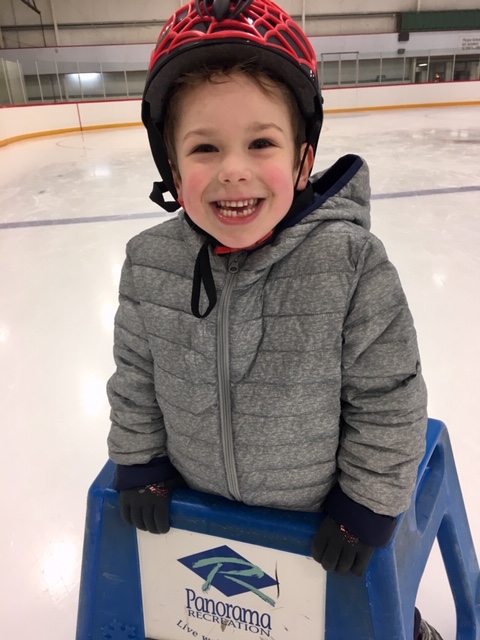 After 80 minutes of going full-tilt (not always, but sometimes literally) he was the last kid to leave the ice, but not before shouting to echo off the empty stands, "I LOVE SKATING!"
As Rob was on the ice with Colin, who eventually would push his plastic aid away and then skate after it, I stood behind the glass taking pictures and video, wiping away my tears. Not only were we fulfilling our dream, as Rob guided Colin along with the help of that boxy thing called a scooter, but we were helping our grandson to try something new – something he took to like a fish to (very stiff) water.
His exuberant experience was one that I wish I'd had as a kid; awkward at anything that even had a hint of athleticism involved, I owned skates, but was far more Bambi than Browning. (If you remember the CHFI TV ad we did with a family skating circles around us, you'll recall my display of geeky awkwardness!)
It wasn't until I had a few hours alone on a frozen lake in Jasper in 2006 while Rob and Lauren were off skiing (which was all every bit as idyllic as it sounds) that I was able to feel even the slightest confidence. So much so that when we got home, I bought skates.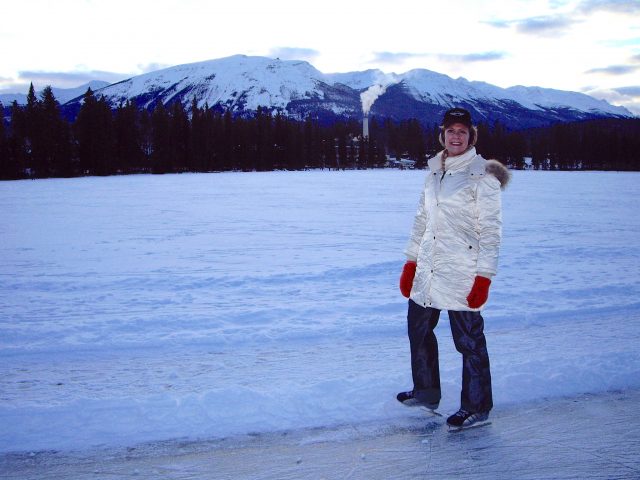 They got used once when the ice at our place on Lake Simcoe froze perfectly. And then they got packed up and moved.
Yesterday, inspired by a six-year-old's enthusiasm, I decided to join my boys on the ice. I was scared stiff and considered booking a chiropractic appointment before we even got into the car, but with Rob at my side, I gradually remembered what few skills I had.
I managed not to fall…and actually enjoyed myself! At one point as we skated hand-in-hand to the rock oldie "Dream Weaver," I was reminded of being a tween with friends on a Friday night at Trenton Memorial Gardens, awkwardly going around and around – cold, scared and anxious for it to be over.
Yesterday, however, once the early trepidation faded, all I felt was joy. There were no tears this time; just moments that reminded me that sometimes all we have to do is say "yes" when opportunities present themselves. We just don't know how many chances life is going to give us to do something scary, come out in one piece and say, "That was fun – let's go again!"
Please enjoy your weekend and I'll be back with you on Monday. Once again, thanks for being here for our ups and downs. Fortunately, there was none of the latter yesterday!