Just a thought… Difficult roads often lead to beautiful destinations. [Zig Ziglar]
So much going on here – not the least of which is a deluge of rain we're under for a few days – but I'm grateful (with the exception of this afternoon's community meal deliveries) to pull it all off, indoors.
This half year of COVID has brought myriad changes to people around the world, from how we think (when did science become something people can take political sides on or argue with so confidently?) to how we live our everyday lives.
Much of it has seemed like we're trying to build a house – or even a sand castle – on a faultline; there's so much uncertainty from day to day as we eyeball the numbers like a bookie at a sports bar. Are there more cases? Will we be retreating to Stage Two again? Have we entered or are we about to enter the second wave of the pandemic and then what?
So many questions.
As always, when times are uncertain, we take control of what we can: we become part of the solution where possible, instead of adding to the problem. We continue to mourn the death of the normalcy of life before the pandemic and make the best of a bad situation, as we saw last week with so many taking part in Rosh Hashanah services online while missing the usual large family gatherings for the High Holidays.
It's heartbreaking and, given the cancellations we've been witnessing, may foreshadow how the Christmas holidays are going to go this year (that is, if we're called upon to do so, and then obey the instructions). So much uncertainty.
I'm happy to say that in our professional lives, there has been been growth and even the start of new things! Rob and I had already begun our podcast for the Canadian Real Estate Association called Real Time before the lockdown, having recorded and produced our first episode in California. In a year in which everything could have gone terribly badly, the real estate business has been booming: home sales are up (as are prices) and inventory is at record lows in many parts of Canada. Which brings me to the other new start, which begins today.
In a set-up in our home (our bedroom, which has the best acoustics besides my little studio), we're getting ready to broadcast live this morning as I host, and Rob makes possible from a technical standpoint, an online annual conference. I've had the honour of hosting for CREA at various events across the country, even delivering a keynote when I jumped from emcee into the speaking spot during an Ottawa ice storm in 2018 that prevented Dragons' Den star Michele Romanow from making the trip. Today, I jump into a different kind of situation.
As of 5:45 am our time, I'm awake and starting to caffeinate (thanks, time zones) and ready for a 7 am PDT kick-off. There are esteemed guest speakers, experts and panelists, and I'll be tying them all together through the day, encouraging viewer questions and so on. Here's a shot from our tech rehearsal earlier this week.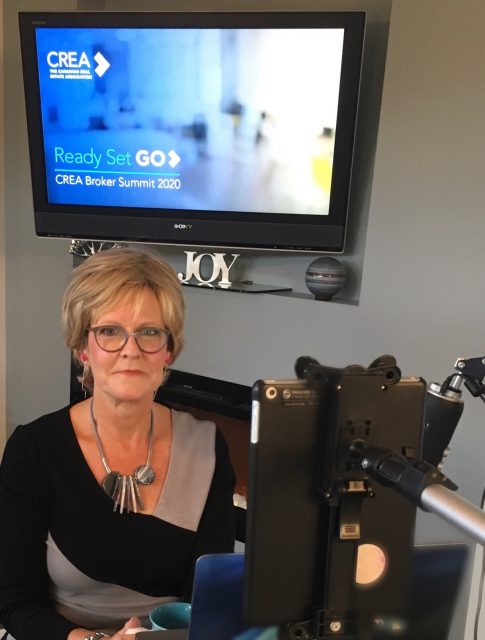 I'll post one pic of the actual event today on FB as it goes on, but we've got our fingers crossed that this will go well. Next month, I'm delivering my new keynote speech to a group live via Zoom from the same set-up; in November, yours truly will be called upon to host a big fundraiser for Markham Stouffville Hospital Foundation.
I'm nervous in a different way for each of them, but excited and grateful to have a chance to try new ways to learn my craft. I've even informed Speakers' Spotlight in Toronto, a large talent agency with whom I was just starting to forge a relationship before COVID hit, that I'm doing this now: long distance emceeing and even delivering a keynote, complete with visuals.
The learning curve is steep, but I'm reminded about the new beginnings that come with endings – a perfect message as we segue into the season of fall.
Wish me luck and, if you're a CREA member, I hope you'll be joining our inaugural online summit today. I've got Rob running the tech as well as scrolling my iPad in a homemade kind of teleprompter behind my computer camera lens.
There'll be lots of coffee and the voices in my ear will be directing me throughout the six-hour event today. Such a nice change from the usual voices asking me why my Fitbit numbers are so low! You have a lovely day and weekend and we'll be back with you on Monday. "MAKEUP!"