Just a thought.. What we have once enjoyed we can never lose; all that we love deeply becomes a part of us. [Helen Keller]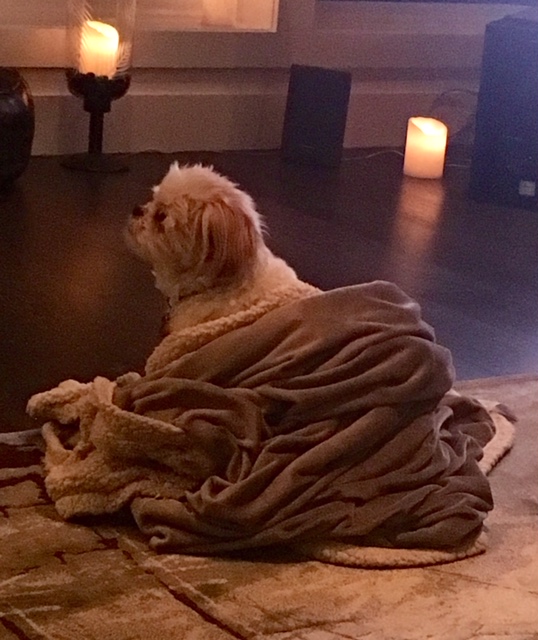 We knew the day was coming. Call it the pragmatism that is born of knowing the immensity of loss, but we knew. It should have made it easier, but of course….
From the moment we saw in a PJ's Pet Centre the Lhasa Apso-Japanese Chin cross who would soon be named Molly, with that little teddy bear face, we fell for her – instantly and hard. We didn't go in there with the intention of buying a dog (back when people did that – and I know it was wrong) but we always knew that we would outlive her. And Rob and I did.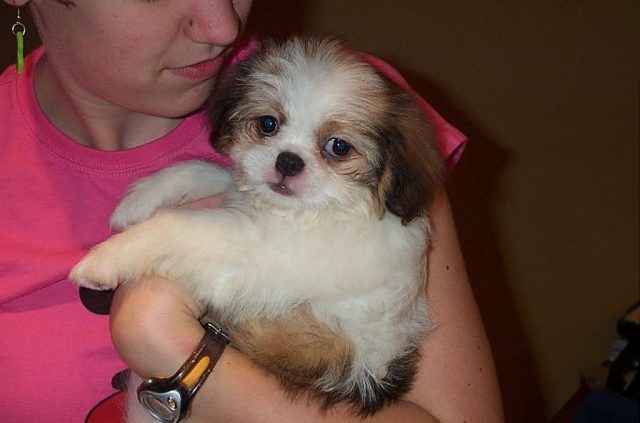 When we said goodbye to Pepper in 2015, it was just three months after going through the hardest thing any parent could endure. Yes, we mourned his death, but not as hard as we would have a year earlier; we had the cruel, clear perspective that comes with losing a child. He was never meant to outlive her, and yet he did. Pepper was Lauren's dog. And now they were together.
On Tuesday afternoon, under a sunny sky and buffeted by a cool, light breeze, we said tearful good-byes to our beloved and suitably spoiled Molly. Peacefully, at home on our deck, with the gentle assistance of the kind vet who came to help us when we needed it most as a family. We couldn't bear to wait the three days for an appointment to take her into our family vet's office; our shared suffering made it impossible.
Two days later, our hearts are heavy but filled with gratitude for her limitless love, the nightly warmth in the crooks of our backs or in that tight triangle formed by our bent knees, the mornings we'd awaken and she'd found a spot on one of our pillows, her sweet-and-sour breath in our faces, dozing peacefully. She was entitled, but she earned it. Every square inch of the house belonged to her, and we wouldn't have had it any other way.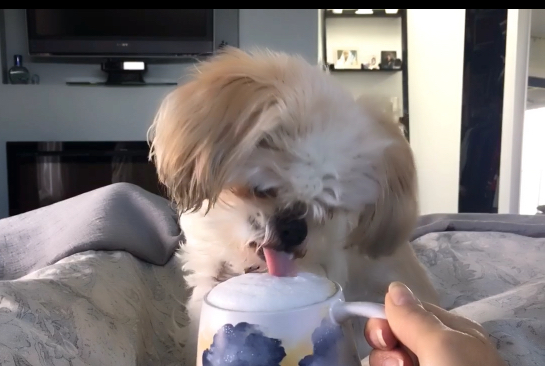 We will always cherish (and smile at) the memories not only of our early years as a complete family but the more recent ones too: of her running with puppy-like abandon and a mobility and demeanor often defying her age and her illness, even as she approached a ripe 16 years.
Thank you to the friends and family who took care of our girl when we were in need over our years of travels. All she wanted was a soft people bed and a warm leg to snuggle up against. We're grateful to each and every one of you gentle and generous extended family members…like Mike Cooper who visited us in California at Christmas and revelled in her cuddles.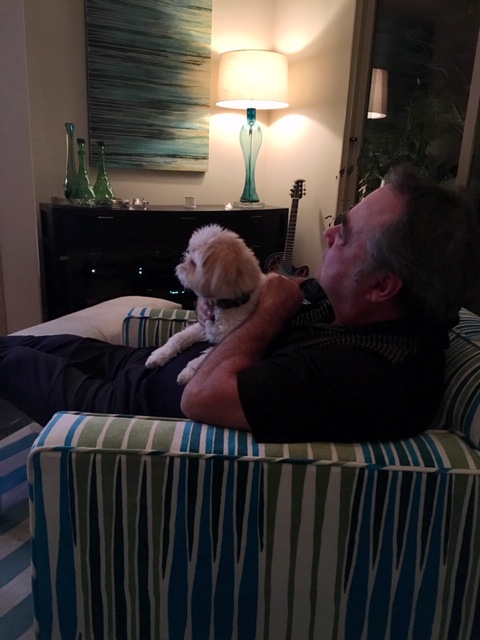 Even during the many hours I've been huddled writing at my laptop, she still managed to find a way to burrow in next to me.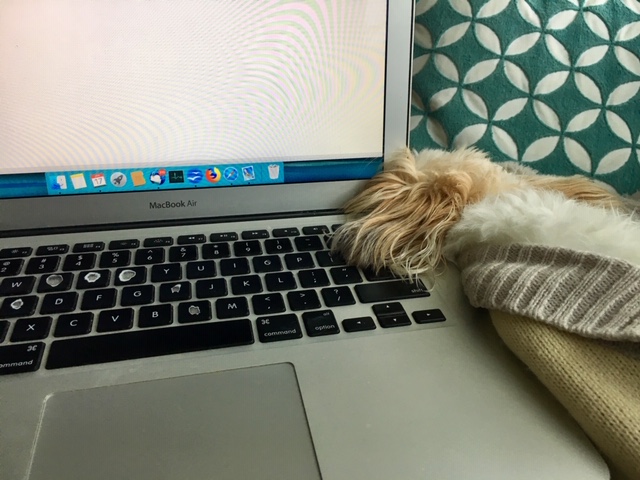 With her laid back air, I'd like to think she was equally easy to care for: gentle and patient, what she may have lacked in natural smarts she made up for in charm! Her trademark happy dance – standing on her back feet, waving her front paws – made more strangers laugh than we could ever count.
At a not-so-threatening 14 pounds, the "big dog" energy and aggression she brandished around other dogs was replaced by overt affection as she aged. We went from warning people that she might be a little snarky with their leashed pets to apologizing if she was a little too familiar. Boundaries and rules were for other dogs. Molly wielded her off-kilter cuteness like a superpower.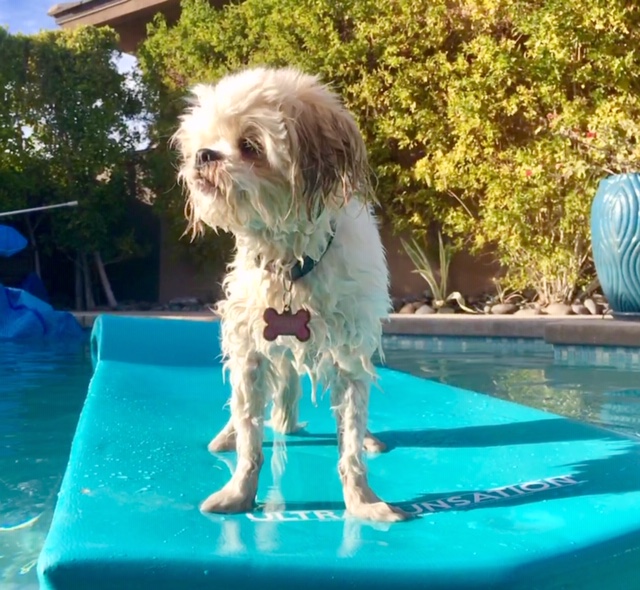 Look, I know that I've shared so much grief with you over these past five years, so I would ask you please not to feel sad for us. We knew from the moment we met her that this day would come; who would have imagined it would be a gracious and sweet 16 years down the road? She had a great life and enriched ours every day she was with us.
Dear, sweet Molly, though old, familiar cracks have reopened in our hearts, we're at peace, knowing that your appetite is back, you're in perfect health again and are running in circles and barking, looking for someone to take the bait and come play, inside or out. I have no doubt you've found your girl and your brother, Pep. Your tail is up again and you are happy.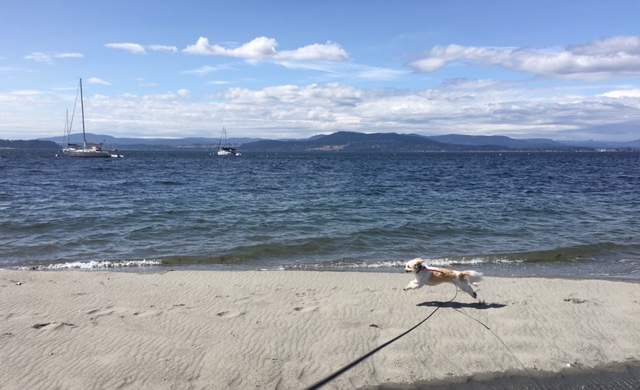 As are we for every moment, every wispy fur tumbleweed we'll encounter for months to come, every memory of your loving sweetness. Thank you, sweet Molly Malone.
I'll be back with a journal on Tuesday and probably won't be answering emails as promptly as I would like or should; I know you'll understand. Have a gentle long weekend.