Just a thought… True reconciliation does not exist in merely forgetting the past. [Nelson Mandela]
As always, you can watch a video version of this journal on my Facebook page, or here on YouTube.
Today marks a special day on our Canadian calendar: a National Day of Truth and Reconciliation, Orange Shirt Day. This video from Global News is excellent, in case you wish to learn more about what this day means to us and to the Indigenous Peoples.
Today Colin is off school and doesn't yet understand, as a second-grader, what these orange shirts or this particular day really mean. He will. I felt when we moved to British Columbia that this province seems much more vocal about and respectful of the people whose land this is than we had ever experienced before. Is it enough? Of course not.
But as such, I will acknowledge that this journal is done on the lands of the W̱SÁNEĆ People, one of three distinct tribal regions here on Vancouver Island. And I am grateful. W̱SÁNEĆ means "the emerging people." In fact, the neighbourhood where we are so blessed to live is on a mountain known as the "place of refuge." I did not know that when we moved to this spot on the Saanich (W̱SÁNEĆ) Peninsula, but it could not have proved more true in the case of our healing family. We too are emerging through a place of refuge.
Today at 2:15 pm PDT (or 5:15 EDT in Ontario) we remember those who were separated from their place of refuge, at a time chosen to reflect the number of residential school students' remains found in Kamloops earlier this year. Tragically, many more have and will be found.
But this is also a day for happy remembrance in our own lives, as we celebrate the 2nd birthday of this sweet girl, our granddaughter Jane.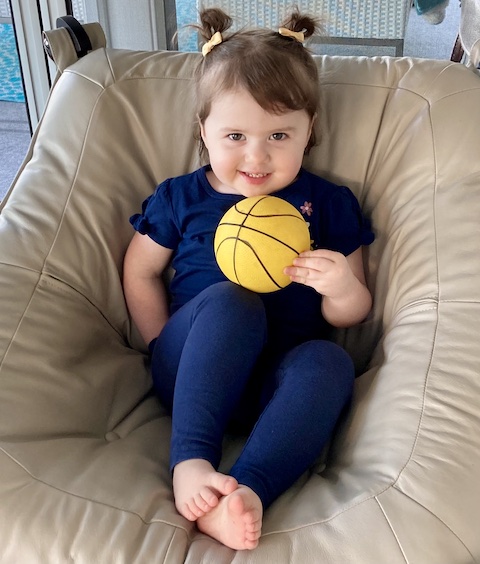 When she was born, we couldn't have imagined how much joy and love she would bring to our lives, and eventually from just a few miles down the road from us.
The celebration of Jane's arrival and the life she has injected into our own also dovetails with the remembrance of children who were not at home with their families where they could celebrate milestones and learn their own histories and traditions, surrounded by those who loved them most.
And so it is with a sense of added gratitude that we wear orange today, and carry the familiar dual emotions of sadness and joy, as Rob and I so often do, but for a much different reason. Jane will always be a source of great appreciation, love, and wonder. And with her September 30thbirthday falling on Canada's proclaimed Day of Truth and Reconciliation, we are doubly aware of the closeness of our family, both in proximity, and in our hearts. This day reminds us that it has not been like this for countless other families – many very near to where we live.
And we are grateful that our Jane is here, safe and loved by hers, by us, in her home, where, ideally, every child belongs and Every Child Matters. "Hay'sxw'qa" – Thank you.