Just a thought… Don't change Salt Spring – Let Salt Spring change you. [Bumper Sticker seen on ferry to Salt Spring Island]
You can watch a video version of this journal on my Facebook page, or here on YouTube.
Hello – and welcome to a new month here and a journal I'm just hoping you enjoy as much as I did experiencing it.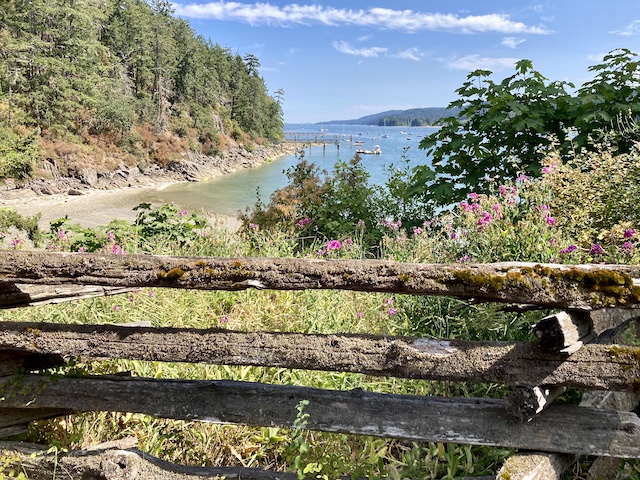 I told you last week that Rob and I were going to Salt Spring Island – about a 35-minute ferry ride from here – and we did! With a population of ten to eleven thousand, it's a delightful, mountainous island filled with artists, crafters, farmers and a great many people who left a faster-paced life in search of a life closer to nature and with far more contentment and peace. And, oh, did they come to the right place!
A visitor comes in search of those gifts as well on this piece of land that is only 74 square miles: 17 miles long and 9 miles wide. I ticked a lot of items off my summer bucket list while here, from kayaking – which I haven't done since we moved away from Ontario five years ago…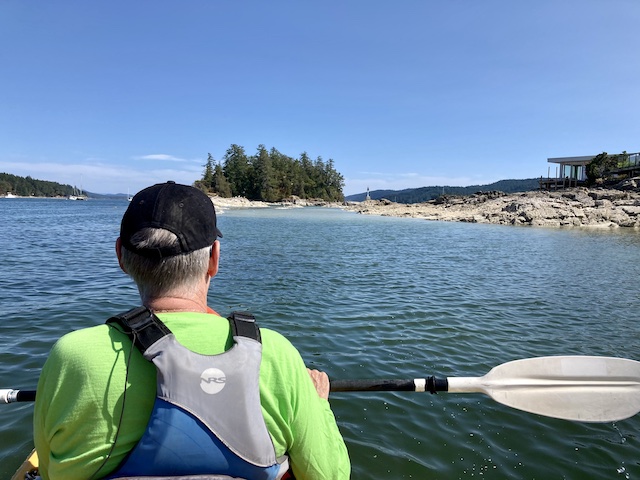 …to finding a few of the fairy doors while hiking part of Mount Erskine. (Didn't do the whole thing; months of sitting and writing, recording and editing haven't done my stamina or my butt and legs any good at all this year.)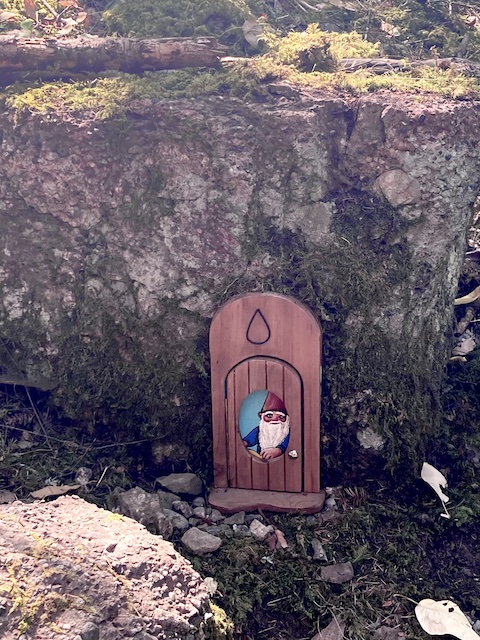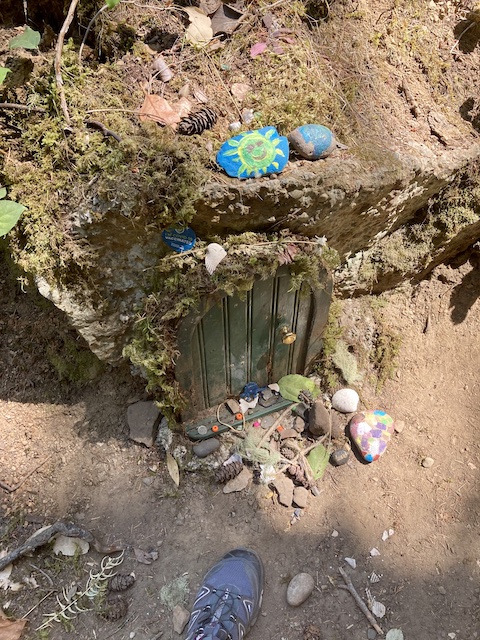 We took our bikes (not the e-bikes; couldn't port them safely on the MINI) but it was too hilly for this kid. Did lots of walking and convertible driving in the dusty, parched countryside, though.
By far, my favourite part of our getaway to Salt Spring was our stop at one of the lavender farms that adorn the island.
No one more perfectly embodies getting away from the rat race, than Awatief and Ben, the couple who founded Lavender & Black after having worked in health care and engineering respectively.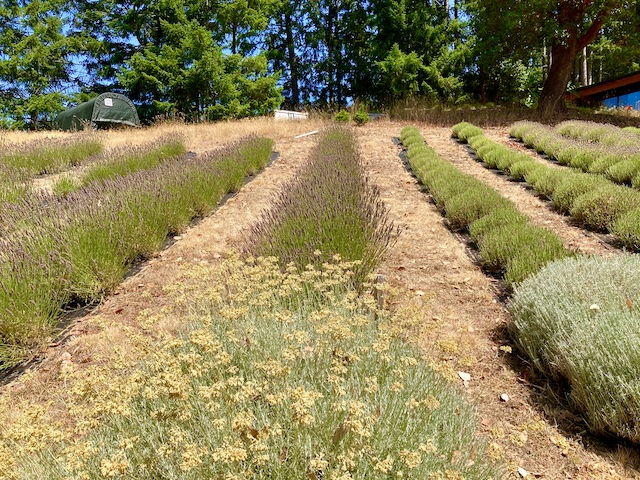 Established in 2016, some 4000 lavender and immortelle plants have been nurtured and harvested since then. There's a self-guided tour of the farm and its contemporary studio/essential oil distillery/greenhouse facility…and, of course, a shop where you can buy the fruits of their labours.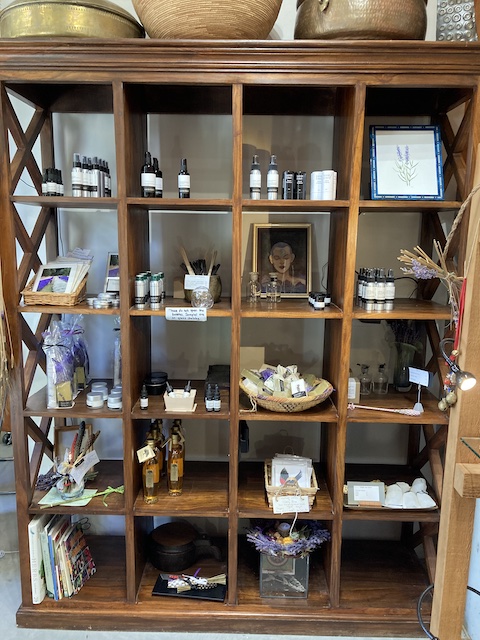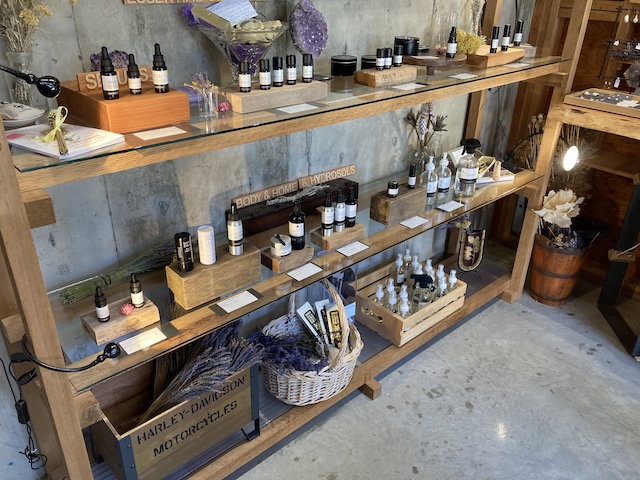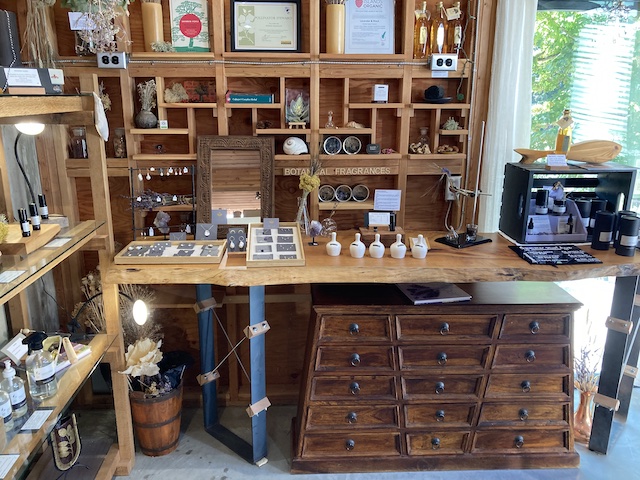 I picked up summer lavender diffuser oil and reeds for us, and an immortelle/lavender balm for Rob's shoulders. It smells gorgeous.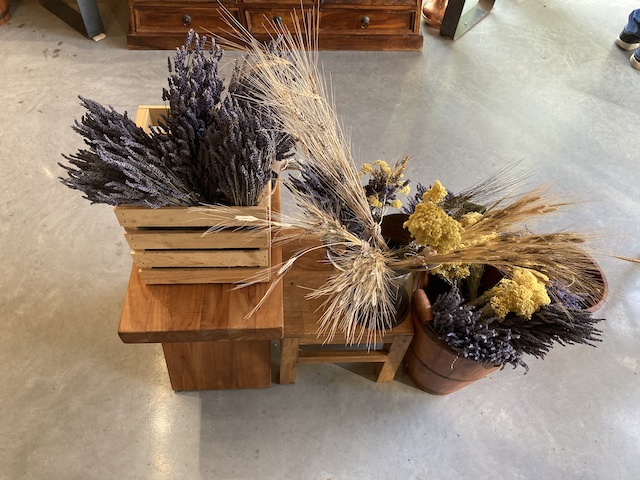 Immortelle is related to the sunflower and boasts several healing properties – its botanical name is Helichrysum.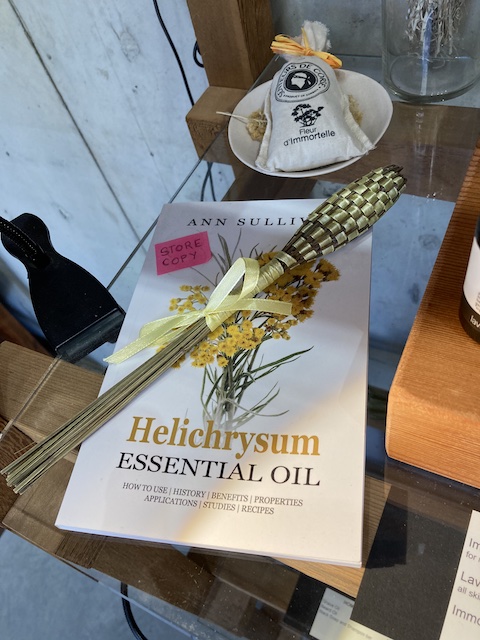 I was delighted to taste some creamy and lovely lavender ice cream, too. Have you ever known me to pass up ice cream?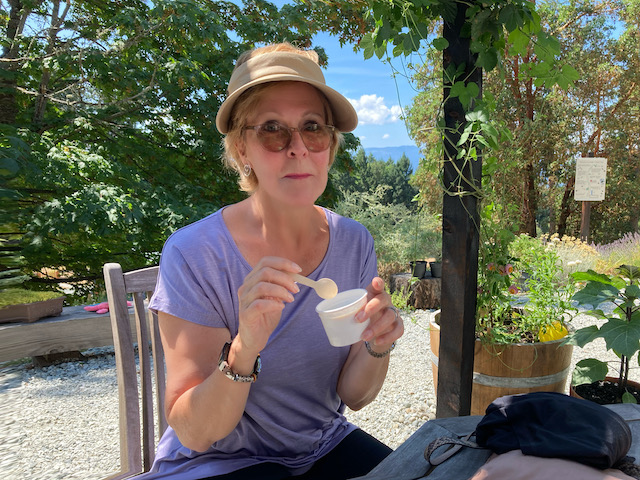 Now, they do ship their products (not ice cream, of course) but you can check out their website at LavenderandBlack.ca. I'm SO glad I went, and I SO recommend a visit – in fact, I think I'm going back later this month when I visit Salt Spring with a friend who is hopefully coming to visit!
I'll leave you with this shot and a toast to the beauties that Canada has to offer from coast to coast to coast. I know the pandemic has had very few pluses, but one of them has been forcing us to explore our own treasures. Here's to you, Salt Spring (with fruit juice!).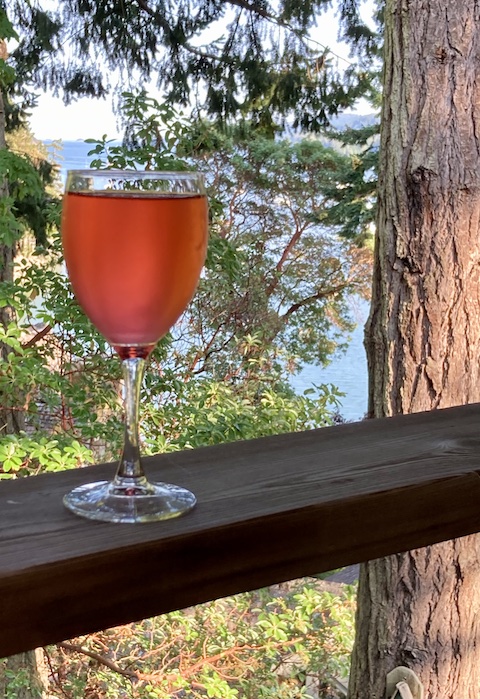 And I'll be back, not on Thursday, but Friday with a special good-bye to a friend who's taking a huge step that day. Talk to you then.