Just a thought… Siblings: children of the same parents, each of whom is perfectly normal until they get together. [Sam Levenson]
Oh, what a few days it's been! Four strong-minded and spirited sisters getting together, having a lot of laughs, a little tension, several pay-per-view movies and a metric tonne of shopping. We didn't get to that puzzle but my FitBit has never been happier!
Me? I'm still adjusting after being immersed in the family dynamic that comes with being all together again for a few days instead of just a few hours. Sleepless nights, sunsplashed afternoons and an immediate feeling of missing them when their planes flew overhead.
So here we are again, just Rob, Molly and me. And you.
And now, since it's a big day, another quote to reboot the journal:
The book to read is not the book that thinks for you, but the one which makes you think. [Harper Lee].
This is a day that's big on our life's calendar, as my labour of love, loss and reclaiming joy hits the bookshelves anew in soft cover.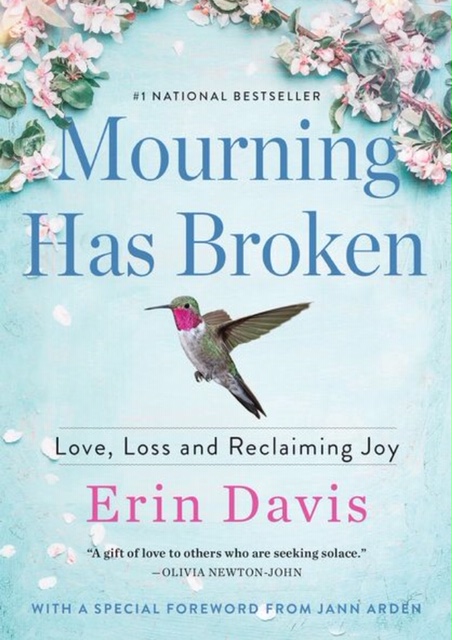 Since Mourning Has Broken's release in gorgeous hardcover on February 26, 2019, the ride has been one I couldn't have predicted or hoped for. And yet, there it is on the cover: #1 National Bestseller.
In a recent podcast visit with @TorontoMike, he told me that a guest of his said that the only way to get rich writing a book in Canada is to make it about hockey and release it in time for Christmas. Funny and true!
Seriously, though, making money was never, ever my aim here and fortunately the result of the publication of Mourning Has Broken has been more gratifying to me than adding a few extra dollars to our reWirement coffers: learning how it has touched people.
Hearing and reading their stories – your story. And most of all, finding that this book of reclaiming hope and joy after immeasurable loss has resonated with so very many. Like this woman, whose email I received just this past weekend.
Hi Erin,
I just finished reading your book and I loved every word of it.
I used to listen to your show on my way to work every day and remember vividly the news about Lauren. As I was driving to work that day all I could think of were you and Colin. I never wrote because there were no words, but I wanted to write now to let you know that it is a great pleasure to learn through your book that the whole family is doing well.
I also wanted to thank you for the great book, it has given me so much to think about grief. I lost both my parents this past year within 4 months and it surely has been a rollercoaster ride so far….
Thank you!
Linda
It's letters like Linda's that help me to know that the book will – as our HarperCollins Canada publisher puts it – be there for a long time. I'm heartened to know that it continues to help people as I consider every day what a next book, if there is to be one, might involve. (Yes, addiction will be a part of it, if there is one.)
Again, I thank you for your suggestions of a few weeks ago; a lot to consider, but another memoir is not in the works. Apparently, people see it in stores and say, "I already know her story…" and pass it by; how many developments have occurred in the past year – including those six weeks in rehab!
And yes, having family around makes me want to fill my wine glass to overflowing. But I'm reminded that I managed sobriety for ten years (until I left everything and almost everyone in Toronto), so I could handle this, too. And I did.
Whatever our future holds, I'll cherish this big day and the entire past year for the messages of support, empathy and compassion that have come our way in the wake of Mourning Has Broken's release. And while pondering (obsessing over?) what's to come, I'm very firmly staying in the present, filled with gratitude and not a small degree of wonder.
We did this together. Now, onwards. To whatever lies ahead.