Just a thought… Music, when soft voices die, vibrates in the memory. [Percy Bysshe Shelley]
Hello to you today from cloudy West Kelowna, BC, where I'm staying with my sister, her family of four, plus our dad and three dogs (along with one really vocal cat) until this Thursday, when I fly back to the sweet sanity of home!
Today, our grandson Colin's back to school, starting an hour or so of Grade 4 (?!?) with all of those exciting new experiences that we so loved: a few new outfits, a backpack and lunchbox (which probably won't be put to use 'til later this week) and, of course, the chance to catch up with friends and find out who his new teacher will be.
Here at my sister Leslie's (where we're on a boil water order due to recent wildfires), it's the first year in decades that she doesn't have a child going back to class. But, of course, as her two children share an apartment downstairs, there's another, older and less-independent generation on the main floor for whom she's caring, and doing an exceptional job, despite some daunting and sometimes humorous challenges.
Last week I posted on social media that Dad saw this Minigo cup and was absolutely convinced that he was being fed cat food!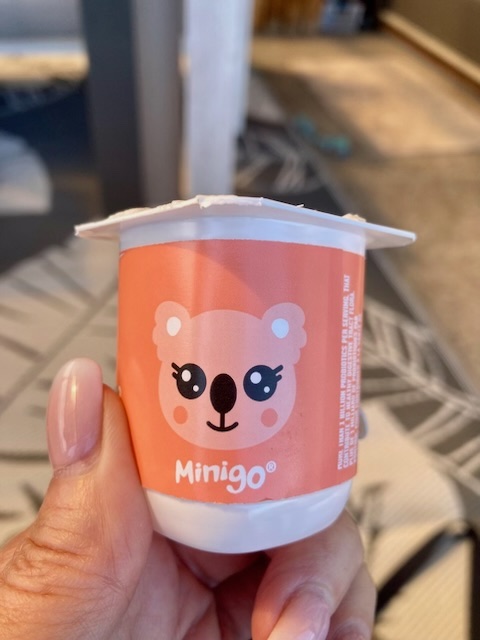 There were some hilarious and touching experiences shared on my Facebook page, and I'm grateful to you every time you open your heart to me and for sharing that page.
Of course, there are tears as well: after playing some tracks of Lauren singing with her high school band, Dad asked how old she is now and I told her that she died when she was 24. He began to sob, and I was immediately sorry for telling him; I'm usually good at fudging stories (the "where's Mom?" question is answered with "she's away visiting our sister Cindy in Mexico"). But after a nap, the memory of our daughter's passing had faded entirely, as we knew it would. Dementia does comes with the tiniest gifts.
Another rare plus that accompanies this dreadful disease is that he remembers so many of the songs he enjoyed and would sing as a barbershopper. So I was fortunate to capture a little bit of video as we sat out on my sister's deck on an uncharacteristically cool day, with a little bit of a favourite of his.
It's a feeling of harmony and the peace that comes in those rare moments of normalcy: watching the Jays, often in frustration (must be September), and enjoying meals and memories.
As we head "back to" everything on what for me always feels like the real New Year's Day, I hope you'll return to Drift with Erin Davis sleep stories tonight and a new one called The Goose Girl, a sweet story of a princess whose identity is stolen, but who gets help from the most unlikely source: a king!
And Lisa Brandt and I will bring you a brand new Episode 36 of Gracefully and Frankly, recorded in a tiny trailer here in West Kelowna. Ah, life on the road is SO glam! Be well, my friend.