Just a thought… Life is more meaningful when our goal is fulfillment rather than gratification. [Author unknown]
I can't even express to you how full, how VERY full, Rob's and my hearts are today. (See? They're so full I've used that word three times in the first two sentences!)
To think of everything traumatic that has happened in the past four-and-a-half years – from losing Lauren, to saying good-bye to my favourite radio partner, then leaving almost every person we knew and loved in Ontario and starting a new life outside of my beloved medium of radio – I am awestruck at just how much meaning and fulfillment have come our way. And at no time have they been more evident than in the past five days.
I hadn't planned to write a book; on the day that I said good-bye to our radio audience at Casa Loma, had that wonderful HarperCollins exec not been in the audience of CityLine, and had she not written and suggested it, I most certainly wouldn't have laid out our lives for a litany of publishers to reject.
But as I stood before a full ballroom yesterday at the Marriott in Muskoka, for just a moment there was a beam of light that shone down on me from above and told me I was where I was meant to be at that moment. Just as a medium we met up with after Lauren died told us she was saying, "Mom, it's not about you anymore – it's about them."
It's about them. The mothers who cried in my arms on Thursday night in Arthur, Ontario after my keynote address "Reclaiming Joy." It was a fundraiser for #GetintouchforHutch – started by a bereaved mom whose son died by suicide – and so far these good people have raised $300,000 (in a decade) to help others who suffer, and hopefully to help prevent more deaths by suicide by getting people to talk about mental health.
It's about the families helped by The Lighthouse for Grieving Children in Oakville at a sold-out event for 300 on Wednesday night, simply by sharing the stories of survival of widows Lisa Lisson, CEO of FedEx Canada, and Melissa Gaston who, along with her children, has been helped by Lighthouse (where she met a fellow grieving parent, soon to become her husband). Such an incredible night! That's Lisa on the left, then Melissa, and interviewer Saphia Khambalia of The Weather Network to my left.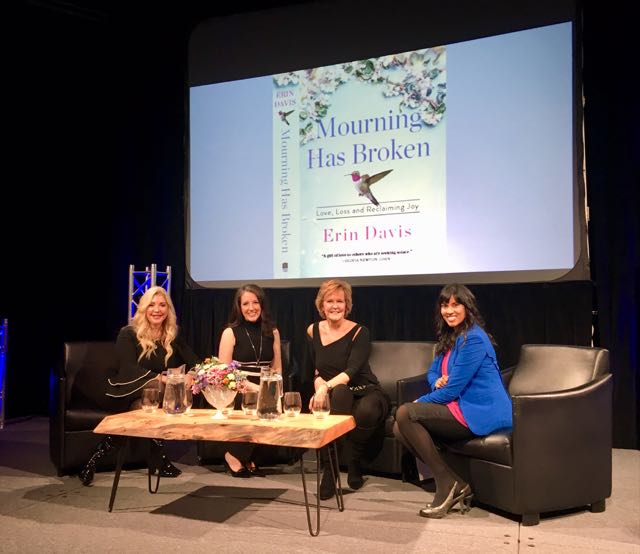 It's about the patients at Markham Stouffville Hospital who came out for a mental health day Thursday and with whom I could safely share my story of depression, addiction and grief – but with hope.
It's about the hundreds of Rotary International members (as Rob and I are) on Saturday in Muskoka who listened to the story of incredible strength, resilience and determination of Amanda Lindhout, who wrote the New York Times bestseller about her year-and-a-half as a hostage in Somalia ten years ago. (Her talk was as gripping and touching as the book, I promise you.)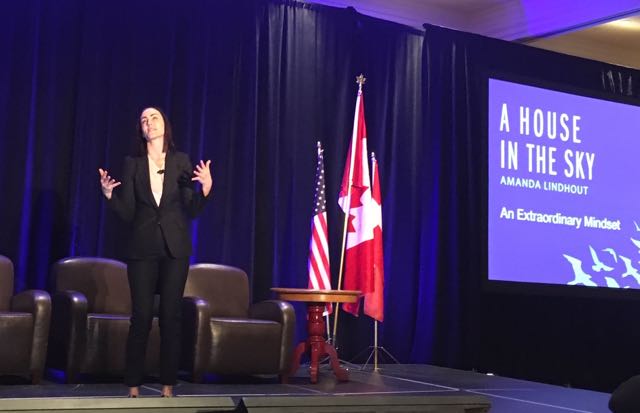 And who then heard my presentation on Sunday.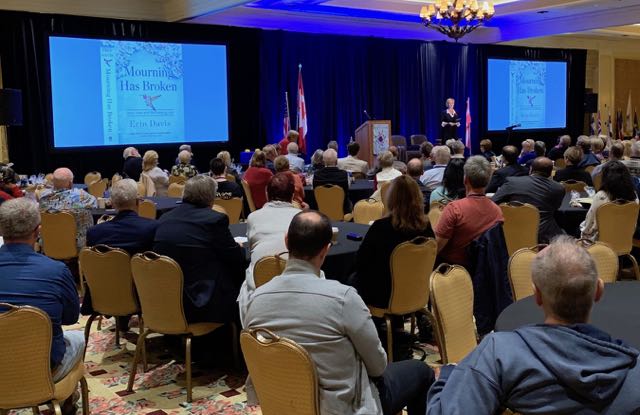 And finally, it IS about us: Rob and me.
I don't tell you about these events to shine a light on what we've done, but to show you just how much this whole evolution from bereaved to blessed has meant to us. To be able to take what happened with the loss of our sweet Lauren, and maybe – just maybe – to become able to offer others a little hope has been the second-greatest gift she has given us.
The first, of course, is Colin. And this week we're on our way to Ottawa again to spend a glorious few days with our beloved boy and his beautiful baby sister and parents.
We count our blessings every day and choose to see the light instead of the darkness. And we haven't done any of this, not one bit, alone.
Thank you for helping us to get to where we are today, to this place of hope and deepest fulfillment. I would give my life not to have experienced what brought us here, but since this is where we are, we are choosing to take in the view and be thankful.
Talk to you here on Thursday.