Just a thought… Do not fear failure, but rather fear not trying. [Roy T. Bennett]
This is one of those journals I really hope you'll click on to watch, either at YouTube, or at my Facebook page. Nevertheless, here's a written take on today's yummy yummy journal.
I had two store-bought cakes in the fridge for Easter dinners, but for some reason I was inspired to bake and create something. I've always wanted to take flower arranging and cake decorating classes. Maybe this year….
Anyway, I bought a cake mix and followed the Betty Crocker website instructions, but two layers looked just too…short. So Brooke and Phil were out and picked me up another one. Golden Moist, it's called.
I added food colouring to the divided batter, and hoped for the best. How would the colours mix with the "golden" tones? Hmmm.
Then I had to think about icing it. Bought Betty Crocker whipped icings for that, too: white and chocolate. I wanted this cake to look like an Easter basket. Aim high, Davis!
After the four layers had cooled, I "cemented" them together with white frosting – two of the layers filled with a raspberry jam mixed in. Then I looked up how to ice it without all of the cake coming off on my knife or spatula and learned about something called the "crumb layer." You put on one thin layer and let it set; this will be the one you actually decorate. Then the loose bits of cake, the crumbs, are sealed in.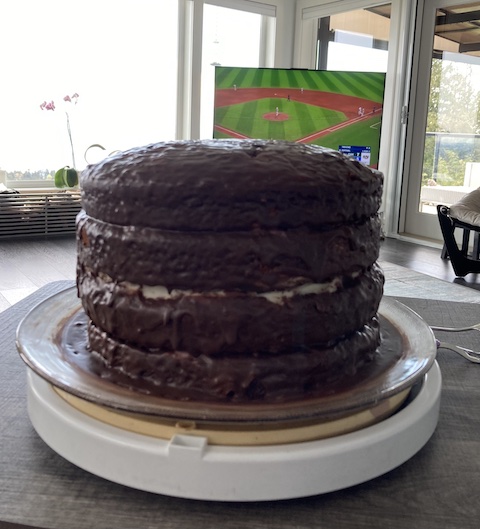 Then I sat my butt down on Saturday in front of the Jays game with my old ceramics turntable (just a Rubbermaid plastic thing that was supposed to be a spice spinning thing) and began the work – one large flat knife and some green icing, chocolate icing and a whole lot of patience.
The top was supposed to be green coloured coconut, but we have some non-lovers of coconut in the family here, so icing grass it was to be!
And here's how it turned out!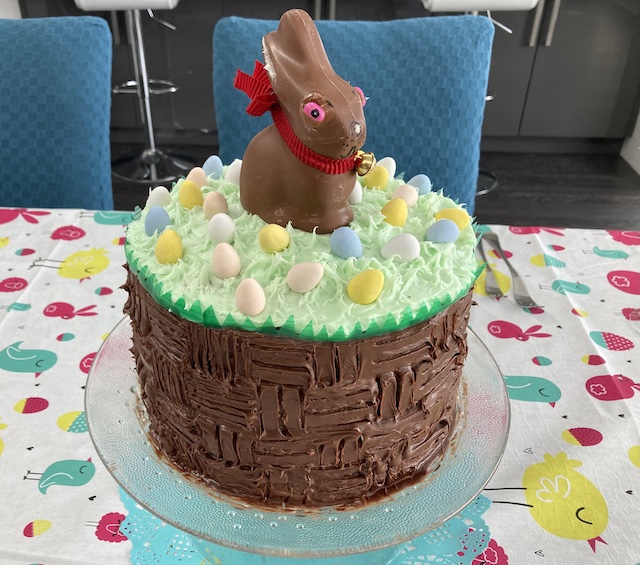 I put a Lindt bunny on top and I can't say that my icing or coloured-in Tic Tac eyes really added to the whole thing (nor did the Sharpie art on its face, I'm sure) but I tried.
To me, the whole mystery was going to be how those layers came out in terms of colours!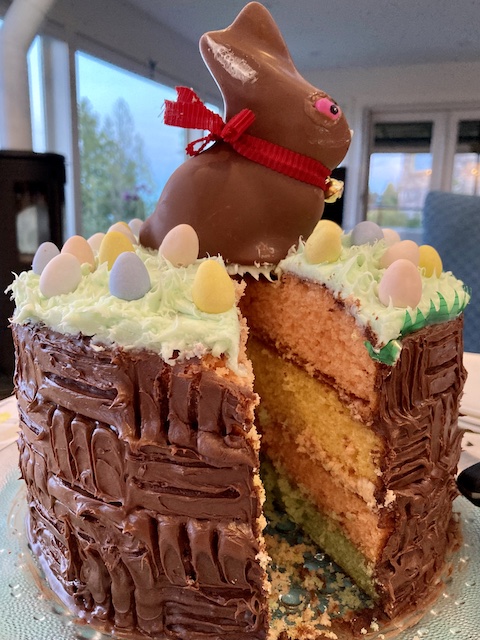 I wasn't disappointed! I think in future I would use a cherry cake mix for the pink layers (although they might not be as moist, so I might be playing with fire – or a flop – here). But all in all, it was good.
And how did it taste?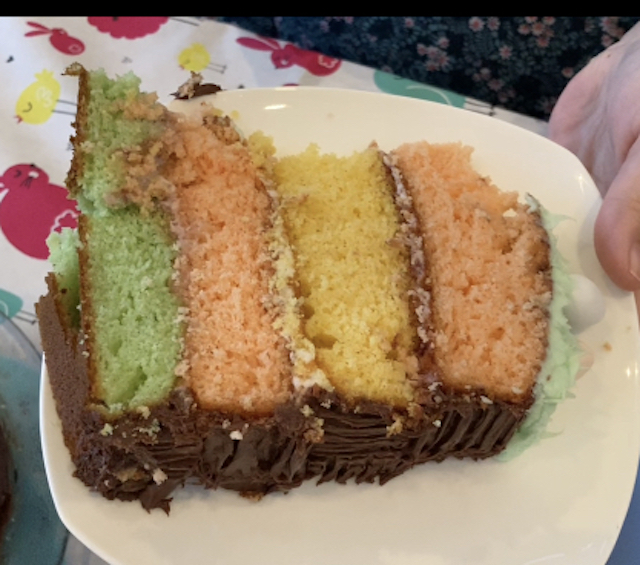 As good as it looked, I'm happy to say.
Thank you for coming by today and I'll have another journal for you here on Thursday. By that time, we should be just about out of cake!
I hope you had a lovely Easter and Passover weekend and there's a new Drift Story tomorrow (free as always): The Fairy Frog from Jewish Fairy Tales and Legends. Be well.