Just a thought… To care for those who once cared for us is one of life's highest honors. [Tia Walker]
You can watch a video version of this journal on my Facebook page, or here on YouTube.
Well…we're finally settling in at home for the holidays. Between Toronto business travel and my not-so-friendly-skies experience in Edmonton in November, the turnaround trip to Mexico to help my sister recover from emergency hip replacement surgery (she's doing amazingly and even performed – standing – at a Christmas concert last week) and then another journey to the BC interior last week, I haven't been home enough to water the plants. Lucky for them, I don't have any.
I'm here to brighten your day today, and I'll tell you a story that perfectly sums up the yin and yang, the darkness and light of life.
We've all been through family struggles – whether it's with our children, our parents, our siblings or other relatives – so when I told you about us moving Dad into assisted living, a great many people could relate.
It was a hard four days, both physically and emotionally, as my younger sister Leslie and I dug through nine decades' worth of pictures (and some even older) deciding what to keep, what to let go. Medals and plaques and mugs and memories from a career in the armed forces, plus university honours and decades of singing and performing in community bands and choirs (and all the sheet music!); they all add up to a life that is slowly coming to its coda.
When Dad didn't remember why we were hauling into his new suite a huge, 80-pound mostly-engraved tombstone – one which he commissioned after Mom's passing in preparation for his own – we knew his memory was really gone. After all, he's been so proud of the steps he's taken to make sure that when he's gone, his "girls" (as he calls my three sisters and me) would have no worries.
Well, the worries are happening now. Dad has been failing fast and the first night that sister Leslie didn't stay with him on a cot in his new assisted living suite, he awoke and called 9-1-1 because he couldn't get back to bed. Right away we were told by the people at the new place that, even though they had assessed him, he was not going to be able to stay.
In fairness to them, Dad did suffer a fall before he moved. EMT came and put him in his bed – no x-rays or anything – and he's suffering physical pain now as well as mental distress. He's practically talking in tongues, which to us points to a familiar bacterial infection that is blasting his brain.
Two days after we left, Dad was admitted to hospital. He's in there now as we wait to see what the future holds.
So now let me tell you the brighter side to this story.
As our tiny plane landed on a dark, rainy Victoria runway, I got a ping from sister Heather who said that Dad remembered seeing Rob but didn't recall me being there. That brought on more tears, having shed plenty when we said our good-byes just hours earlier. I knew his memory was failing, but it hadn't hit me that hard before that moment.
Here he is in a gift I picked up during that long layover in Edmonton airport: a toque from his alma mater, the U of A. The same man who couldn't tell me if he'd even had breakfast broke into three verses of his college fight song! What a moment!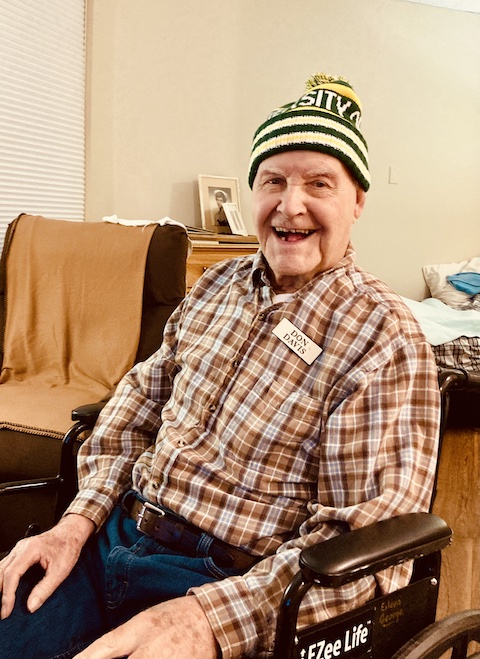 And here he is Friday: same hat, same ol' Dad, in the hospital awaiting more tests.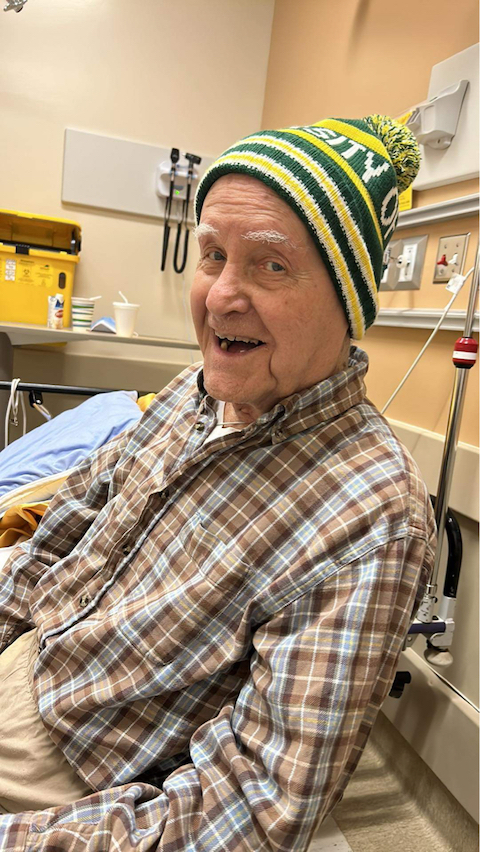 But the bright moment in all of this? After a very long, emotional stay in frigid Kelowna, tears on the plane and exhaustion setting in, we walked into our house and saw this.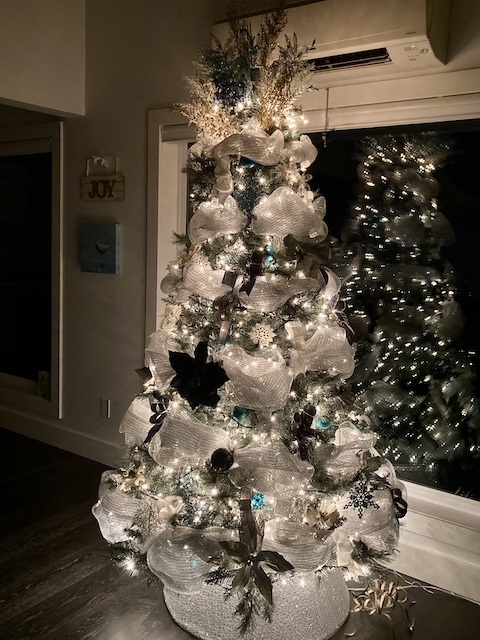 With all of my absences since the start of November, Rob had taken it upon himself to bring the tree up from downstairs. But we'd still left it in a partial state of undress. Well, while we were in Kelowna, Brooke, Phil and the kids came over one evening and Brooke hauled out the decorations (along with a few she'd bought to add to our décor) and almost completely decked the tree.
With that, the two sides of the same family coin came shining through to me: the heartache, worry and pain of slowly letting go, and the warmth and peace, the joy even, that come from letting IN as well. With an open heart, mind and home, you might just find that, like me, even the worst hurts can be made better with some compassion and a little love. What else is there?
Take good care and please do enjoy tomorrow's Drift Christmas story. It's Yes, Virginia, there is a Santa Claus. Listen where you download podcasts or click here and don't forget to go to envypillow.com and use the code DRIFT to receive 10% off your selections there. Our gift to you now and through the year to come. And thank you.