Just a thought… I think as you grow older, your Christmas list gets smaller and the things you really want for the holidays can't be bought. [Author Unknown]
You can watch a video version of this journal on my Facebook page, or here on YouTube.
Welcome, my friend, to the last journal of 2022.
I wanted first to say thank you. You come here, you follow what's going on in our lives: the ups, like this lovely cookie baking moment on Friday…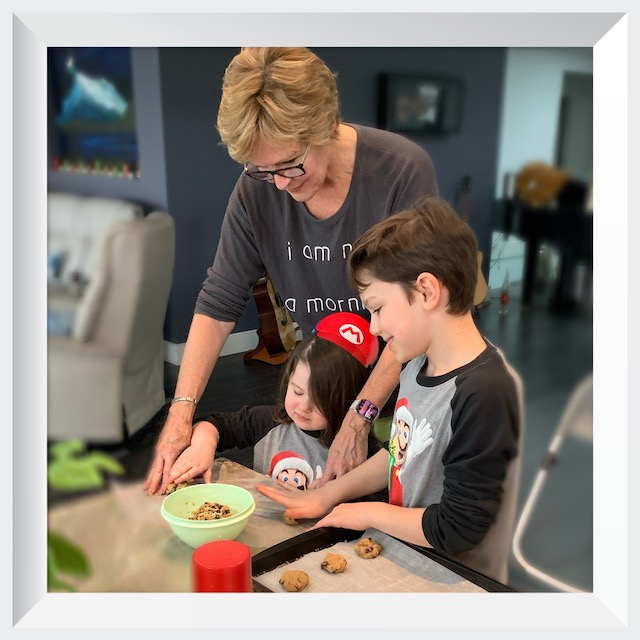 …and the downs, like our journey with my dad, who is seemingly getting his mind back, and we're going to be moving him into a professional caregiver's home. And best of all, that personal support worker is my sister Leslie and her family. So that's all happening. And it turns out to be another "up" to end the year.
You are so kind, so caring. This connection we have is the gift that I unwrap all year 'round.
So I'd like to give YOU a gift. On Friday, watch this space for a link to the video of a present-passing game that I introduced to you last year called "A Wright Brothers' Christmas." We're going to play it together on Christmas night after dinner!
Let me tell you what our traditions have become, if you don't mind. You probably know that we are a blended family of the best kind: our grandson Colin, his sister, our granddaughter Jane, and their folks, Brooke and Phil, will come here Christmas Eve for the big dinner. This is the one where I haul out my mom's fancy no-dishwasher china, and polish up her silver. We bring in the generation before us to join us at this dinner table.
Then, the kids open gifts from us and we enjoy the excitement of the night before Christmas, while I privately reminisce about all of those years we enjoyed Christmas Eve at Erin's with our friends from CHFI and listeners across the GTA. Forgive me if I've told you this, but one year, ratings measurements showed that one out of every two radios on Christmas Eve was tuned to our show. I will always appreciate the honour of being part of people's traditions – whether they were wrapping, driving, sitting alone or celebrating with loved ones. That is the highlight of my professional life (no offense, Mike)!
It's hard not to feel melancholy at this time of year; anyone with an empty chair – literally or figuratively – at the table during Hanukkah, Christmas, Kwanzaa or New Year's knows what I'm talking about. But we keep memories from wilting like a rose in the snow by allowing ourselves to feel the longing, the echoes of joy. Like this picture from Lauren's first and last Christmas with Colin. There's my dad, too, and – oh – that real tree. How lucky we are to have that precious, precious memory.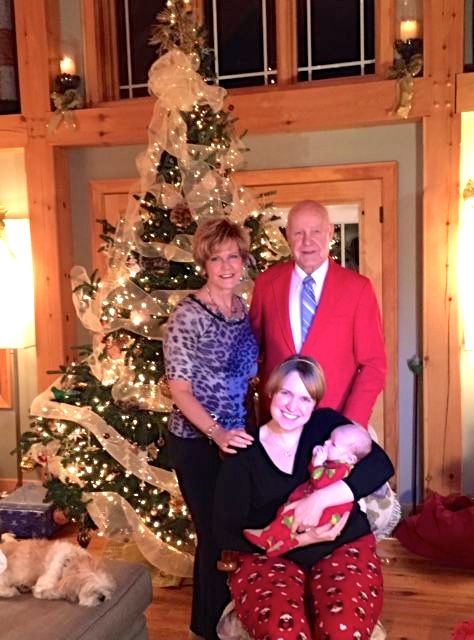 And here's my last gift to you as we prepare to wrap up 2022 this week (I'll be back with you January 3rd in the new year), and that is the present of appreciating the present.
A few weeks ago a family friend told Rob that he's envious of us at this time of year.
Now, when Rob began to pass along those sentiments, I started to get my back up. I mean, who could possibly be envious of a couple who were so sad, especially at Christmas, because of Lauren being taken from us.
And then Rob continued: the reason Sam said he envies us? We have grandchildren with whom to celebrate the holidays.
Now, of course, we know that Colin and Jane are a blessing. Our grandson's sleepovers are the reason I go to sleep with a peaceful smile (as I will with Jane, too, one day). They hold on to our hearts with sticky fingers, fill the silence with shrieks and baseball stats, pass the hours with games and hiding and seeking and colouring. In short (quite literally) they're our reason to keep going.
As I said quite pointedly in Mourning Has Broken, no one gets to say to us, "at least." No one tells us which blessings to stop mourning, which ones to count.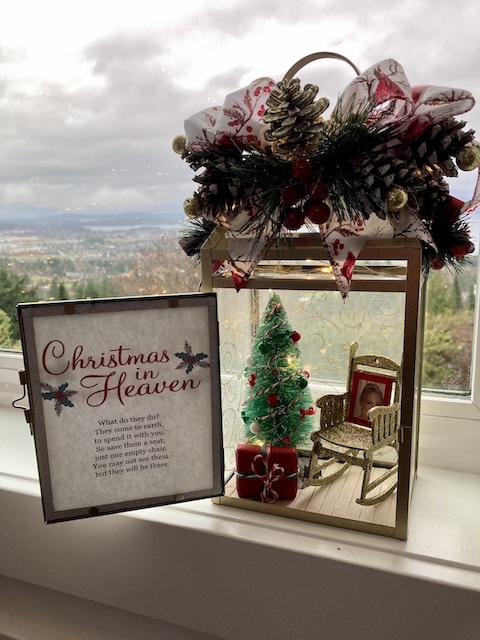 But in his way, in that moment of vulnerability and tenderness, our friend reminded us that even when the tree shines just a little dimmer, we are lucky to have family gathered around it or poking at its ornaments.
We are blessed. And the fact that we made it through another year – you and I together – is testament to that.
So thank you. Just for being here and in my heart – for the years of letting me wake you up, and now putting you to sleep with Drift. I am so grateful to you and we'll see you in 2023, my friend.