Just a thought… Music expresses that which cannot be said and on which it is impossible to be silent. [Victor Hugo]
Like many homes after a long four-day weekend stateside, ours is unusually quiet today: Lisa and Derek have hit the road back towards San Francisco and fly out of the "City by the Bay" early tomorrow.
They're toting with them 86 addressed envelopes, each holding a letter and a label (some from HarperCollins, others – more generic ones – I purchased at Staples simply because I didn't bring enough down to California with me; forgive me if they don't all bear the HC logo) for those folks buying copies of Mourning Has Broken for people on their gift lists this year. I'm so glad I could find a way to personalize them and I hope that they are well received.
By the way, if you do receive one of those labels/book plates, I'd be grateful for a review on Amazon.ca or Goodreads or wherever it is that you purchased my book, if that's applicable.
It warms my heart to think that this labour of love, which has occupied such a huge part of our lives for the past three years, but especially 2019, will find its way into more hands this Christmas. It's all about spreading hope and healing. What lies ahead, I have absolutely no idea, but that's a journal for another day.
Words just don't do the trick when I tell you what a wonderful week we had with our friends. I shared with you some of our many activities and outings here last Thursday, but the best part of all was simply spending time with them.
Emptying pot after pot of Rob's spectacularly robust coffee each morning. Lounging in our PJs early at night and bingeing the Apple+ TV series The Morning Show starring Jennifer Aniston and Reese Witherspoon. (Boy, is it powerful and exciting! If you had any doubts about Ms. Aniston's abilities as an actress, this performance puts them aside for good.)
Talking for hours on end about freelance voice work, mutual acquaintances and our hopes for the year ahead. Going to a few 12-step meetings (my first since arriving down here). I haven't found "my people" here yet, but the first moves have been made, helped by finding out that Lisa and Derek have friends who literally live just around the corner from our house, and making casual plans to actually meet some folks, also expat Canadians.
Meantime, this is the view that bade Lisa and Derek farewell as they left our city (and its famous wind turbines). Palm Springs perfection, as tweeted by @lisambrandt.

There was no Black Friday shopping for any of our bunch here; I'm averse to crowds, especially when we don't really need anything. I'm also having a hard time tuning out the Christmas music pumped relentlessly into some of the stores, like my new fav, Stein Mart.
With radio stations changing formats, you have a choice (and a great many listeners choose CHFI, bless you). People love to offer up when they think the station should change over: some suggest the day after American Thanksgiving (which makes no sense for a Canadian station), others say December 1st, and still others protest loudly that they will never come back, which also makes no sense.
Punishing oneself to punish the station? I get that a lot of people feel passionately about their radio station, and that's what I always loved about CHFI listeners; after all, they – you – saved my career at least once. But it's a programming tradition that has been adhered to for well over a decade now, and people now know 98.1 as their Christmas Music Station.
I did want to clarify what I meant with that tweet last week:
If you find yourself in a place perusing the merch and it's one loud (and often not especially well-done) Christmas song after another, it's painful to have to find a way to tune out the ones that make you sad, which so many of them do for us now. Obviously, like everyone does with their favourite station, I have the choice to turn away, which I did last year: I put down a pile of clothes that I was ready to try on and simply walked out before the sadness morphed into actual tears.
I tweeted something to that effect on Wednesday last week and it elicited a big response. But I worried ('cause that's my super power) that my comments were misconstrued as taking a shot at my former radio home. I will always be loyal to CHFI and the people there who had my back when I needed it most; I was just feeling blue and having a Loo day. They do come and go, as anyone who is familiar with grief knows.
It was during that blue Loo day that Lisa and I were indulging in a little hunting and pecking of the shopping variety last week. During a walk through downtown Palm Springs, we came across some beautiful wings that had been painted on a wall. Lisa took a few shots of me, I played around with a filter or two, and here's what we ended up with. They sum up the ups and downs of going on after the events that have brought us here.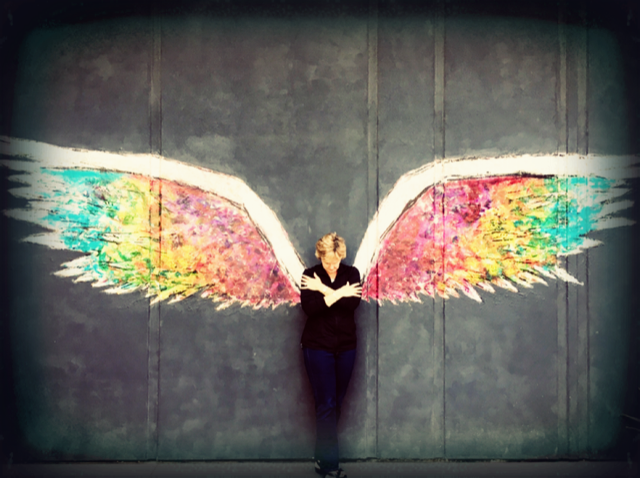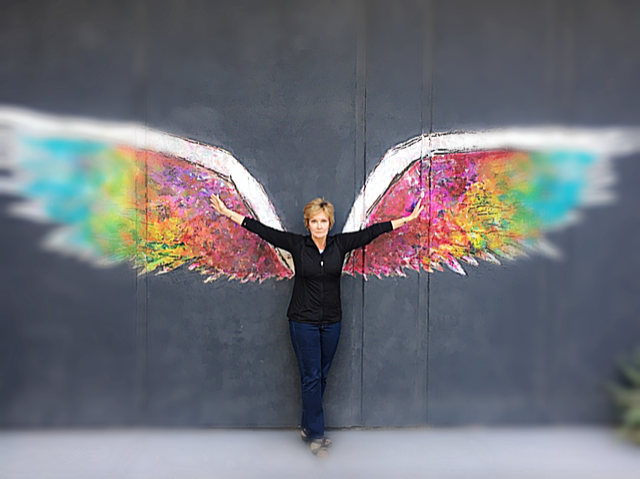 Have a gentle first few days of December and I'll be back here with you Thursday. Sending hugs and warm thoughts – yes, I follow what the weather's doing.