Just a thought… Let us be grateful to the people who make us happy; they are the charming gardeners who make our souls blossom. [Marcel Proust]
It's Thanksgiving Day down here in the U. S. of A. so I'll begin by saying how grateful I am that you are here. And also that my husband doesn't watch football. Nor does my company (at least while they're with us). Hallelujah!
Yes, I'm grateful that my dear pal Lisa Brandt and her husband Derek Botten, who hail from the London, Ontario area, have been with us for a week. They've visited us in Palm Springs before, so we found ourselves trying to dig in a little deeper and find things we hadn't done and share things we hadn't already seen.
We started with a show we've been excited about for months: it had us decked out in feather boas that Lisa brought with her, purchased especially for this night and left with the folks at the theatre: Randy Rainbow live on stage!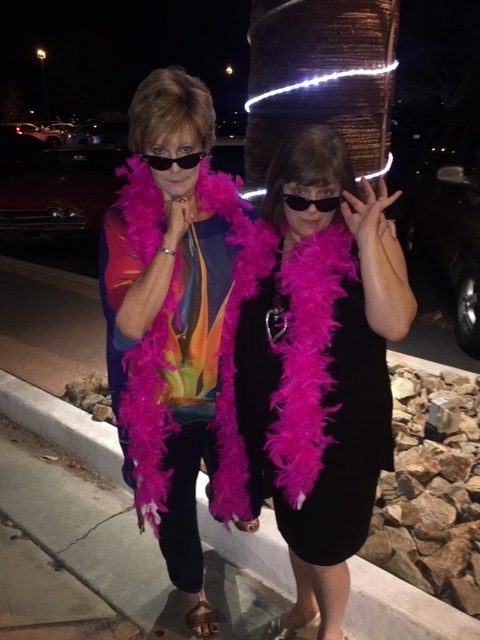 It's a uniquely 21st-century kind of experience: going to see a man perform songs backed up on a huge screen by the same videos of him that brought Randy to our attention and made us big fans. (Just Google Randy Rainbow and you'll be taken to any of his many hilarious and extremely well-produced videos skewering Trump and his circle of psychotic sycophants.)
Over the 75-minute show we were treated to his greatest hits, some banter between his challenging and brilliantly-worded song parodies and the magic of watching a four-piece band matching up with incredible precision the video that was running behind them.
Randy was sassy and sharp, and I have the feeling that we're just seeing the beginning of what's going to be an extremely interesting career. (We eschewed the chance to buy higher-priced "meet 'n' greet" tickets; I didn't want to risk not loving him in person, if that makes any sense?)
Last night Lisa and Derek treated us to an evening at the Purple Room, a dinner lounge where folklore has it the Rat Pack got its start as a concept and then a real act that became part of showbiz history. We'd been before, but enjoyed getting the chance to introduce them to the place.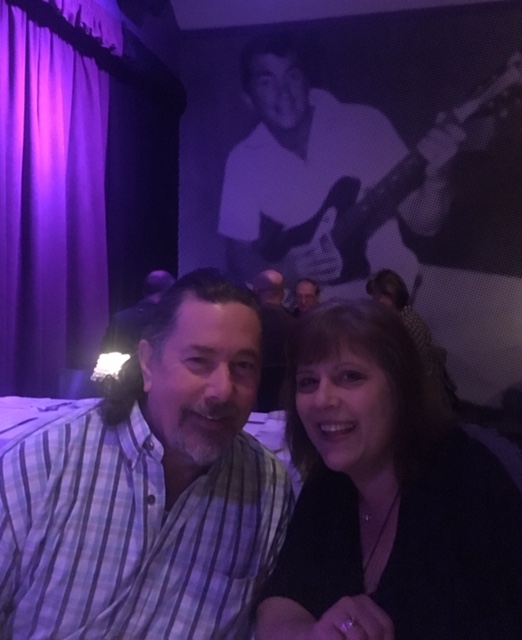 Our host, owner Michael Holmes, fronts a jazz trio and performs with ease and warmth. We had a terrific time again – so grateful that my aunt and uncle gave us a gift certificate to try the place last year! Can't wait to share the experience with Mike Cooper when he comes in late December.
Even though the weather has taken a turn for the rainier, we did take advantage of the sunshine while we had it and not all of our entertainment was indoors: we took a short hike to Indian Canyon under blue skies and gentle 21 degree temperatures, and enjoyed sights like this. It is indeed a special place.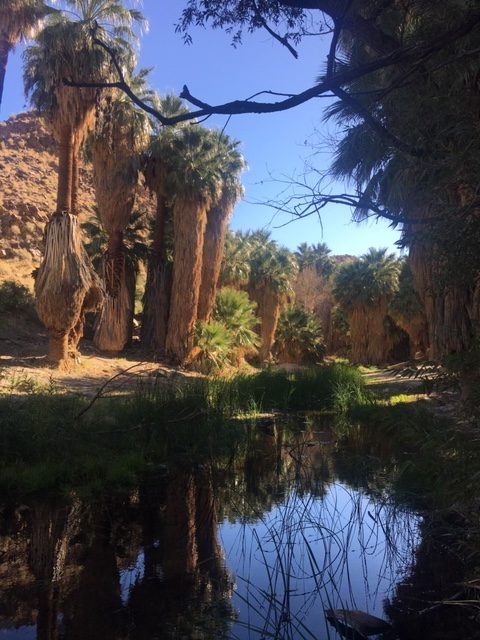 We're not doing turkey or any of that today; instead, we'll head to a nearby theatre and take in a movie. Just as Charlie Brown would have us believe the pilgrims did, we'll be eating popcorn on Thanksgiving – which I think is not only appropriate, but pretty much takes care of preparing another meal while we're at it!
I hope you have a terrific weekend. Oh, and contrary to what the Mango Mussolini slurred at his rally on Tuesday night (the night before inexplicably tweeting a picture of his head on Sylvester Stallone's 1970s body), there's no "war" down here on Thanksgiving – something he saw on Faux News. The only war, so far, is on logic, truth and anything that makes any sense anymore (and other things I keep to myself…mostly)! Just breathe and we'll be back Monday.