Just a thought… Once you overcome the one-inch tall barrier of subtitles, you will be introduced to so many more amazing films. [Bong Joon-ho]
Well, the Oscars 2020 are history and just a few notes: seeing Bong Joon-ho win for Best Director was everything. And then to take BEST PICTURE? How glad I was to be wrong about that prediction in last Thursday's journal! It's the first non-English-speaking film to win that honour and I'm telling you that if you're the least bit curious, don't be put off by subtitles!
It's a film like none you've ever seen. A twisty-turny-hold-onto-your-seat movie event and as I've said before, it's kept us thinking long after Molly has cleaned up the popcorn bits that fell into my bra and onto the closet floor.
All in all, I thought the Oscars 2020 show was fantastic. Of course, I'm in the Pacific time zone, where bedtime is much less of a factor. But anyway, have another sip of coffee or tea and read on.
There were fewer tributes to the "magic" of movies than usual; less of the past and more efforts to pull the show and the Academy into the present. Eminem? Okay…it struck me as unusual, having him perform at the Oscars, until I remembered that "Lose Yourself" was the first rap song to take home a Best Original Song statuette.
Billie Eilish delivered "Yesterday" beautifully for the In Memoriam section (which I thought sped through photos too quickly). She's a wickedly talented young woman and it was great to see her and her brother gain an even wider audience last night; two weeks ago she won five Grammys, so she's no stranger to lovers of pop music, but it never hurts to stretch her potential audience a bit.
Tonight I'm introducing all three sisters to Jojo Rabbit, having seen Judy on the weekend with Cindy, #2 of 4, who arrived Friday. Having the four sisters together this week is kind of a big deal; we haven't ever been on a mini vacay together, so we've rent a larger car (ours sits two comfortably, three if the person in the back seat folds up quietly like a garment bag) and have a few small adventures planned.
And I do mean small. For Heather (#1) and Leslie (#4), a road trip to LA is their idea of a good time: go and stand in line and attend a Dr. Phil taping or a game show, which is something they did years ago. Me? I'd rather shave my head with a cheese grater and sit within spitting distance of Trump at a makeup table. So, yeah – since only Rob and I are are licensed on the cars in our garage, we'll be staying put.
I haven't asked if a jigsaw puzzle is their idea of a good time, but I'm going to lay it out there (literally). I ordered and received this last week.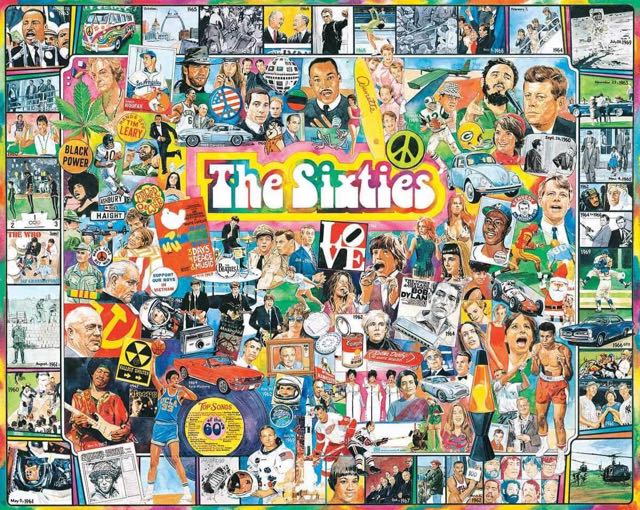 I got this idea when I was in recovery last summer. In the sitting room, there was a table with about a thousand puzzle pieces placed upon it. One young woman would work on it quietly and laboriously, and on the night before she was to go home, we all joined her to finish it. (Appropriately enough for our surroundings and those of us in it, there were pieces missing.)
Doing a puzzle is not just old-fashioned, it can be a great diversion from other distractions, like the TV and other devices that take us away from the company around us. It builds a spirit of cooperation and teamwork.
What does that have to do with four sisters? I think it could prove a lovely way to get us just to sit and talk. No alcohol needed to lubricate an honest chat. To have deeper conversations than we might over dinner or sitting by a pool.
Of course, that's just one idea and, honestly, I'm not sure who will be into it, if anyone. Tomorrow, I have a surprise planned for the ladies that includes a phone call and group session with a friend of mine who's a medium. I've talked with Cyndi about a half-dozen or so times in the past and recorded, then transcribed our conversations. She's very good at plucking names and messages from wherever she goes and since tomorrow marks the birthday of Leslie's late son Michael, it just seems fitting.
Well, friend, that's it from here today. Have yourself a great week and I'll be back with you on Thursday. Feel free to add any of your favourite moments from last night on my Facebook page and thanks for coming by!