Just a thought… If you carry your childhood with you, you never become older. [Tom Stoppard]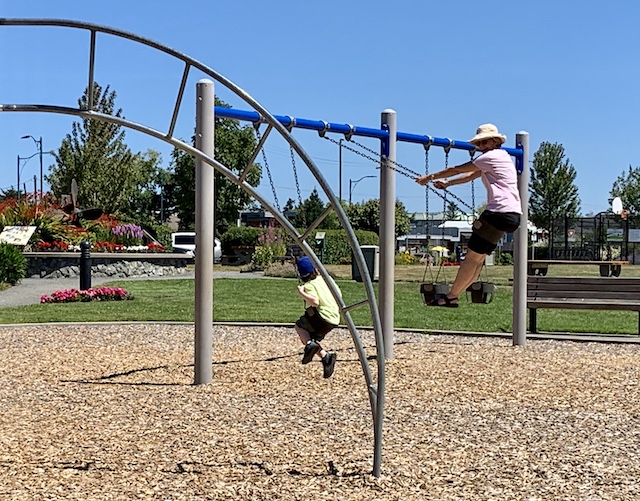 Holy! I'd forgotten I could get this tired. Mind you, it's a great sort of exhaustion: the kind you get from playing in the sun, running, throwing a Frisbee (badly, mind you), waking earlier and having to shake my head repeatedly to make sure I'm not dreaming. I'd better take you back to Friday.
All day Friday Rob and I were trying to pace ourselves before the arrival of our son-in-law Phil and grandson Colin, Phil's wife, our daughter-in-law Brooke, and our new granddaughter Jane with a gentle mixture of busy and idle. Cleaning and texting Brooke every step of the way. And yes, going a little crazy wondering if this was actually happening.
As the hours ticked to touchdown of their 10 pm scheduled landing, things started to go a little sideways: the flight from Ottawa to Calgary turned out to be challenging (to say the least) for first-time flyers Brooke and Jane.
Then, I listened to the tension and upset in Brooke's voice from Calgary and realized that with the time difference, and a 45-minute delay, they'd be landing at nearly 2 am on their body clocks. So I dropped one little surprise we had giddily planned: banana costumes. Yes, Rob and I had these and were ready to greet our company at YYJ in them.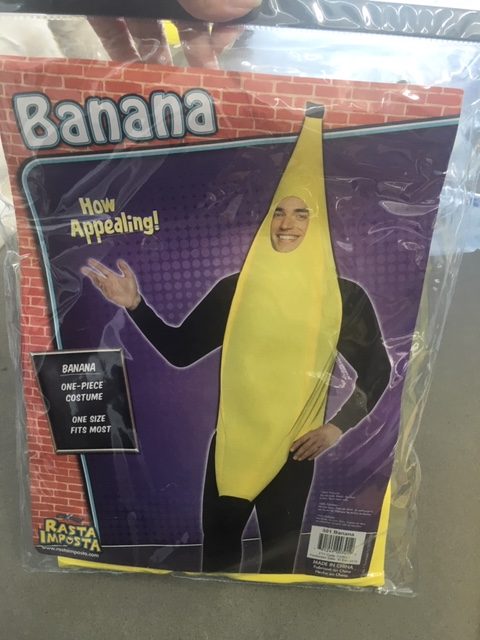 But I thought: Read the room. Waiting, jumping out of our skin (peels?) dressed as Grama and Grandad Banana for a tired little troupe would only be memorable if it was well received. So we decided not to.
Turns out it was a good call, but the other surprise we had planned did land just right. July 24th felt like the replacement for all of the December 24ths we hadn't marked since 2015, so we decided to lean into it. How? With a tree and lights, how else?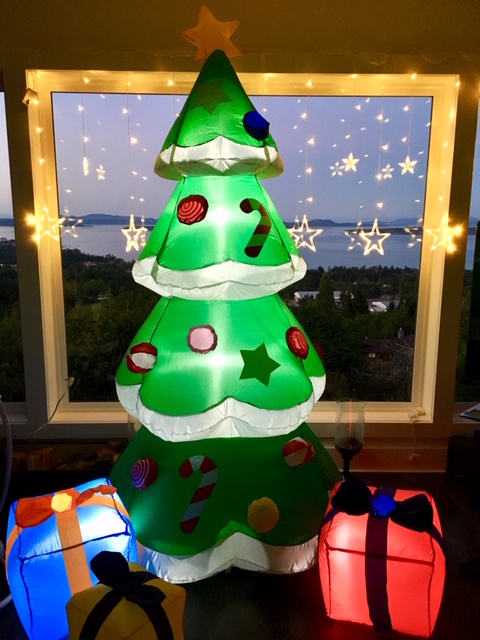 We waited until we saw the lights of their plane coming over the Haro Strait and that's when we leapt into two cars and went to meet them.
The few people who had greeted travellers in the arrivals area had long since left. The last non-crewmembers off the plane, our sweet foursome arrived sleepy, frazzled and deeply relieved to have gotten to the end of, not only an anxious and long day of travel, but the days and weeks of tension and stress of packing up and leaving their house and home city in a swamp of formidable heat and humidity.
Soon we were all home, and passing through a door decked with a small red velvet bow, they walked into a house with Christmas music playing. First thing they saw was the puffy tree and white star lights dangling in the window, the fireplace channel blazing on the TV.
As Brooke said, "Christmas in July…" I turned to her and said, "This is for you." And later when I asked Colin what the best part of his day was, he lay his head on his pillow in his Toy Story-decorated bedroom and said, "Christmas."
Our family sextet, all in various levels of an exhausted haze, opened presents over warm cinnamon buns on Saturday morning. The banana costumes finally came out, but of course, Colin wore it best.
I've lots more to tell you but I won't make this one too long.
So in short:
– Our (formerly) Ottawa family is here safely after a long, grueling and tear-filled journey. They're starting to unwind and settle into their new western life.

– Banana costumes at Arrivals out – but a big hit the next day!
– Turkey dinners are meant for colder months. The heat of the cooking (and the weather) curbs appetites but makes for leftovers when we're too pooped to prep.
And finally: from here on in, nothing for the rest of our lives will come close to the joy we've felt this past weekend. As we start believing this is happening, we can only be grateful for dreams that have emerged from the ashes of despair. And that have taken this girl, for one, to new heights, swingset, or not.

I'll be back here with you on Thursday. Thank you so much for your messages of excitement, support and love over the past week. They've meant more to us all than I can put into words.