Just a thought… To me there is no picture so beautiful as smiling, bright-eyed, happy children; no music so sweet as their clear and ringing laughter. [P.T. Barnum]
Hey! I apologize if you had trouble getting into my journal on Monday. I've no idea how or why that happened but it could be a matter of volume. Anyway, on we go.
Here we are, almost a full week into our new lives, and it's still just setting in that this is reality. A little family is here with us: there's laughter and joyful noise, toys on the floor, a high chair at the table and dishes added to our usual ware. (These were made by my cousin Jocelyn in Calgary who has a company called Polka Dot Penny and her work is amazing – these plates are dishwasher and microwave safe, and are BPA-free etc..)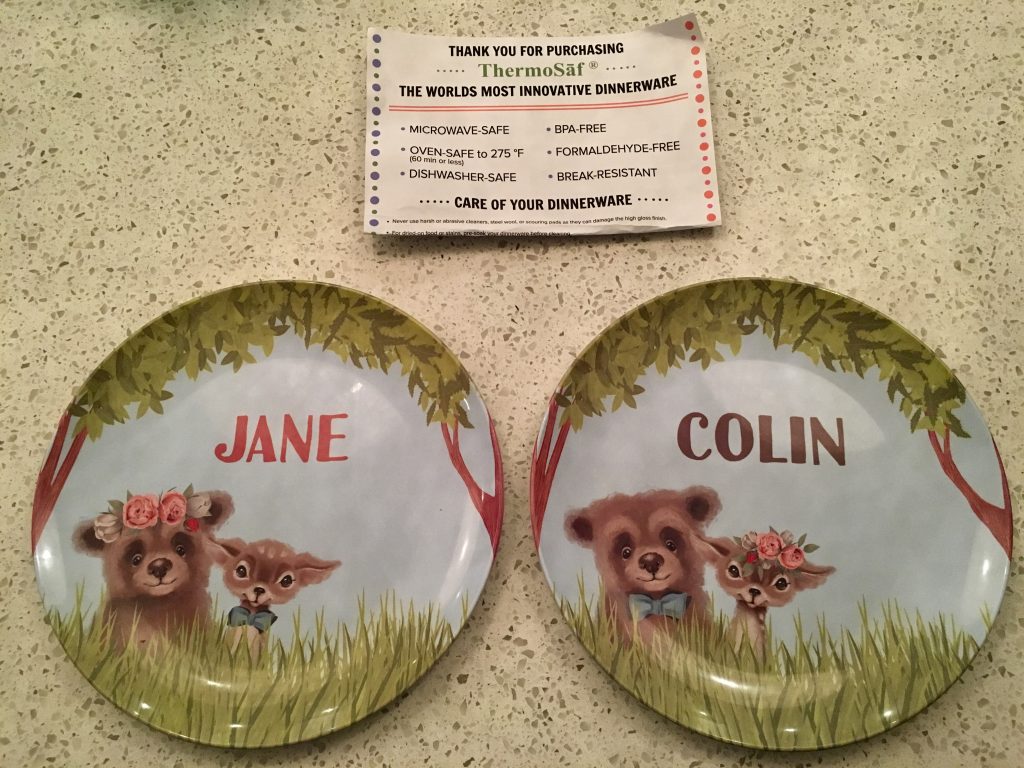 Here's the link, and Jocelyn and her two teenage daughters do amazing work – plus there's a 20% discount for Canadian buyers. The plates are here, but there's so much more. And yes, there are some happy banana dishes in our future. Of course there are!
So, tomorrow Phil and Brooke get the keys to their house (new to them, but just two years old) only a six-minute drive from us. They'll be here in our home until the moving truck arrives from Ottawa sometime in the next week or two.
It's an adjustment having four people (okay, maybe three and-a-half) living with us full-time, but not a difficult one. After a busy day both inside and outside of the house, Rob and I call it a night at around 9:00 and let Phil and Brooke have their quiet time together.
It all seems to be working out well: our daily schedule consists of various shopping stops and some DIY projects to get pieces ready for their new place, baseball and/or hockey on the TV, toys on the floor and lots of cuddling going on.
Oh, there's a bit of business too, but with a twist: the other day Rob and I were on a Zoom call for a new podcast we're going to be doing starting in the fall. As we talked with three people in Ontario, Colin tip-toed into the bedroom, interrupting the meeting in the best possible way: he pulled from behind his back two bananas as "awards" to us for being "best grama and grandad." The awards were inspired, no doubt, by the trophy we gave him for bowling 212 on Wii the other day (he's leaving the rest of us in the dust).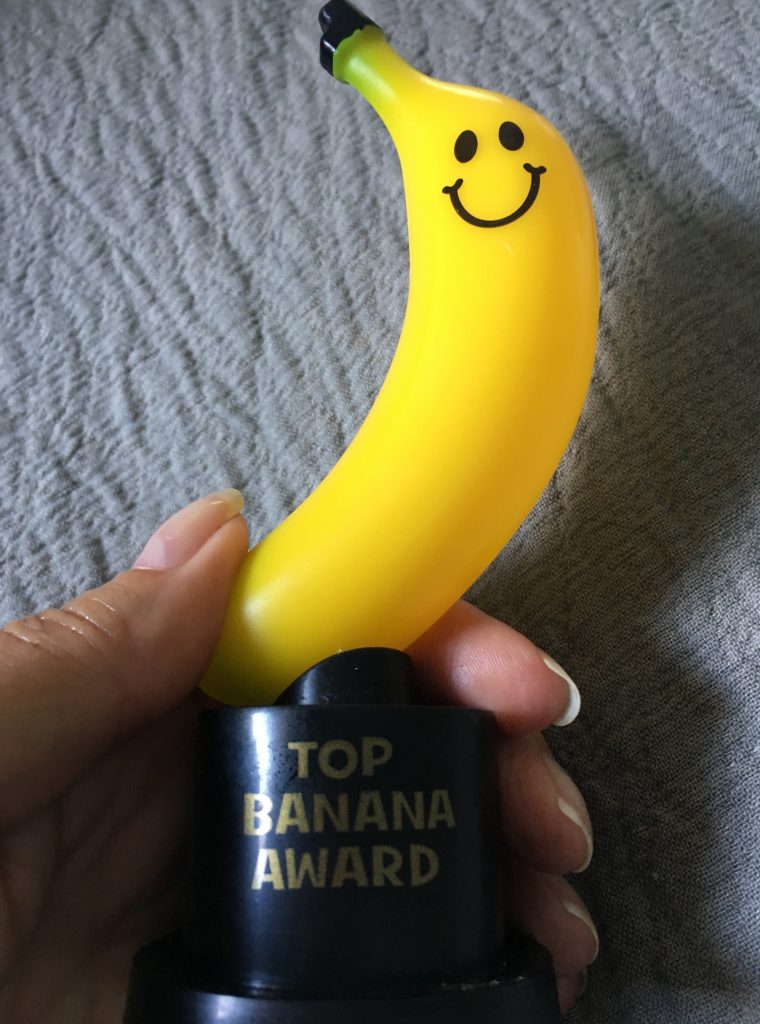 But we ALL had a huge laugh when he brought in the real bananas. And yes, we are only two of his grandparents – not the best, just the ones right here. I'd hate for Phil or Brooke's folks to take offense – and I'm sure none was taken in this sweet gesture. No doubt they're going to be getting their own awards one day!
We're having a wonderful time getting to make little Jane – who turns ten months old today – smile and laugh. She's not making strange in the least and she's a lovely, happy little girl. This picture was taken of the two of them out on the deck the other night. The devotion between the children is a lovely thing to see and we're just so lucky to be a part of this sweet family picture at last.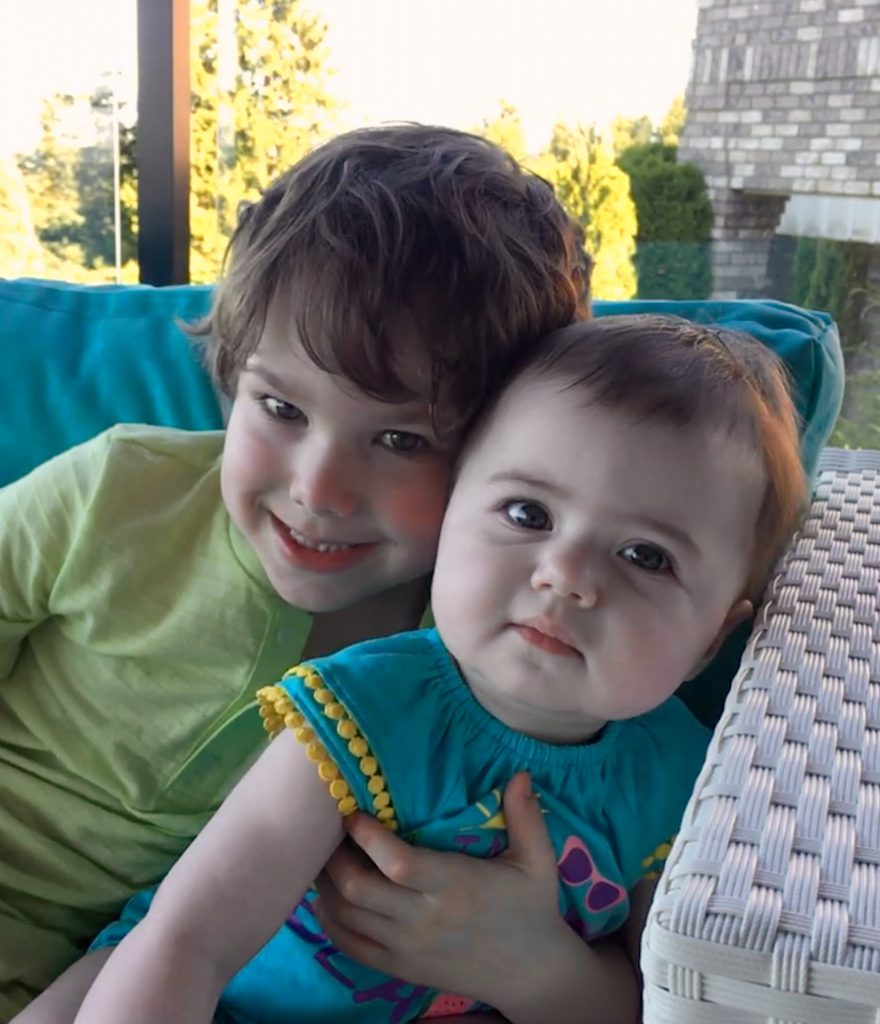 As we get set to move into August in just a few days, I'll leave you with that picture. Please stay safe and try to have a lovely weekend. My journal will return after the holiday on Tuesday. Sound good? Talk to you then!