Just a thought… I'm beginning to think "hindsight is 20/20" was some kind of message from a future time traveler that we all misunderstood. [Victoria Guida]
And welcome to the last two days of the first half of a year we'll never forget. For most, we've seen months fraught with anxiety, isolation, fear, loneliness and sadness. That was us, too, until recent weeks brought a sudden upswing in our spirits and outlook with some good news. I can only wish the same for you.
I'm off to the airport today for the first time since we flew home in a panic from California nearly 3 1/2 months ago. I'll be boarding a plane so small that the practice of isolation (which is now being lifted on Air Canada and Westjet, as you've undoubtedly heard) isn't even an issue: this Pacific Coastal flight has one seat on each side of the plane and carries 17 passengers total! But I'll definitely be wearing one of the two masks I had made by a nice lady I found locally on Facebook in different fabrics of my choice. I'll be happy to wear it for the 65-minute flight from Victoria to Kelowna!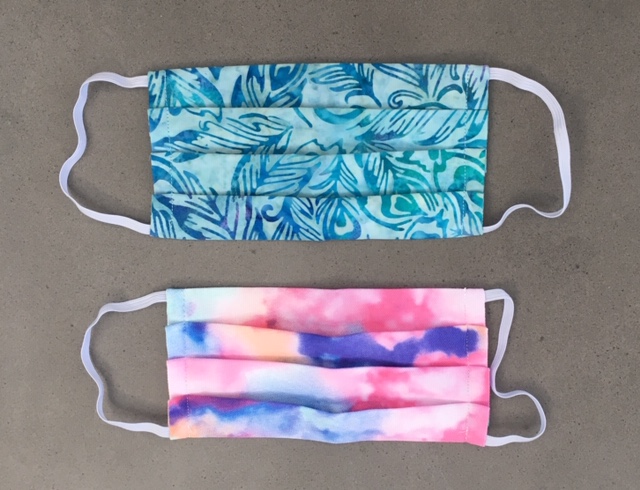 I'm heading to the mainland to spend the better part of three days visiting with my dad, whom I haven't seen in person in a year, and sharing some sister time with two of my three siblings. Oh, and tomorrow I mark a big day: my 12-step "birthday" of one year.
After racking up 10 years of sobriety until we moved here, it feels strange to be celebrating with the traditional cake and kudos, but here we are. For everyone who knows what I'm talking about, I salute every single day you've not picked up. And thank you to every person who helped me get here.
That's not to say that it's been easy; even after spending those weeks and money getting my head straight in rehab last summer, I sometimes imagine how it would feel to "take the edge off" when I'm extremely stressed. You and I can be honest about that. Friday was a prime example of exactly that kind of day.
10 days earlier, Phil, Brooke and Colin had purchased WestJet seats so they could fly here July 24th to begin their new lives. This was under the previously-enforced seat spacing guidelines, so a ticket for Jane (who'll be almost 10 months old by then) wasn't necessary; she'd be strapped in her carseat in the mandated empty seat between Brooke and Phil, or one of her parents and her brother. They didn't have the option of purchasing her seat, so they had her booked as a lap passenger, which many parents of infants do.
Then the change came into effect on Friday and here's where it gets messy: when Phil contacted WestJet, he was told he could purchase that seat in their row of three in economy, but for $1024 – not business or plus or whatever it's called – which is roughly twice the price he'd paid for each seat just over a week earlier. When Phil raised the unfairness of the price hike, the man on the phone (who was just following company policy) said, "Sorry, that's the price."
I took to my own Facebook page that evening to express my dismay and, yes, anger with a company to which we've been loyal over the years for changing the rules midstream at such an a huge added expense. Heck, if you've read Mourning Has Broken you know how grateful we were to their personnel for the compassion they showed us when we were making our way home from the remote show in Jamaica that fateful May day of 2015. So I love WestJet.
I followed up the post with what is likely a more effective way of communicating our situation: an email to a member of management. I'm hoping they'll see our side of the situation and offer us that middle seat at the same price as the others we purchased. We're not trying to get anything for free, especially in light of the way that the people of Westjet and so many other companies – big and small – have suffered in the past four months. Just fairness. I'll keep you posted.
In the meantime, I'll continue to pop into FB daily plus Twitter and Instagram to share messages from now until my next journal on Thursday, which I hope will include pictures from some long-awaited family time.
Please have a very Happy Canada Day. Of course, we're a long way from perfect as a nation and there are enough people echoing American-flavoured sentiments here in this country to spark fear in my heart for our future, but I'll always be grateful to have been born in this glorious, beautiful and bountiful land. I've been fortunate to obtain enough passport stamps to know that truly there is no place like home, like our Canada.
Let's continue to listen instead of talking, consider instead of shouting, support instead of ignoring and work together as the one great nation that we are in order to fulfill the dreams, not simply of each of us, but of all of us.
Tous Ensembles.