Just a thought… There is never a good time to make a hard decision. [Charles Orlando]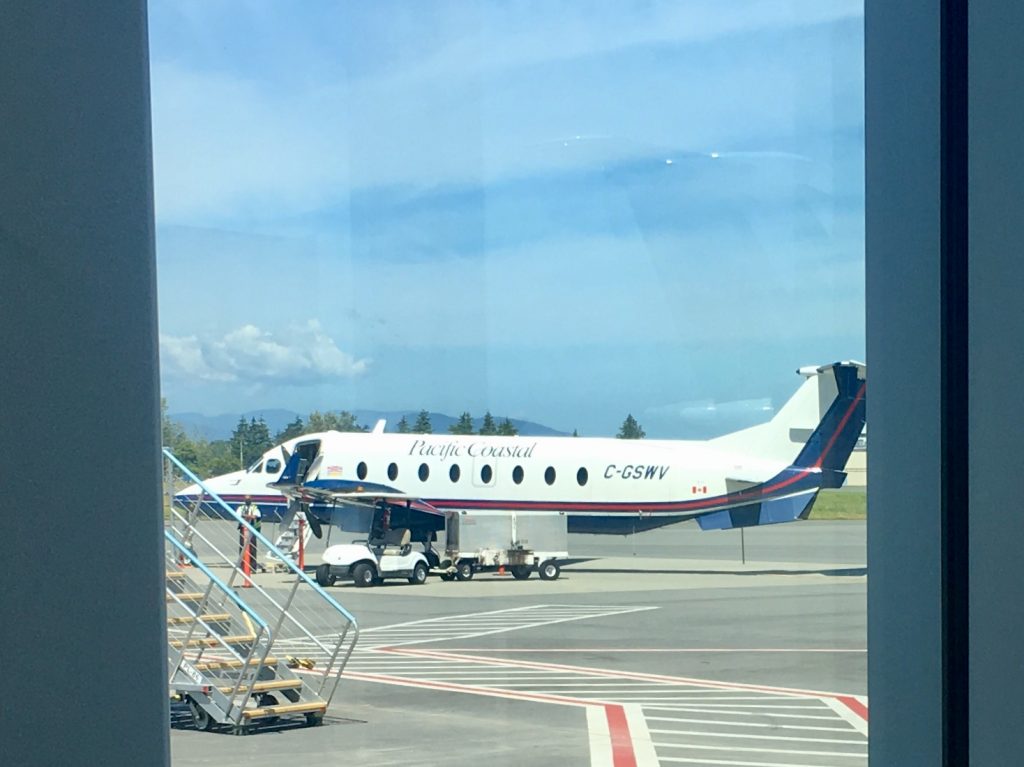 What a two-day trip that was! A true journey of the heart and one that I am so grateful to have made, especially given its outcome. Buckle up – here we go.
On Monday, I was sprung from the island in my first trip in 3 1/2 months, aboard a 17-passenger Pacific Coastal plane, one of the more intimate flights I've taken. Yet I felt safe and totally enjoyed the 50-minute trip from Victoria to Kelowna. With no assigned seating, I was lucky to have lots of legroom right up front, and a clear view of our young pilot.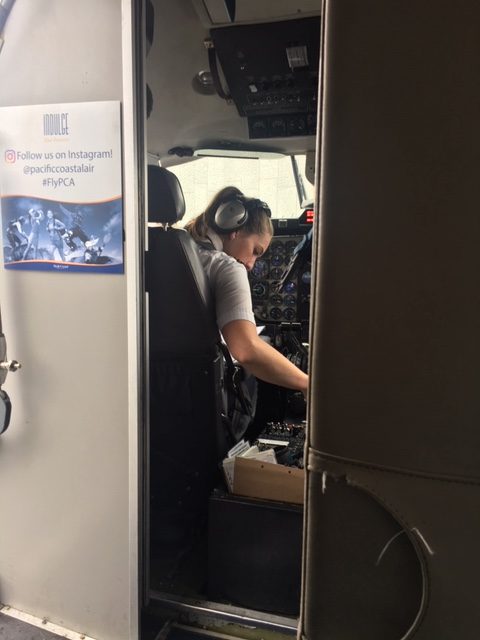 My sister Leslie and I spent two nights in a hotel overlooking Okanagan Lake. To be clear, the hotel was lakeside, our room was not; I had booked two queens in the least expensive category.
The Delta Hotel by Marriott Grand Okanagan was in its early post-COVID stages and there were several adjustments for a guest to make: no coffee pods or condiments in the room, no cups, mugs or glasses (not a one) and no maid service.
We wouldn't have used a mid-stay clean-up for just two nights, but the no coffee situation had us using some packets I'd brought just in case, and a cup we had picked up at the bar filled with ice. Yes, the ice machines were also off-limits.
I was okay with all of that, but wish I'd known in advance just what the specifics of the limitations were going to be. What I wasn't okay with was a torn pillowcase and a dirty balled-up sock on the floor, peeking out from under the open curtain. I really hoped for more in my first hotel stay in months.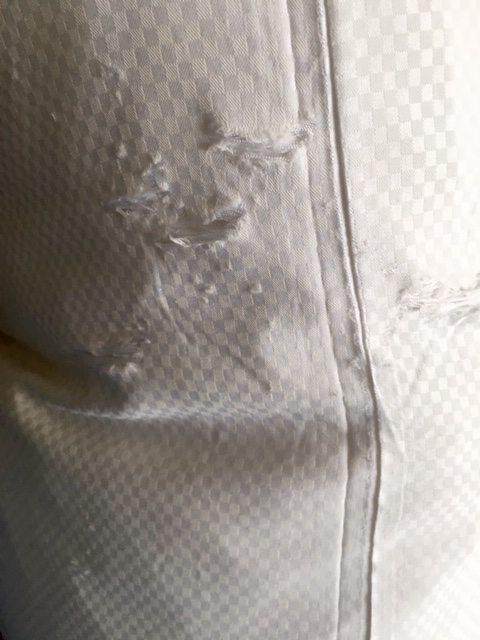 Interestingly, the dirty sock had bananas on it. It's like they knew Grama Banana was coming!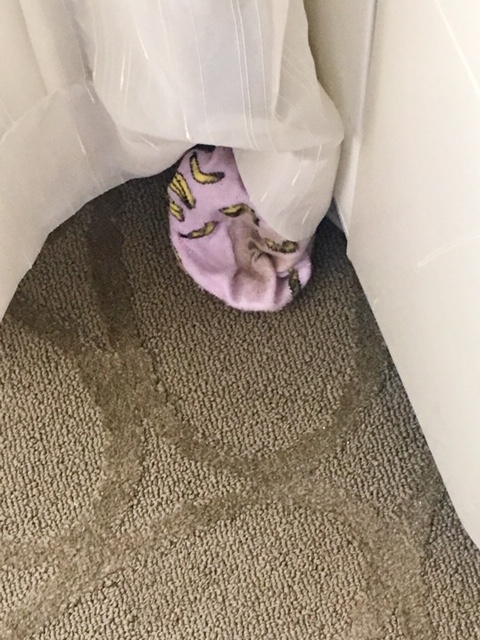 The most important thing was my time spent with family, the entire reason for my short sojourn. On a beautiful warm Monday evening, Les and I picked up Dad from his residence and took him to DQ for an Orange Julius which he enjoyed with us in a nearby park. Tuesday evening we went to a family dinner at The Keg, and then yesterday, after a nice sleep-in, we wrapped up my visit with a long lunch at a White Spot (family chain) restaurant.
Dad looked resplendent in his Canada Day red and we had "the talk" about him driving.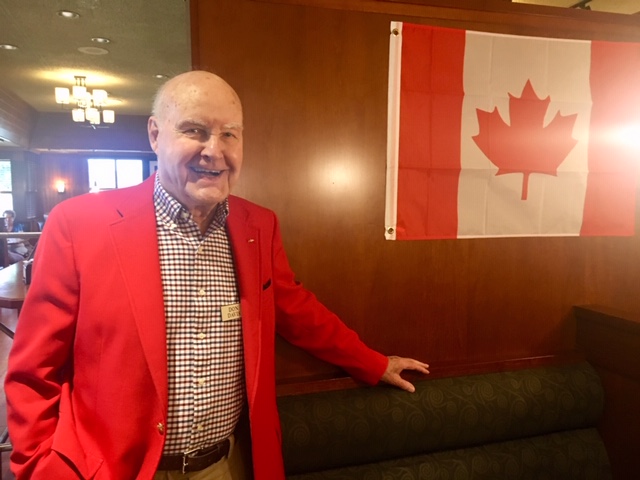 Even though Dad was given the thumbs-up in a cognitive test at his doctor's a week earlier, he listened as we shared his daughters' concerns. He expressed his feeling that having a car to run errands for his lady friend made him feel like he had a purpose. We got that. We even saw his eyes welling a little.
But we explained that Leslie and Heather will be there for his every need, that we can give him books of cab chits that will be taken care of for him, or that he can call a service like Driving Miss Daisy (or Lt. Col. Davis in this case) for his every need. We reminded him that Dawna could accompany him, that they have shuttle service to and fro wherever they'd need to be, right there at the residence.
And then we ate. In a booth that was already quiet, but which afforded us the privacy of an empty socially-distanced table behind us, we talked about his after-life beliefs and plans for some ashes; Dad already has a tombstone engraved and waiting in his closet(!) so that he and Mom can eventually rest together in their pre-purchased spot near the town of Black Diamond, Alberta.
We offered to take some of his ashes to his own family's homestead graveyard on Mount Davis near Three Hills and he was really pleased with that idea. Talking about that chapter – may it be a long way off – was easy for Dad; he's prided himself on his pragmatism in not burdening his four favourite daughters with any dilemmas or difficulties after he's gone.
This is the talk I've been wanting to have with him: letting him know that we are aware he's not going to be with us forever, and that we just want to honour his wishes, not all of which have been expressed. How glad I am to have brought up the subject, more easily broached after the recent fall that gave him bruises, a concussion and contusions, and gave the rest of us such a scare.
After Dad had enjoyed his burger, and Leslie and I had finished our meals, I reached across the table and took his lovely strong hand. I said that this is where Leslie, in her years as a sales rep, would "close the deal." So I asked where he was in terms of his driving decision.
He delighted us both by saying he would put his car up for sale this week, and set a date – mid-July – to say good-bye to it for good. That public sale won't even be necessary: as it turns out, one of my sisters will buy the little Hyundai with its 58,000 km (very few of which were added by Dad, I should note) and give it a good home. This way, he can still be picked up in it occasionally. He'll be in his familiar car – just in a different seat, is all.
As I said my good-byes to Dad before heading to the mostly empty Kelowna airport, I hugged him repeatedly and told him how we were always proud of him, but that we were never more so in how he handled this huge decision. He got a little teary again when I said that as a pilot, he'd logged more travel miles than most people on the planet; it was time to let someone else take the wheel.
I can honestly say I don't think I've ever loved him more than I did yesterday and do today and from here on in. He showed strength, grace, courage and good judgment when it would have been easy to dig in and say "not yet."
As worried as we are on occasion about Dad's memory and shenanigans (like leaving the residence when they were under lockdown, necessitating his a 7-day isolation) yesterday I could see my father clearly for the man he always was and still is inside.
A good man and a great father.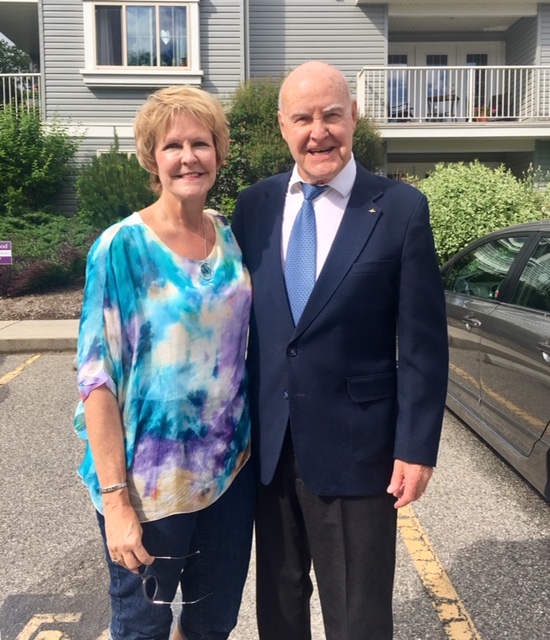 That's how my Canada Day became Father's Day. And one I'll never forget. Who needs fireworks when your heart is sparking like that?
Take good care and I'll be back with you Monday.