Just a thought… We live in a world that is full of beauty, charm and adventure. There is no end to the adventures we can have if only we seek them with our eyes open. [Jawaharial Nehru]
Welcome to March! What a wonderful thing it is to have visitors: they make us go out and see our own surroundings, and take little trips that we so often don't make without an "excuse." (How many Torontonians have visited Niagara Falls without out-of-town guests?) Life is so much more interesting when we live it as sightseers. And we did just that on Saturday.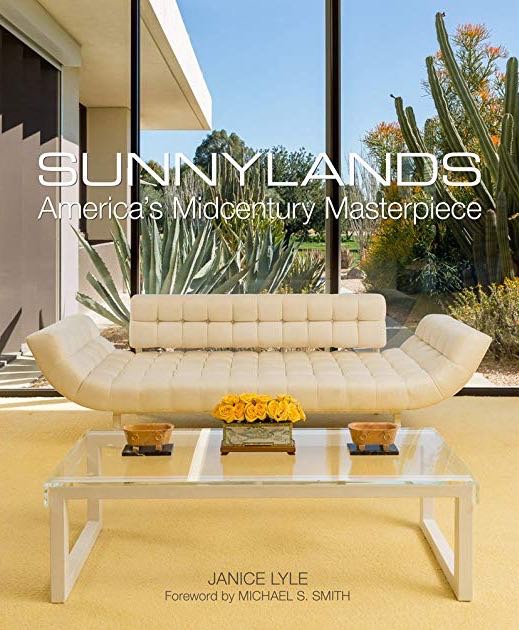 A few minutes' drive from our home is a place called Sunnylands, in nearby Rancho Mirage. Built in the 1960s by Walter and Leonore Annenberg, of TV Guide and other publications' fame, the sprawling 200-acre estate has hosted every US president since it opened (except LBJ and Trump) for social as well as state visits and casual conferences.
For this reason, Sunnylands has been dubbed "Camp David of the West." Built with hospitality in mind, the home, with its 9-hole golf course, pool and myriad dining and sitting rooms, is a post-modern design marvel of its time, but not out of date.
When you enter Sunnylands – free for those wishing to walk, do Tai Chi or yoga on the lawn or just enjoy the peaceful vistas – you are immediately taken with openness and views of the visitors' centre.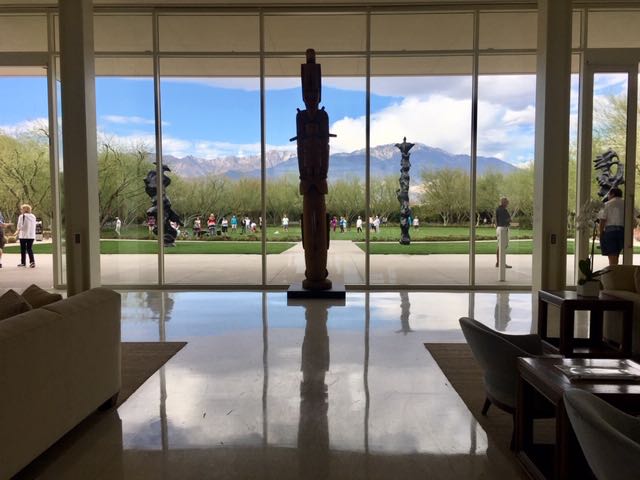 Works of Canadian Indigenous father and son Stan and Jason Hunt (from our home of Vancouver Island) are on display for a limited time. And they're spectacular.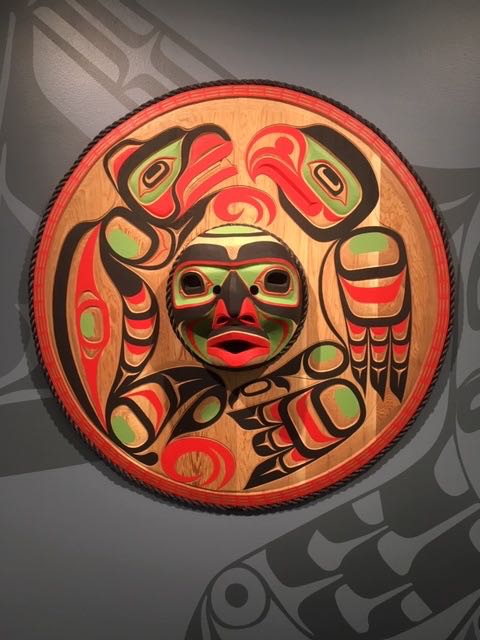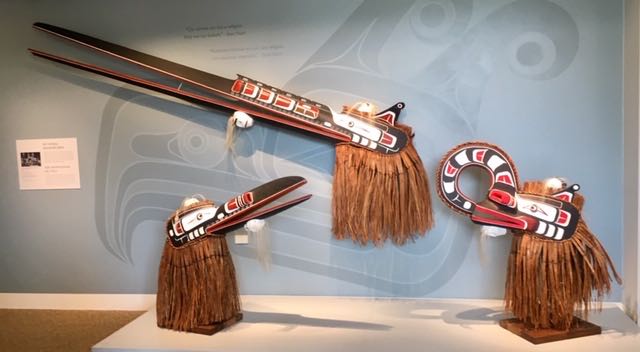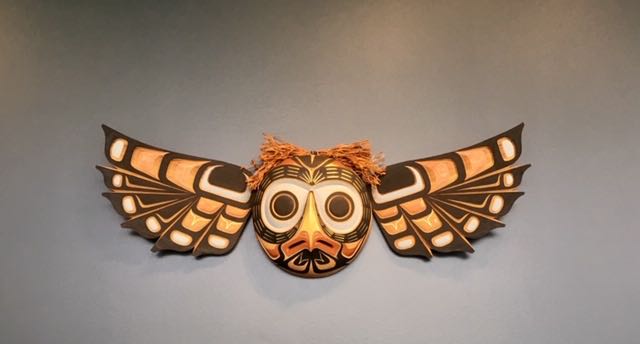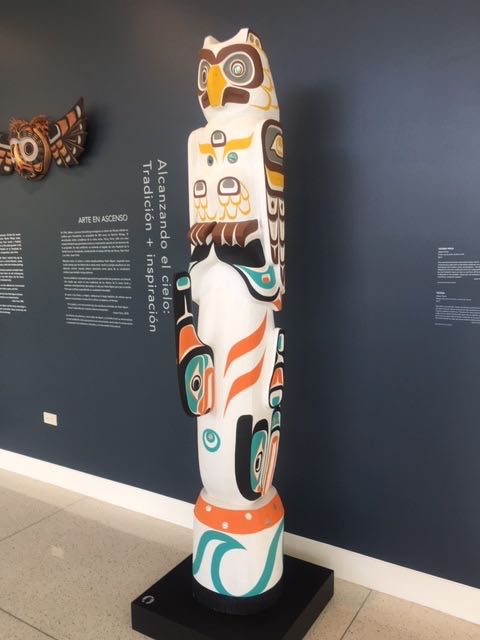 We also enjoyed the painting and sculptures of musician, producer and business mogul Herb Alpert (of Tijuana Brass and A&M records fame). We had no idea the man was as talented with a brush and his hands as he is with a trumpet.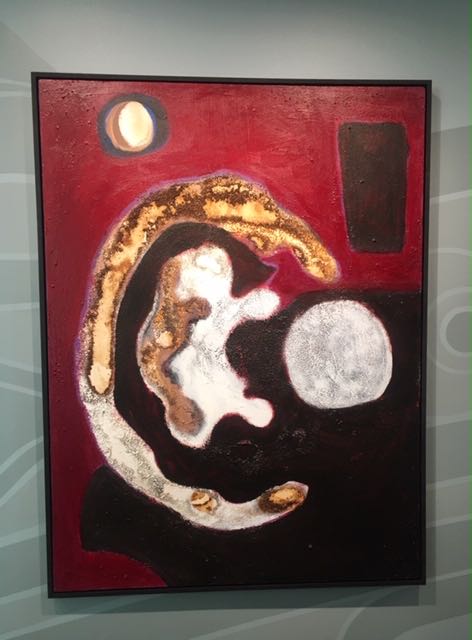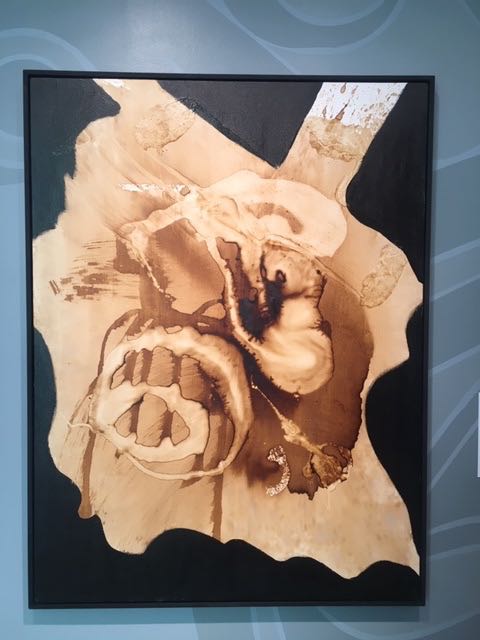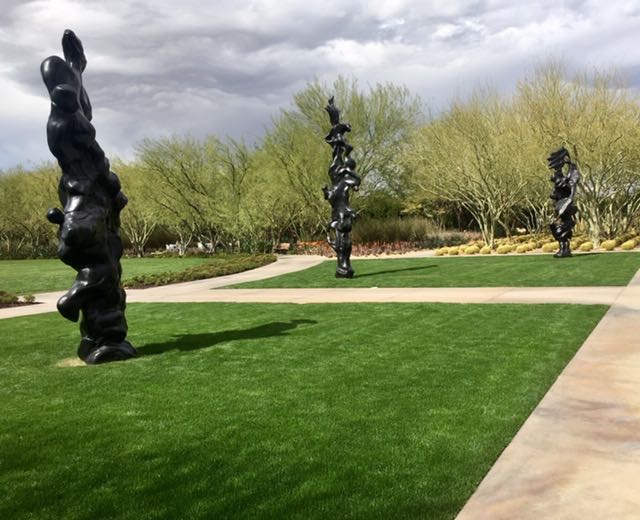 Prior to our house tour (a $49 per person ticket that is worth every cent and which is best purchased in advance) we watched a film about Sunnylands' history, as well as the couple's philanthropy and support of the arts, then enjoyed a walk through surrounding gardens, and their early pre-spring blooms.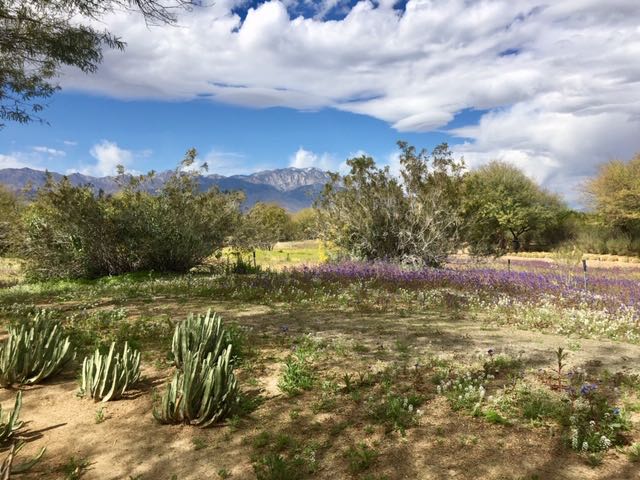 Our guests (or is it hosts, since they booked and paid for our tickets?), Rob and I joined three other people and boarded a shuttle for a fact-filled and fascinating tour of the actual 25,000 square foot Annenberg home. A circular drive, accented by a replica of a pillar from Chichen Itza, provides the perfect appetizer for the feast behind two massive doors.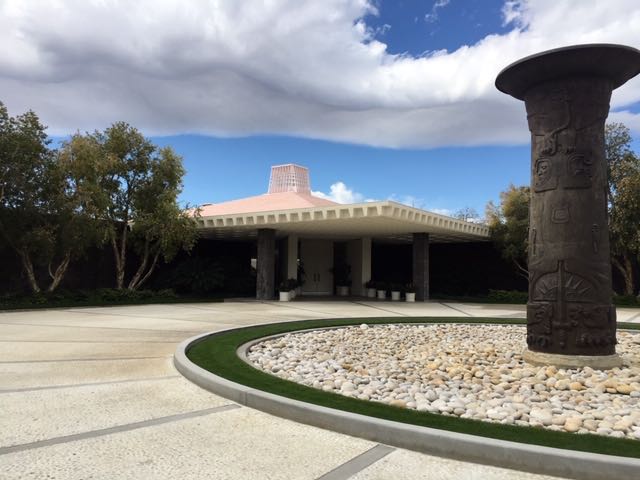 Tourists are prohibited from taking pictures inside the home for security purposes, since it continues to play host to world and business leaders on a regular basis. But here are shots of the home's foyer and living room, from sunnylands.org and The Wall Street Journal, respectively.
A sharp eye may spot the Eve statue in the centre of the photo below; yes, it's a Rodin original. The walls are lined with copies of the Annenbergs' Picassos, Van Goghs and Monets, currently on loan to galleries. But there's plenty to admire, just the same.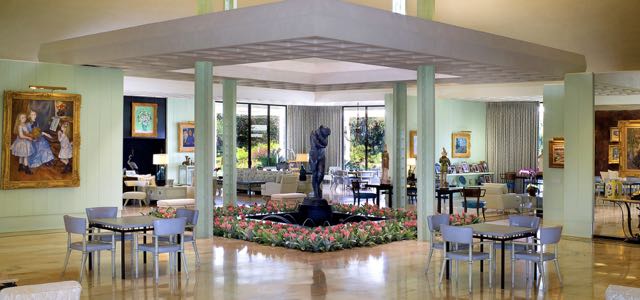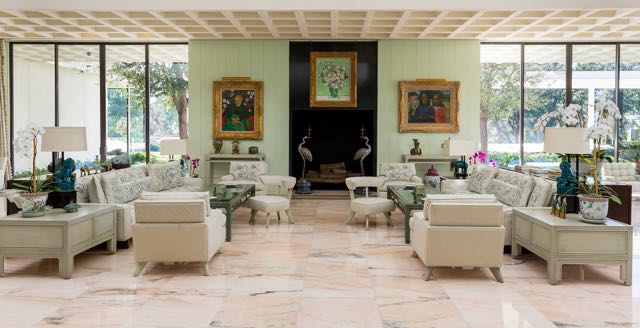 Outdoors, a pool situated to take advantage of golf and mountain views invites guests to take a dip. Just not us. We were not to touch or sit upon anything in or outside of the house – and I get that. It would take one person with gum on their pants or moisturizer on their hands to ruin an overstuffed chair or such priceless treasures as centuries-old sculptures or hand-painted sunflower curtains.
We toured the kitchens, Mrs. Annenberg's bedroom, a few of the guest suites (all of which are named for cheery colours) and the vast rooms set up for entertaining groups, both large and intimate.
From Frank Sinatra and Barbara Marx (whose wedding was held in front of the fireplace in the living room pictured above) to Bob Hope, Gregory Peck and Kirk Douglas, countless celebrities have enjoyed Sunnylands' hospitality.
Queen Elizabeth, Prince Philip and Princes Charles are among royalty who've paid a visit; every US president from Richard Nixon to Barack Obama (for whom a 90″ TV was brought in so he could follow March Madness basketball action) has stayed a night or two, or even longer.
One could spend a day simply perusing the photos in the office/library where Ronald Reagan watched Mikael Gorbachev's televised announcement to the US people about the dismantling of the Berlin Wall. Holiday cards from the world's who's who are kept on display.
Elsewhere, the specially-branded golf balls of those luminaries whose shots ended up in lakes have also been preserved for posterity! Rather than play nine, I'd rather just watch the fun from this pool, thanks.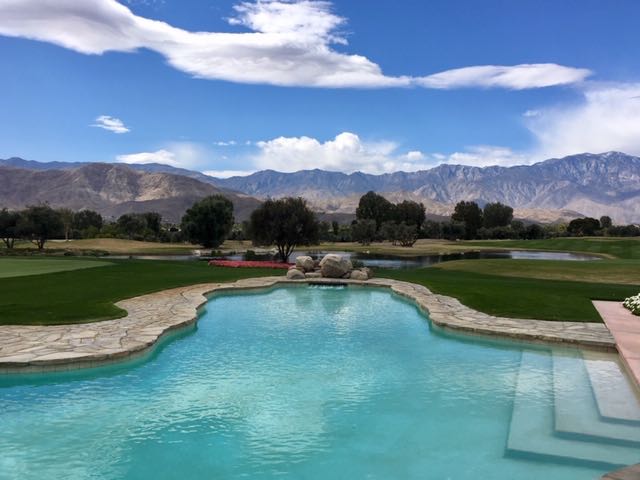 Today, the estate of the late ambassadors – they are to date the only couple to have both served their country in the role – is managed by a board and foundation that includes the Annenbergs' surviving children, and which continues to donate huge amounts of money to worthy causes.
Closed for more than half of the year to the public, the estate plays host to think tanks and conferences meant to bring leaders of opposing parties and differing views together to work out their differences for the betterment of the world.
Sunnylands: a beautiful cause, a beautiful space and a beautiful day spent with friends enjoying a true gem of the Coachella Valley.
I'll be back Thursday.