Just a thought… So I was having a garage sale and there were three pair of jeans out – size 8, size 10 and size 12. A woman asks me, 'Do you have a size 14?' I said, 'I'm wearing them. Come back next year.' [author unknown]
You can watch a video version of this journal on my Facebook page, or here on YouTube.
Welcome to our first journal of May. And why does that joke fit? Well, our neighbourhood's annual yard sale was advertised widely on social media and with signs on major roadways near our place a week ago.
We didn't have a lot to sell: Rob and I have given away almost everything we could find over the last year, as I proudly represent and give to Declutter.Diabetes.ca (of which I'll be reminding you in the days ahead). But a week ago Saturday, with just a few days' notice and on the heels of Rob having done some massive basement organizing, it seemed a great time to pass along some things that we wouldn't be able to leave at a drop-off location or put in a collection box.
Like what? Things like a colour laser printer that didn't work after we moved five years ago, but could with a bit of patience. (It was free, after all.) We had four unused speaker stands. An almost-new dog pen, things like that. So we put our stuff in the garage on Friday night, marked prices with painter's tape and a Sharpie and went to bed.
I couldn't sleep, thinking about the sale. Why don't I have a long table? Would we be spending more than we earned if we ran out to buy one in the morning? Stuff like that.
The weather gods, who were not kind during April's rain and chill, were smiling: it was sunny and breezy. And, boy, did people show up! I'd heard that our neighbourhood sale was big, but I had no idea there would be actual traffic jams on our sleepy little street.
A short night was followed by the first sign that we didn't know what we were in for: at 8 am Colin told us he'd been looking out his window at all of the people wandering by.
Okay, so the 9 am start was just a suggestion; folks were shopping at 8 am.
We didn't get one coffee into us before throwing on clothes and sneakers and getting the stuff moved out to the driveway. And right away, people were picking up the things we'd put out. In fact, from 9 'til about 12 it was steady traffic; we finally gathered up a few of our remaining items, and a couple of things from neighbours, to deliver to Declutter.Diabetes.ca in the weeks to come.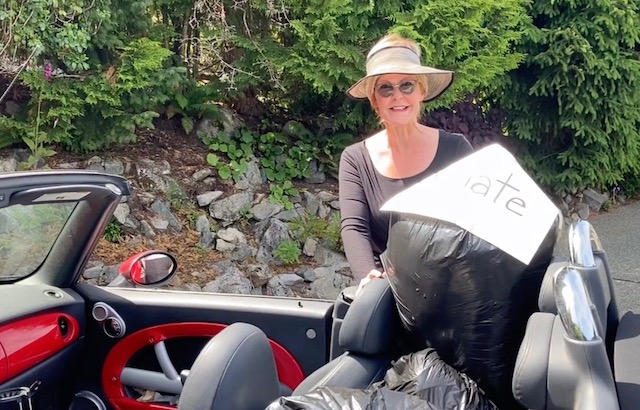 All in all, it was a few hours' work (not counting the sorting that led up to it) and garnered us enough to make sure it was worth our while. We're already planning for next year!
One shopper even gave me a tip: she lives in the tony Victoria area neighbourhood of Oak Bay. On their neighbourhood sale day, she puts her stuff out at 6:30 am and the early birds clear it all out; by 8 am she's shut down and can go spend her newfound earnings on other people's stuff! I won't be getting up early enough EVER to do that, and it may not be viewed as fair, either, but it works for her.
Side note: about half the people coming by had on masks. We were careful with distances and hand-washing and took precautions to make sure that we didn't get or give more than just bargains.
Here's something we did get: more than one couple introduced themselves as our neighbours. I even met a woman named Valerie who was a former listener from Toronto. It was lovely to meet her face-to-face and when I asked how she knew where I lived, she said she could tell from our views shared here (like the one below) and knew that our area was having a big sale. Then she drove by, spotted me and we connected in person. What a treat!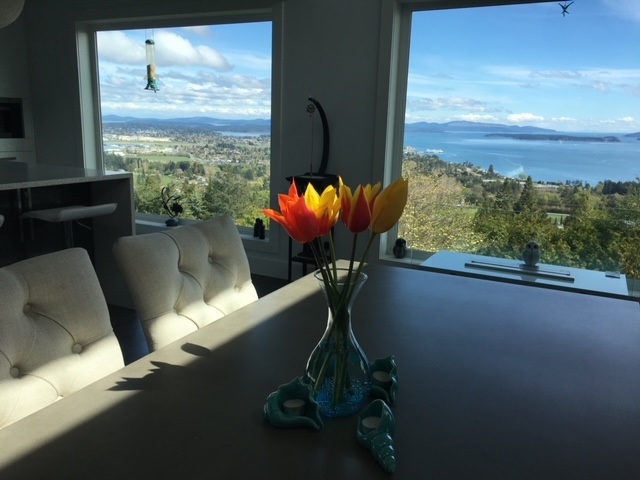 Return of yard sales. Spring, sunshine and reconnecting. I wish you all of this and more as we immerse ourselves in May. Have a lovely week and I'll talk to you Thursday.