Just a thought… The best way to find yourself is to lose yourself in the service of others. [Gandhi]
As always, you can watch a video version of this journal on my Facebook page, or here on YouTube.
This is National Volunteer Week here in Canada and the theme this year is "Empathy in Action." Another theme I might offer: "Love lives when you give."
I've happily volunteered for different causes throughout my life. I'm not telling you that for a pat on the back or anything, but it's all part of giving back in thanks for a full and blessed life. Truth be told, early on I volunteered with a bit of selfish suspicion: I hoped that if I helped with causes surrounding breast cancer, children's health, Easter Seals and so on, maybe I'd be protected from needing those same charities one day. Sounds strange and maybe even selfish, but that was always in the back of my head.
As many will tell you, that's not how it works. You do it just to do it; not for some magic talisman. But the secret is, it really is good for you. And that message has never come home more loudly and clearly than it has in the person of a little 96-year-old woman who has such a strong grip on my heart, it has brought me to tears.
Every Thursday, Rob and I deliver prepared frozen meals from a community centre to several seniors who have signed up for the service. We are among many people who do this for clients throughout our little area; I'd say we range in age from the younger end like me, maybe up to 80. And we do it with love, time, masks and gloves. But when we signed up for this at the beginning of Covid lockdowns, we never imagined what we would get in return.
For every person to whom we just say "Hi, hope you're doing well," there's someone else who's happy to have a bit of a longer visit at the door. We've had two clients who've died in our time delivering and others who have moved on. Doors opening, doors closing.
But one little lady – and I've mentioned her before – had me very afraid that we were going to say good-bye three weeks ago.
It began when we got to Mira's apartment building and there was no answer from the outside keypad. We tried a few times, and then rather frantically called her phone. Still no Mira. A passerby asked who we were looking for, and then told us she'd been taken to the hospital. (Sidney is small; have I told you that?)
Our blood ran cold. He told us to go visit a store a few doors away; Mira's neighbour and friend volunteers there (as does Mira on Saturdays, if you can believe it) and she was able to tell us that our friend had been coughing something awful and she was taken to hospital. She was there when we spoke to her son, whose number we were glad to have.
That night, Mira came home with bronchitis, refusing to stay at the hospital. She just wanted to be at home. The next week we delivered soup to her and she could hardly talk, her colour was terrible and she was not looking good.
But one week later, she was about twice as good, although only about 80% of her usual good health. Still, just visiting with her for an hour-and-a-half, sharing stories and updates on our adventures and, of course, asking if there was anything – anything at all we could do for her – it was like a dream.
I had honestly started to brace my heart to say good-bye to her. And I hadn't realized how fragile this heart of mine is. We've had losses and good-byes since Lauren died, but Mira has just got me so darned in love with her kindness, her wisdom, her tenderness and compassion and, of course, a story so filled with tragedy and yet gratitude and grace…I don't even want to think of losing her.
Yes, she's 96. And two-thirds. Older than Queen Elizabeth. Sharp as anything and winning bridge the weekends she is healthy enough to play. Walking the 1000 steps to get to the grocery store or drug store. Volunteering herself. Beloved by so many that, when she was ill, she was surprised at how full her phone messages and inbox were.
I told her that she is so loved and now she has gotten the gift of hearing it. Many people are praised after they're gone; Mira has heard it over the past few weeks. And I'm suspecting she really knew it when, while sitting next to her on her lovely little couch, I put my arms around her, my head on her shoulder and tears just started to flow.
I love this woman so much. If the only good thing in our lives to come from volunteering is spending time with Mira, hearing her stories of life in a work camp as an adolescent and teen, her family stories and her day to day thoughts, it would be enough. So much more than enough, as we'll experience again later today.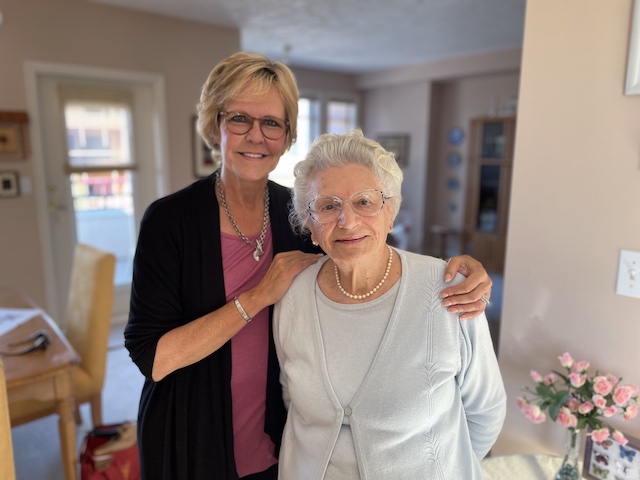 Empathy in action? I'll say. When you volunteer, you truly do get so much more than you give. And on that note – I'll wish you a gentle final weekend of April.
Back Monday with some garage sale stuff: my very first and so much to learn.