Just a thought… We must let go of the life we have planned, so as to accept the one that is waiting for us. [Joseph Campbell]
Well, I hope that you enjoyed the weekend. For journal visitors here from Southern Ontario I know there was a lot of gardening, walking and mostly responsible outdoor activity going on. I did see the disappointing pictures from Trinity Bellwoods Park.
As many people posted their anger on social media, there were responses disputing the need for social distancing. I'm not even entering that debate; I foresee a time when we'll get deeper into the "I'm right, you're wrong" fray. Not today, Twitter, Insta, FB etc.. Not today.
Here on Vancouver Island (not in the city of Vancouver but on the island, just north of BC's capital of Victoria) it was a bit chilly and unsettled with temperatures in the teens – cool enough to make our newly-groomed Molly Malone shiver, even in the house. So we put a little shirt on her.
Yes, our visit to a new groomer paid off handsomely. She's clean and trimmed and we are so grateful!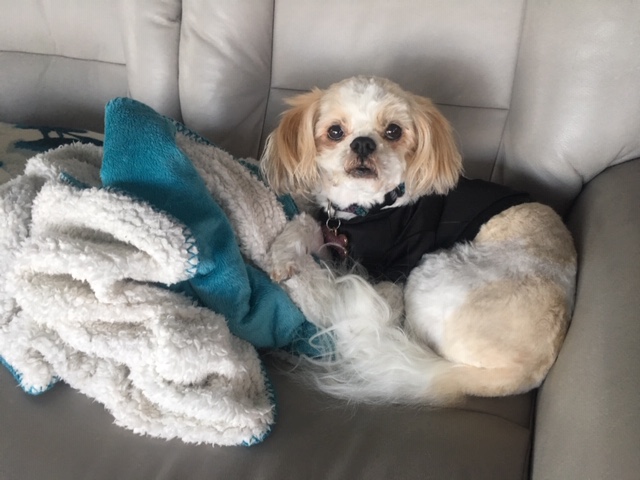 Speaking of grateful, we heard from some folks in other parts of Canada who saw in the news that a tornado touched down in our area last week. The EF0 tornado (the lowest on the scale) packed winds of between 90-130 km and plucked a trampoline from its yard and sent it flying. Fortunately, no one was injured.
The storm hit Saanich, near where my aunt and uncle live and about 20 km from us; while my relatives experienced hail, we had nothing to speak of, luckily. (The tall metal heron on our deck didn't even quiver and that's usually our warning to bring it inside before it topples.)
So, here in North Saanich, it was just a breezy, damp, grey day. But let me tell you what a rarity that weather event was: a tornado hasn't struck lower Vancouver Island since 1966!
Oh, and this makes us lucky too: our daughter-in-law in Ottawa sent a photo of a little summer outfit that she ordered for baby Jane. A little wink to us – the grandbananas – and we love it.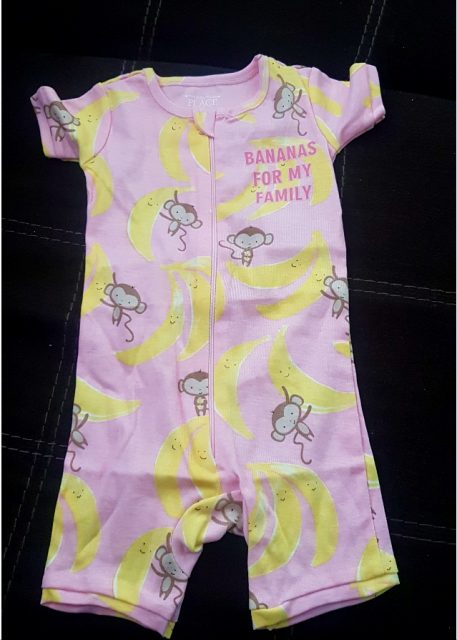 It truly is the little things that make our hearts soar instead of sore these days. Seeing Colin in his newly-ordered cloth mask, watching video of him making her squeal with laughter by dancing for and playing with her. Staying "in the moment" with thoughts of things that make us happy instead of wondering when we can see, hug and hold our loved ones again. Because regardless of how many people gather in parks or garage parties wherever you are, we're just not ready yet.
Most of our lives are about how we react to what is happening to us. Our thoughts are our own and we are in control of them, and so little else. All we can do it wait. And wait we will.
Back with you here tomorrow.