Just a thought… Friends are those rare people who ask how we are and then listen for the answer. [Ed Cunningham]
Welcome to a new week and almost the second half of November! You may have noticed there's no video version of the journal today. I'll tell you why: first, you saw enough of me last week!
Between the hotel room video I shot at 3:20 am on Sunday that ended up on CBC news(!) about the WestJet computer disaster that left me without a suitcase and my clothes/makeup for the Monday event I was hosting for the entire day…to the CTV appearance Thursday on The Social, I think you've seen quite enough of this face. (And that's not even counting the ribbon cutting and official opening last Wednesday night for Markham Stouffville Hospital's spectacular Breast Health Centre for my friend Allan Bell. I've been helping raise money for this for years and it was an emotional, joyful night.)
Those appearances ended up being quite a case of both ends of the spectrum, too: from almost no makeup at all on that Sunday morning clip (after being up for 24 hours) to having what many said was just too much makeup on The Social, as I say, you've seen enough of me. (I didn't do my makeup but can understand people's comments. Ah well. Unfortunately, I can't have the amazing Christine Calder, who did Wednesday's faces, for everything!)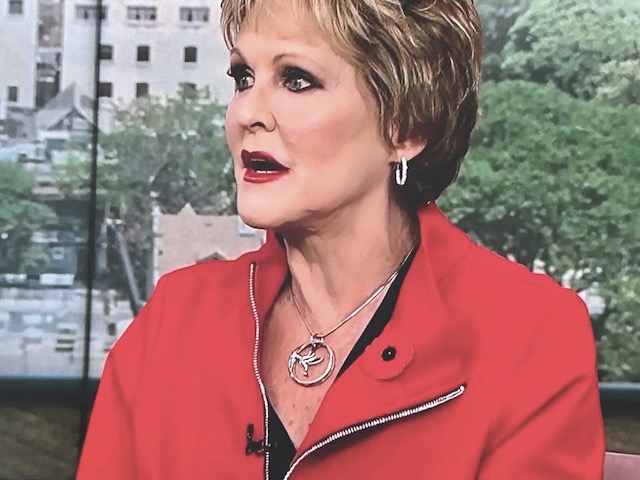 If you didn't get to see the 20 minutes or so during which I was guest host of the popular daytime TV show, the link is here. We had a lot of laughs and I apologize publicly here to my sister Heather (as I have personally) for making an easy joke at her expense. I love her, and my apology has, I swear, nothing to do with the fact that I will be seeing her and another sister in a few weeks when we go to Kelowna to move Dad's things into another residence.
As I write this, I am in my current happy place which is – who knew? – Port Stanley, Ontario, on the shores of Lake Erie. Lisa Brandt came to the GTA to take me from the event in Markham to CTV the next day downtown, and then to her place, about a two-and-a-half hour drive away. I was almost catatonic with exhaustion and relief during the trip.
But I'm fully recuperated now. I'll stay here in the lap of comforting friendship with her and husband Derek until early Wednesday when I spin the wheel of airplane fortune again and fly home. This time, hopefully no hiccups. You know where to follow me (Facebook.com/erindavispage or @erindavis on Twitter; @erindawndavis on Instagram) if there are any more adventures to report on the way.
We've relaxed, we've shopped, we've dined and we've laughed, as well as prepared the first few episodes of our new podcast, Gracefully and Frankly. I promise to keep you posted, not only on when it'll drop, but how to listen to a podcast; many folks think that my video journal (or "vlog") is a podcast. It's not. My sleep stories, Drift with Erin Davis, are. There's a world of difference and perhaps you still haven't listened to a podcast. It's as simple as clicking here. I promise once you do, it's life-changing. No more commercials or annoyances; you listen when you want to what you want.
Oh, and I hope you heard Mike Cooper's good-bye on Saturday during his Coop's Classics radio show. Truly the end of an era, he didn't want to make a big deal of it, as he had already had a farewell party when he left our partnership back in 2016. Unfortunately, I didn't get to see Mike this visit because he was flying out while I was flying in, but as the old song goes, "We'll meet again…don't know where, don't know when…." And we will.
It'll be nice to be home Wednesday evening, but right now I'm happier than I've been in months just being with my soul sister Lisa again. She's someone with whom I can talk freely. She knew and loved Lauren, she knows and doesn't judge me, and always gives me the right amount of support, honest judgment and well-timed kicks in the backside.
Who could ask for more?
I'll say good-bye here for now and promise you a new video journal next Monday; 'til then, have a gentle week and enjoy a new seasonally sweet Drift story tomorrow.