Just a thought… Don't Stop. Be Leaving. [takeoff on a Journey song, and the perfect door mat for me this week…]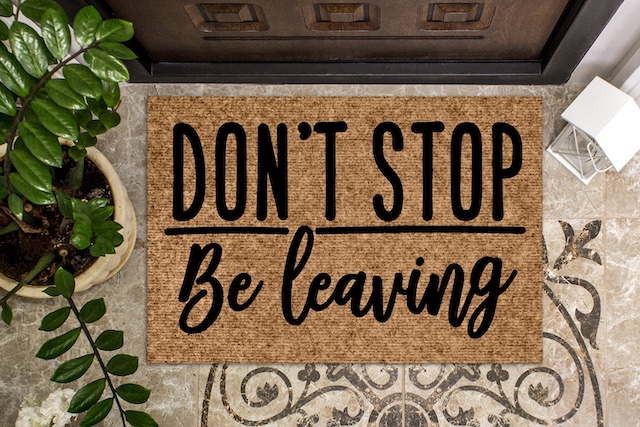 This journal was actually written Friday night when I had a second, so I'll fill in more details as I experience them!
Well, I can't quite believe it either, but as you read this, I'm out of the country. Why? Did Rob and I have a fight? Can't I stand it in beautiful BC? Did I only come home to mess things up, see the kids and grandkids and leave again? If I was on the radio I'd say, "We'll give you the answer…right after this!"
Um…brief break…SierraSil ad and on we go….LOL
The answers to all of those questions are: NO. In fact, I got home last Wednesday and the house was spotless; Rob had also put up the Christmas tree (lights, bows were on it from last season, but the ornaments will go on when I get a moment), the garage was tidied, there was firewood cut, two new chairs had been assembled (plus he helped upholster some for family), the sheets had been changed, there were roses on the table and steaks ready for dinner and…I can't even complete the list of all of the things he accomplished. I mean, all of those accomplishments alone would be enough for me to leave town again very soon, but the reason is much more unfortunate.
On Thursday night I got a message from my sister in Ajijic, Mexico (an enclave of mostly American and Canadian citizens in which she's lived for four years now) that she was in the hospital.
Cindy slipped on a wet sidewalk and went down hard, fracturing her hip and requiring replacement surgery on Friday. It went well, she says, but it's going to cost her some $10,000 since her lupus precludes her from getting health insurance. Since she's been alone all this year (yes, that sister with the husband of 40 years who left, and so on) I couldn't imagine her recuperating alone.
Saturday at 7:30 am I was at Victoria International Airport. AGAIN. But no "wheel of luggage fortune" for me: this time, it was just me and my carry-on. Cindy and I share the same size and I plan to raid her dressers and closet while I'm there.
I flew to Vancouver to catch a 1:30 pm flight to Dallas/Fort Worth, with a 90- minute turnaround to get myself on a flight to Guadalajara, Mexico. From there, a cab took me to Ajijic where friends met and took me to Cindy's house, where preparations had been made for her homecoming and recovery. She's fit and young-ish, and she tells me she has a concert booked in three weeks (she sings, plays piano/organ and harp) and if I know Cindy, she'll try not to let anyone down. We shall see if New Hip Cindy (not New, Hip Cindy LOL) will make it to the performance. I would never bet against her, especially with the year she's powered through.
There are a lot of things for which to be grateful right now: most of all, that I have the resources and time to be able to fly out at nearly a moment's notice, to help a family member. Rob and I are already booked for early December to fly to Kelowna to help get Dad's new place ready for his arrival. He's STILL in hospital there, so we need to get him some rehab quickly before he completely forgets how his legs work.
The whole coven of sisters – even from afar – is working to make it happen and we're all happy with the new place he's going. Best of all, so is he! Something else for which to be grateful: the temp these days where I'm heading are in the upper 20s Celcius. So that's a definite plus.
That is quite a bit of news for you for now – sorry I didn't have time to shoot a video journal, but I know you'll understand.
In the meantime, thank you for being here. Another new Christmas-flavoured story drops tomorrow on Drift with Erin Davis and yes, I'll post pics at FB and on Instagram if you care to see what it's like in Ajijic (pronounced ah-hee-HEEK). It's my first trip here.
Hasta La Vista, Baby….E.