Just a thought… I am going to keep having fun every day I have left, because there is no other way of life. You just have to decide whether you are a Tigger or an Eeyore. [Randy Pausch]
Welcome to a brand new week and, hopefully, a feeling that you've had just a bit more sleep. Because, unless you had to work that extra hour yesterday morning, you did! I love this time change. The loss of an hour in the spring used to throw my poor sleep-deprived body for a loop, but the hour in the fall was like a gift.
In our new home province of BC, they're moving toward getting rid of the time change altogether; I can't say that I agree with it just from our own personal perspective, but people seem adamant that the clock change needs to stop.
Can't say that it'll make that big a difference in our lives, except perhaps for doing some extra math when we're dealing with people out of our time zone. Oh, and the PVR. We'll see.
Our time in Ottawa – an incredible second visit this fall – was one I'd like to have recorded to watch again and again. Oh, but we made memories: on Friday we went to a ceramics painting studio so Colin could make a present for his parents for Christmas (which he told them about the minute we got home!) and then Rob, Colin and I laced up our rented shoes for four games of five-pin bowling.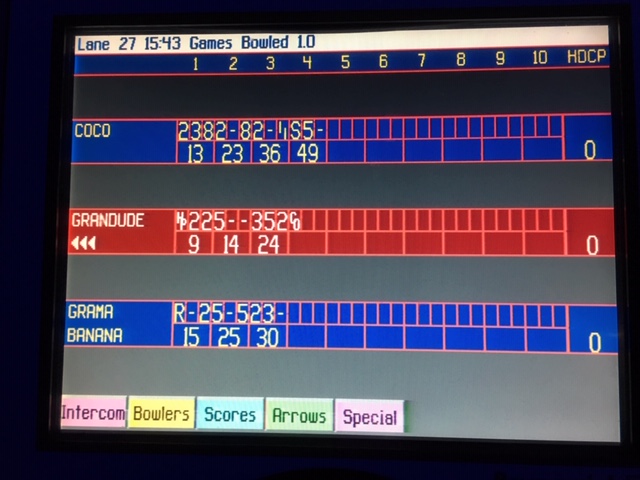 There's a lot to be said for not over-thinking: this five-year-old wasn't trying to hit the centre pin, to straighten his wrist or count steps to the foul line. No, he just stood there, oblivious to the buzzing when he was on said line, and rolled the ball down the alley.
As you can see, his instincts were better than our "experience." We had a blast in the black light. I can't tell you the last time I bowled – five or ten-pin – but for Rob and Colin, it was a second time together, and it won't be their last.
We packed up and headed off to black light mini-golf, which was not nearly as much fun (and way too expensive IMHO at about $15 per person for less than an hour), but Colin seemed to enjoy it and that was the main thing. The kid's got a great hockey shot and when we showed him how to hold a putter, he seemed to catch on to that, too. There's no doubt he's got some athletic genes there.
And so it was that on Saturday we thought we'd put him on skates for the first time. Our hopes were dashed when we found out that the arena near Vanier that had indoor family skating didn't rent skates. Darn! Plus, since it was spur-of-the-moment, we didn't have his helmet, which we'd also have had to rent. Perhaps in the spring, or when next we visit we'll get him out on the ice. We can't do it all in one weekend, right?
We sure tried, though. We were stocking up on memories and making sure we have plenty to hold us through the next several months. How lucky we are to have FaceTime with this little boy and his beautiful family every weekend.
Jane is five weeks old now and doing well, gaining weight, sleeping like a champ and delighting her big brother, who loves to lean over her bassinet or a parent's shoulder and say, in a sweet musical voice, "Whatcha doin', sweet peeeea?" It's adorable.
He sings Raffi's "Baby Beluga" to her when she's fussing; he talks about her when he's not at home. A beautiful relationship has begun and we're so grateful that Colin has a sibling, one whom they can dress in matching PJs for occasions like Halloween!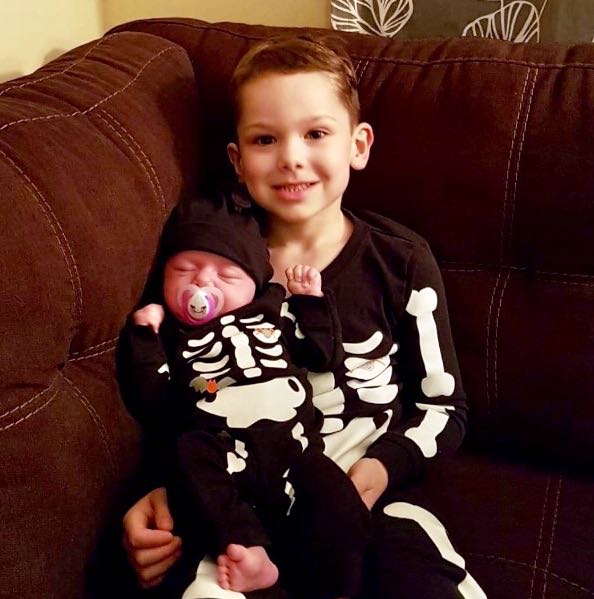 It was a rainy and windy night in Ottawa on October 31st. but we all delighted in taking turns walking Colin (dressed as Woody from Toy Story) up to every door for about an hour. Earlier that evening, his whole family got in the spirit of the night – and the movie – as Phil dressed up as Buzz Lightyear, Brooke donned her Jessie outfit, and even little Jane was in a Mr. Potato Head onesie.
I can't say Rob and I ever went to those lengths at Halloween, but it sure was fun. And to see Colin's face when his dad and mom showed up as Toy Story characters? Priceless!
Yes, we went to the Imagine Cinema again to see Toy Story 4 – a more emotional experience this time, as Rob and I were on fewer pins and needles wondering how Colin would behave in a movie – and then gave him the DVD, asking that he think of us when he watches it. It's a lot to ask of a child, but we can hope.
Hope will be the theme as I deliver my "Reclaiming Joy" keynote twice tomorrow: a shorter version for the Excellence Canada 35th annual gathering (for which I'm also emcee) at the Carlu during the day, and again tomorrow night at a benefit for Heart House Hospice.
That will be held at the Mississauga Convention Centre and if you or anyone you know is looking for a bit of inspiration and a lot of real talk about love, grief and hope, I'd urge you to please consider supporting an amazing organization. Details are here if you're interested.
Well, my friend, that's it from here today. If you're joining us next October for our Rhine cruise, there's a good chance you're coming to a meet 'n' greet with Cooper and me tonight, so I'll see you then.
I'll be writing to you next from our flight home on Wednesday night. Have a gentle week, stay warm and we'll be back here on Thursday – getting ready to unwind for the winter and just sharing some stories. As friends do.