Just a thought… Tattoos are the stories in your heart written on your skin. [Charles de Lint]
Our thoughts go back to a day 22 years ago; most of us remember where we were, and for some, their lives were altered in the worst of ways, forever. As we remember 9/11, we send love to those families who mourn today and always.
If you've suffered any kind of significant loss in your own life – and really, at this point, if you haven't, you are among the extremely fortunate few – you have learned to live with the impact of that day that divides your existence between before and after.
Anyone who has been here with me knows our event, our loss, our own dividing line. And as we've travelled together, many of us, for all of this time, you've seen or read of our moments of remembrance: a bench bearing a plaque with our daughter's name at a local park, a tree planted in a park in Ontario by a kind listener, a brick donated by a journal reader in a wall in Orillia. And, of course, there's Mourning Has Broken, a book written, not just about our loss, but about surviving and finding our way to joy again, as best we can. The ripples of how this story has helped others continue to be felt, and I am grateful.
So it took me these eight long years to make up my mind as to how I wanted to remember Lauren, not just with words or actions, but on my body.
Last Tuesday, I spent two hours in a chair in Kelowna. Not a manicurist's or a dentist's, but a tattoo artist's. As you know, this is a big decision and one that a person doesn't take on lightly. After all, it should be with me for all of my days.
I knew I wanted Lauren's name on me, but didn't want to hurt every time I saw it. And it has taken this amount of time to feel like that wouldn't be the undesired effect of having a tattoo. After all, it's not like it would remind me of the loss; that's already etched on my soul. But I wanted her beautiful memory to be symbolized by something lovely.
My initial choice consisted of simple lines and three hearts (Rob's, mine and Lauren's). I asked my sister Leslie to find the right person at the place to which she has gone. Then, just three days before the appointment, I found the design that resonated with me: an infinity sign, a feather and a name. Her name.
Why a feather? Why not? Some believe it is the lightest, easiest way for spirits to let us know they are with us. Others shrug and say that a bird has simply lost its feather. Perhaps both can be true; whatever fluffs your feathers.
At 9 am Tuesday, Leslie drove her shaky sister to the shop in West Kelowna, a sparkling clean place decked out in biker chic decor called Steel Works.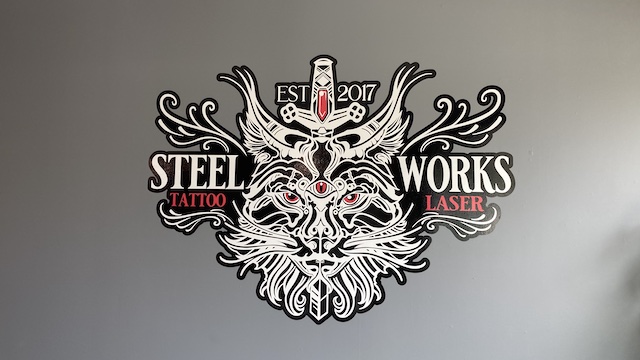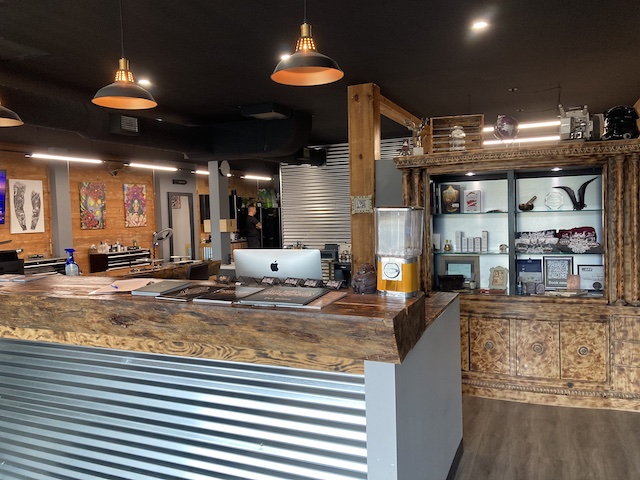 My artist was kind, gentle and had a lovely, patient manner. A trained electrician who came to Canada from India and met his dental assistant wife in northern BC, he moved to West Kelowna for a better job at Walmart, which he has since left and is now well on his way to running his own shop one day. His wife, meantime, is studying to become a dentist. I loved listening to his story while he etched a part of mine into my left forearm.
Before we began, we had gone over the photo I sent him of another person's tattoo, and he altered it to suit my needs; using an iPad, he deftly created and illustrated what mine would look like.
As he talked, inked and swiped, I felt so peaceful that I almost fell asleep. The pain was minimal; I had taken Tylenol in preparation and perhaps that was it, or that my high pain tolerance came through once again, but it was really nothing to complain about. Not like the lip colour tattoo I'd received years back. Nuh-uh. Never again.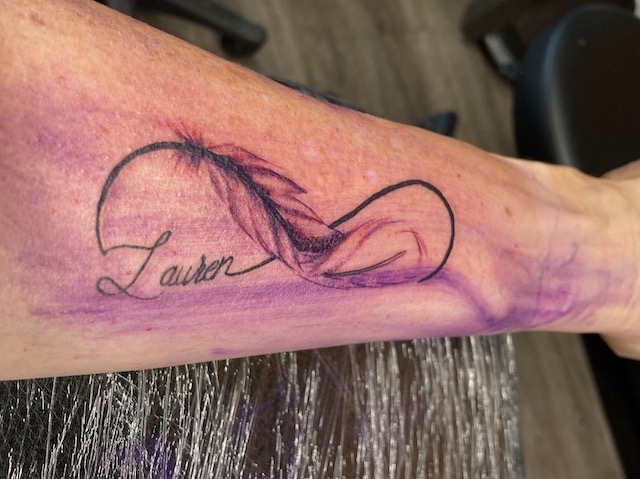 After adding my requested touches of blue and his own lines of white for highlighting, it was done.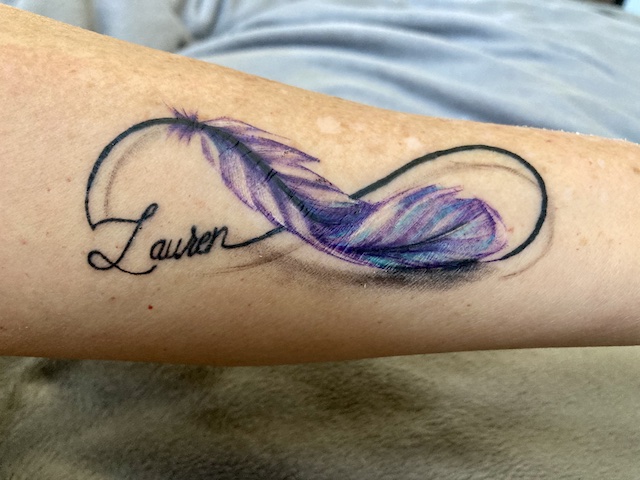 Today, the protective tape is off, and now I'm cleaning and moisturizing twice a day for the next few months. The tattoed area feels like it's slightly sunburned, but appears to be healing well. Overall, I'm delighted with how it came out, although the spacing inside the "r" is not perfect; I guess that's something my little OCD mind is going to have to get used to.
Am I glad I have done this, at long last? Absolutely! I'm grateful not to have leapt into it earlier, and to have taken my time and had someone I could trust to do it for me.
My friend and podcast partner Lisa Brandt has far more experience with tattoos than I, and we'll be talking about it this Thursday on our Gracefully and Frankly podcast. If you haven't listened yet, please just dive right in and join us for a half hour of real girl (okay, Queenager) talk, with laughter, love and just the kind of conversation you'd want to be part of (or listening in on) every morning. We do it once a week and it's free to you, thanks to our friends at enVypillow.com. Please give it a listen – we promise you'll enjoy it – and if you could, take a moment and rate it as well. Every star helps us find a wider audience of friends.
Thank you for being here and coming along for this ride. I wish you a peaceful week.